4 Books to Help You Get Through the Toughest Days of Recovery
If you're a person in recovery, you don't need us to tell you that some days are better than others. Of course, life has its ups and downs whether you're sober or not, but for people with a substance use disorder, a really tough day can be downright dangerous. That's why it's important to arm yourself with as many recovery tools as possible, including good literature to help you cope. The following 4 books for recovery have been incredibly helpful to me in my journey, especially on challenging days.
1: Gifts of Sobriety: When the Promises of Recovery Come True
When life hands you lemons, it can be easy to lose sight of the value of your sobriety. Take the COVID-19 pandemic, for example. I'm sure I'm not the only sober person who thought, "Why not just have a drink? The world is falling apart, anyway." When deceptive ideas like these creep into my brain, Gifts of Sobriety by Barbara S. Cole helps me remember why recovery is necessary for me—and all of the wonderful rewards that come with it. While it's based on the Twelve Promises outlined in Alcoholics Anonymous, you don't have to be a member of A.A. to benefit from the profound and uplifting messages in this book.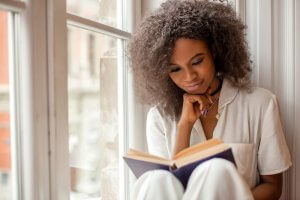 2: Addictive Thinking: Understanding Self-Deception
One of the reasons addiction is such a complicated disease is because a large portion of it manifests in the mind. We lie to ourselves constantly in an attempt to justify our use, and over time, it can become very difficult to separate these lies from the true consequences of our actions and behavior. Written by an esteemed psychiatrist with decades of experience in the field of addiction treatment, Addictive Thinking by Abraham Twerski, M.D., exposes and explains these deceptive mind traps. It offers valuable insight into the "why" behind common additive behaviors and provides suggestions for identifying and challenging the irrational thoughts that cause them.
3: Twenty-Four Hours a Day
If you don't have a daily meditation book in your arsenal of recovery tools, I highly recommend this one. It's filled with helpful suggestions, insightful meditations, and prayers for staying sober one day at a time. Starting my morning with a reading from this tiny, Hazelden-approved paperback helps me focus my priorities for recovery and ground me for the day ahead. I also love its small, portable size because it fits right into my purse. You never know when you might need a quick shot of sober inspiration!
4: Living Sober
Hands-down, this is the most helpful "how to" book for newcomers to recovery. It's clearly written, easy to follow, and packed with practical tips for getting through the day without a drink. Some of the suggestions are so simple they almost seem trite ("getting plenty of rest" or "eating or drinking something—usually sweet," or example). But in my experience, they really work. I come back to this book time and time again, especially on those days when life feels overwhelming.