5 Ways to Opt for Gratitude over Stress This Holiday Season
December 22, 2016
No matter how hectic the holiday season is or how your to-do list seems to grow even as you steadily slog your way through it, you do not have to submit to stress. That's right, you have a choice. Rather than allowing stress to drive you through the holiday season, allow gratitude to be your motivating force as well as your place of refuge. Here's how.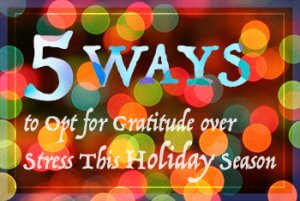 First, allow yourself to let go of the idea that anything "should" or "must" happen this holiday season. Embrace the fact that if the holiday cookies burn – or if you don't get to them at all – you can always buy cookies at the store. If you are late shipping out presents, some people will be just as happy to get online gift cards emailed to them or a movie, eBook, or album gifted online through Amazon. If you don't get the lights up this year, you won't have to take them down in January. The more you open your mind to the possibilities of the season,
the more there is to be grateful for
and the fewer causes there are for stress.
Remember:
The holidays will happen no matter what. Stress will not improve the experience.
When you let go of expectations, there is room for new experiences and traditions.
The little things are just as important as the big things when the focus is gratitude.
Prioritize the things that bring you joy.
Now that you've cleared your slate, consider a few specific things you want to experience this holiday season. Are there certain meals you would like to a have? A gift you really want to get for a loved one? A party you would like to plan? Priorities are objects of gratitude, and when you make sure to accomplish one or two specific things during the holidays, you are better able to
live in gratefulness rather than stress
.
You can:
Focus on family and friends who are supportive and positive.
Consider big events (e.g., making a huge holiday dinner for 35 people) but don't forget the little things (e.g., enjoying a cup of homemade hot chocolate in front of a fire).
Give yourself permission to "make appearances" at obligatory functions rather than investing hours.
Give yourself permission to say "no" to things that you simply have no love or time for this year.
Now that you have a couple of things you definitely want to see happen this year, create a plan. Choose when you will accomplish different parts of your holiday goals and carve them into your calendar. If anything arises that would stop you from turning your goals into a reality, just say "no." Choose to focus on gratitude rather than stressing yourself out by overcommitting to other things that may be important but would stop you from experiencing true joy.
It is not easy to make a plan and stick to it. Invariably, something will come up that is important or something that you simply cannot say "no" to. If this happens, do not erase your holiday priorities from your calendar but move them to a different time.
You can:
Write out a list of things you would like to accomplish.
Insert all the things that are time- and date-specific on your calendar.
Add the items on your written list to your calendar, creating blocks of time for making them happen.
Color-code your to-do list items according to what can be moved and what cannot.
Try to schedule things early in the month, if possible, so that if things come up, you can do a little shifting and still make them happen.
There is nothing like watching people post the pictures of their happy holiday gatherings and events on Facebook to make you feel like you are doing nothing with your life. Additionally, when you spend copious amounts of time on social media scrolling through people's posts, commenting, or prepping and then checking the response to your own posts, you take time away from doing the things that will bring you the most joy during the holidays.
This season, you can choose to turn it off and unplug from the madness completely. Instead, invest your time in creating the holiday experience you want for yourself and your family. If you do not find any benefit from engaging with social media, simply duck out completely for the duration of the holiday season, but if you do enjoy seeing what people are up to, you can:
Check in on Facebook at a scheduled time.
Minimize your social media usage to a brief, timed period no more than 2-3 times per week.
Use your posts to celebrate your gratitude in life.
"Unfollow" the people who create negative posts that cause you stress.
"Unfriend" and/ or block those who post negative comments on your happy, grateful holiday posts.
In your schedule and outside of your schedule, take time to remember why you are doing all of this and the feeling you would like to have throughout the experience. This is your holiday season, and you can make of it whatever you like.
You can:
Stop for coffee, tea, or hot chocolate in the middle of the day.
Bundle up and take a walk with your family just to get outside for a bit.
Purchase baked goods rather than making them yourself, ask that your items be giftwrapped before shipping, and delegate some tasks to others to make your life easier.
Spend time with your spouse and other family members throughout the season just because you can.
Happy holidays!