A Forest of Trouble Trees
Anybody that is at all connected to social media, the media in general or the world around them is well aware that PTSD and the accompanying problems that come with it is a major concern for firefighters, police and EMS. Statistically first responders are every bit as prone to developing it as combat soldiers. We are exposed to traumatic events over and over, week after week, month after month, and year after year.
Yet still we think, "we got this."
Well, we do not "got this." Like it or not, "This got us."
In the Clutches of Trauma
I took pride in my ability to respond to incidents that resulted in death, permanent disability, gruesome details or emotional carnage then break for lunch, respond to another and call it a day. I had a little fantasy I concocted in my increasingly heavy brain: hang your troubles on the "trouble tree" when you leave work, and they will be gone when you return.
The trouble tree theory worked for years, and I was able to do the job with little baggage, and certainly no PTSD to contend with. What I failed to realize was that my trouble tree had roots. Those roots dug in, deepened, and waited for the opportune moment to sprout a whole new tree born from decades of hidden traumas. That tree was mighty, and before I knew what was happening I was tangled in its branches.
The fact that during my delusional, trouble-free years I was drinking enough to intoxicate an army seemed to elude me. I always had trouble with alcohol, and knew, instinctively from my very first intoxicated moments that it would become problematic. Yet I never was able to muster the courage to face my problem. Back then, I believed that my alcoholism simply was, and I had no control over it. Now I'm not so sure. It seems clear to me that I didn't have a chance of finding sobriety while ignoring the mounting stress and sadness that was slowly killing me. My failure to acknowledge that outside influences added to the burden of alcoholism made it all the more difficult to address.
I wish I knew then what I now believe to be true; that a person with a proclivity to drink problematically will take that proclivity and turn it into a full blown monster of a problem when given the opportunity. And opportunities to grow my problem were a part of my daily life. Every traumatic event I witnessed created an opportunity for my disease to fester. Alcohol is a cunning, manipulative and patient substance. When introduced into the body of person susceptible to addiction, alcohol shows no mercy. It will get the best of us; it's only a matter of time. I held on for twenty-five years, actively drinking, working and raising a family. Only when it all began to unravel did I seek help.
Seeing the Forest for the Trees
One question plagued me; would I have been able to beat alcoholism on my own if my life were less stressful?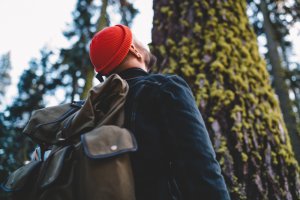 I have learned that I never would have found that answer by searching within. I had developed far too many defenses and could talk myself into or out of anything. Thankfully, I talked myself into telling a person I trusted about the exact nature of my problem. It took a lot of talking, more listening than I was used to, and a willingness to ask for help. People who have devoted a large part of their lives to understanding addiction, and people who are addicted actually do exist. They know how to get through the defenses people like me create.
One of the many things I learned; I would have created a stressful life to justify my drinking anywhere, in any situation. A healthy dose of PTSD likely exacerbated a condition I'm stuck with, but did not cause it. Once I figured that out, dealing with both problems became far less complicated. I'm learning how to find my way out of the forest I've created, and that the journey is the best part of the trip.
_______
Read More from Michael Morse:
______
Photos Courtesy of Shutterstock