Can Interventions Really Work?
Is your loved one struggling with an addiction? If so, you'll want to do everything in your power to help them get better. One of the things you may have considered is hosting an intervention to help them confront their issues. Contrary to what you may see on TV, interventions are not some grand, life-altering event where the person involved immediately vows to change forever. Rather, they are often used as the first step in the treatment process to help a person decide how much help they need to make it to recovery.
That said, can an intervention work in the case of your loved one? Just how effective are interventions in helping people become sober?
The Evidence for Interventions
When implemented correctly, interventions are highly effective at helping those suffering from a substance use disorder. They can reduce the harm associated with substance abuse, improve health and social function, reduce risk behaviors before they get out of control, and prevent progression of the substance use disorder.1, 4-5
Overall, interventions work by enhancing the motivation of those with a substance abuse problem. They may make your loved one more likely to remain in residential or outpatient treatment so they can get the help they need. They can also help your loved one understand and acknowledge their risky behaviors. 1, 4-5
Ways Interventions Can Go Wrong
That said, interventions don't always work exactly as planned. As an example, if you try to host an intervention on your own, without the help of a medical professional, you may be doing your loved one more harm than good. That's because medical professionals in the field of addiction science have a detailed understanding of how those suffering from substance abuse react when being confronted. They know how to do so in a way that is comforting and educational.
They are also emotionally detached. Whereas you might become heated and argumentative with a loved one, a professional can stay calm and rational.
If you try to use the wrong approach with your loved one, it can lead to treatment resistance or noncompliance. Your loved one might refuse any future help because they feel like you've attacked them.
Can Interventions Work?
If you're interested in leading an intervention for your loved one, your first step should be to contact a qualified medical professional. An intervention is not something you can do on your own. You need the guidance of someone who has worked with these types of difficult situations in the past. Their wealth of experience means they'll know exactly what to expect in regards to your loved one's reactions, behavior, and reluctance.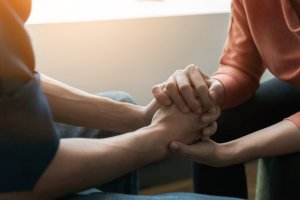 One successful intervention model a medical professional might use is the Transtheoretical model. They'll be able to recognize which stage your loved one is in and tailor the intervention specifically to their current needs. The Transtheoretical model is based on 5 stages a person could be in during their addiction:
Precontemplation — Maybe your loved one needs some help realizing their problems are happening because of substance abuse.
Contemplation — This stage might involve telling your loved one about the consequences of continued abuse.
Preparation — Your loved one might need help choosing treatment.
Action — The recovery process is long and hard, so your loved one might want to vent their feelings and experiences.
Maintenance — This stage is focused on relapse prevention.
Interventions can be an amazing tool for helping your loved one begin their healing journey. Just always make sure you have a medical professional to provide the excellent support you'll need along the way.