Family Touched by Their Father's Addiction
September 19, 2016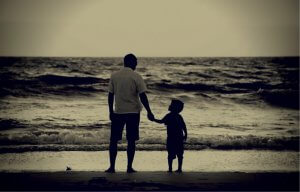 When addiction strikes, it not only harms the individual struggling with physical and emotional dependence on the substance of choice; it harms all who love that person as well. There are few things that can highlight the fact that the entire family is in crisis like a holiday. Relationships can be strained, and a father's addiction can be difficult for all parties.
The good news is that when addiction is in the spotlight, it can cause the entire family to not only pay attention but also to take action. Recognizing that addiction is indeed an ongoing factor is critical, but taking the next step toward treatment is essential as well.
What does your family need to heal?
Jacob's Story
Jacob* began using drugs when he was 13 years old and became a father when he was 20. Though he was proud of his daughter, Kiley, and happy to be a father, his long relationship with substance abuse was a far stronger factor in his life. He was rarely present when Kiley was a baby. When Kiley's mother, who struggled with her own addiction issues, died of an overdose, Calvin realized he had to make serious changes.
Said Jacob: "I was having legal issues, in and out of jail, and luckily, I happened to be out when Kiley's mother died. My parole officer asked me if I wanted to give her up because I was barely employed and obviously hadn't been much of a father up to that point, but I said, 'No. What do I have to do to keep my daughter?'"
Jacob knew that as long as he stayed clean and sober he would be able to keep Kiley. He got a second part-time job in addition to his primary one and moved into a one-bedroom apartment, giving Kiley the bedroom.
Said Jacob: "I know I can't stay sober for her. As much as I love her, I have to do it for me. I have to be strong on my own first, and then I can be strong for her."
Healing as a Family
If your family is struggling under the weight of an addiction, any day is a good day to address the problem as a family. Staging a formal intervention for a loved one can help to:
Put everything out in the open
Allow everyone to share their concerns as well as their hopes for the future
Allow the person struggling to recognize that they are living with a medical disorder for which there are effective medical treatments
Assist the individual with addiction in entering a treatment program right away
Learn more about available options in treatment at River Oaks today. Call now for more information.
*Names have been changed to protect anonymity.
For more information on addiction and the family, click here.