Father's Day, Addiction, and Estrangement
Father's Day is our way of honoring and celebrating our fathers and the paternal figures in our lives. It was first celebrated in the state of Washington on June 19, 1910. It became an official holiday in 1972.
If you're fortunate to have a dad in your life who lives up to such an honor and accolades distinctive of this holiday, then celebrate with him. Not every family may feel this fortuitous. Substance use disorder or alcohol use disorder can cause estrangement between family members, and this absence may feel like an even heavier burden on Father's Day.
Whether you are a father battling an active addiction or an adult child struggling with the same, estrangement can take its toll on a family.
Estrangement and Substance Use
We all have expectations of what a parent should be to us in childhood and adulthood. Likewise, parents have expectations of what they want their children to grow up to be like. Not living up to these expectations may disappoint the other party, and in cases of parental substance abuse specifically, may lead to neglect and even abandonment.
Individuals who use substances may find themselves detached from family. Often, they prefer to connect with others who are abusing substances as well, which helps support their own addictive behavior.
Characteristics of family (parents or children) abusing illicit drugs or alcohol:
Miscarried expression of anger. Those who are resentful from being deprived may channel their repressed anger in the form of substance/alcohol use.
The home environment tends to be negative and anything positive is downplayed. Attention is given to those who fan the flames of negativity by creating a crisis.
Parental inconsistency. Parental figures who are inconsistent with the house rules, guidelines, and expectations create an atmosphere of chaos and confusion when children are attempting to figure out how they should conduct themselves.
Denial. Parents may deny their own drug problem or the problem that their son or daughter may have.
Self-medication. A parent or child may use substances to deal with and/or numb the feelings associated with disorders like depression or anxiety.
Unrealistic parental expectations. This may consist of parental expectations set so high that they're out of the reach from their child aiming to achieve them or expectations are so low that children live into the parental-fulfilling prophecy to become who their parents predict them to be.
Conflicts that may lead to estrangement vary by household and may even be a combination of several factors that may direct an individual to detach from their family. However, the following is a list comprising of serious conflicts that may lead to estrangement:
Domestic violence.
Substance use disorder.
Recovery from behavioral addiction.
Sexual, physical, and emotional abuse.
Personal arguments.
Financial disputes.
Polarized social or politics views.
Trauma.
Supporting Someone in Recovery
Struggling with an active addiction is not easy. Even though someone in the family who has not dealt with this disease may find themselves frustrated with the addicted family member, all parties must strive to be patient while simultaneously finding a way to respect their own boundaries. Father's Day can be an opportunity to reconnect, heal, to seek therapy, or to even seek treatment as a viable solution, depending on your circumstances.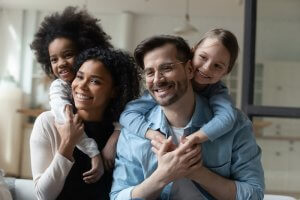 Substance Abuse and Mental Health Services Administration (SAMHSA) cites four factors that support recovery:
Making choices that support physical and emotional well-being.
Having a consistent and safe place to live.
Managing intentional daily activities with self-reliance, resources, and income to be a productive member of society.
Having and maintaining healthy relationships that add friendship, hope, love, and support to one's life.
Final Thoughts on Fathers Day, Addiction, and Estrangement
Whether it's Father's Day, or any day of the year, if you or a loved is battling a substance use disorder or an alcohol use disorder, please reach out to get the help that is needed. Wishing you a happy, safe, and healthy Father's Day!