Great Alcohol-Free Holiday Drinks Recipes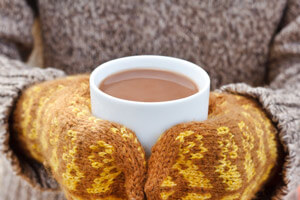 December 16, 2014
For those who go alcohol-free and/or watch their calorie intake, it can be tough navigating the amazing beverage concoctions stirred up by the holiday season—but liquid lovers, rejoice! Courtesy of Kayla Little, RD, LD, CpT and FitRx Wellness Director, here are delicious and healthy non-alcoholic drink recipes that anyone can create and enjoy during the holidays.
Healthy Hot Chocolate Recipe
1 cup organic skim milk or milk alternative such as unsweetened almond milk or coconut milk
2 teaspoons agave nectar
4 teaspoons unsweetened cocoa powder
¼ teaspoon vanilla extract
Pinch of cinnamon


Heat milk on stove top and stir in other ingredients until dissolved. Enjoy!
Grapefruit Mocktail Recipe
1 cup soda water
Splash of 100% natural grapefruit juice
Lime for garnish
Peppermint Mocha Coffee Recipe
1 cup coffee
4 teaspoons unsweetened cocoa powder
2 teaspoons agave nectar
2 tablespoons half and half
2 drops peppermint extract
Vegan Eggnog Recipe
1 cup milk. The thicker the milk, the better. Silk® almond milk works well, as does coconut milk (the full-fat version that comes in a can). Or, use 1/2 milk and 1/2 Silk® creamer for a deliciously-rich shake.
1/2 cup Mori-Nu® silken-firm tofu. There are a few soy-free substitutions for this recipe.
1/8 tsp salt
1 stevia packet, or 1 tbsp of evaporated cane juice or coconut sugar
1/2 tsp pure vanilla extract
1/2 tsp cinnamon
1/4 tsp each nutmeg and ginger
Dash of cloves
1/2 tsp lemon juice (optional)
Combine all ingredients and blend until smooth. If you don't have a blender, you can use silken tofu and stir by hand. Drink cold or hot, whichever you prefer!
What's
your

favorite holiday drink recipe?