You're Told to Watch Out for Razors in Your Candy, But What about Drugs?
We've all heard the urban legend about razor blades being hidden in candy apples on Halloween. Each year, parents are warned about how drugs might wind up in their children's sacks after a wholesome night of trick-or-treating. But is there any truth to these spooky stories?
Drugs in Halloween Candy: Superstition or Fact?
The answer is a little bit of both—but mostly the former. These situations are rare; so rare, in fact, that there have never been any reliable, reported cases of a child actually being poisoned, killed, or injured by candy that they were given trick-or-treating. There was a close scare in 2018, when a 5-year-old child was hospitalized due to methamphetamine consumption shortly after trick-or-treating. However, a police investigation determined the drugs didn't come from candy—they belonged to the boy's father.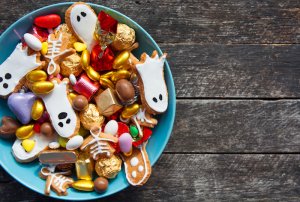 While reports of illicit drugs hidden in candy have been greatly exaggerated, there have been a few disturbing instances where it occurred. In 2018, some parents reported feeling ill after eating some Sour Patch Kids their children had received while trick-or-treating in Aloha, Oregon. Testing revealed that the candy contained methamphetamine. Fortunately, the children hadn't consumed any of the tainted treats and the parents recovered after a precautionary trip to the hospital.
Perhaps the closest call occurred in 2019, when a woman found a small bag of a substance believed to be heroin in a batch of candy at a Trunk-or-Treat event in New Jersey. Awful—to be sure—but the small baggy of heroin would be hard to mistake as candy; at least for an adult, which brings us to the next point…
Take No Chances
While the chances of finding drugs in your kids' Halloween candy are not much higher than seeing a ghost, you should always exercise caution. Here are some helpful tips:
If you can, go trick-or-treating with your kids or at least make sure they're supervised by someone you trust.
Sort through your kids' candy to make sure nothing looks out of the ordinary. This a good opportunity to collect some "tax," if you catch my drift. This means the following items belong in the trash:

Candy that has been opened.
Unwrapped candy.
Candy from brands you've never heard of.
Anything that looks remotely suspicious.
If you take these precautions, you've effectively limited the chances of your child getting hurt from Halloween candy to almost zero.
But now that we've (hopefully) put your mind at ease a little bit, here's something about Halloween that's actually spooky…

Halloween Drug and Alcohol Abuse
Halloween—or "All Hallows' Eve"—is said to be the one night of the year where the barrier between the dead and the living wanes thin enough to let spirits pass through. However, there's something else about October 31st that's far more chilling; it's the increase in drug and alcohol use and related tragedies.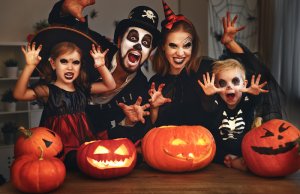 Between 2013 and 2017, Halloween nights alone accounted for 158 deaths in drunk-driving car accidents. 42% of traffic all traffic fatalities recorded these nights involved at least one drunk driver.
Of course, Halloween parties provide significant temptation to people in recovery. When Halloween falls on a weekend, bars and liquor stores report that average alcohol consumption rises by 30% and concerts, raves, and house parties around Halloween are notorious for drug use and recklessness.
It's easy to feel left out when your friends and family are out having a good time without you. However, there are plenty of ways to enjoy yourself on Halloween while staying sober. Watching a scary movie or taking the kids trick-or-treating are great sober Halloween activities. Check out our other blog on 8 Tips for Staying Sober This Halloween for more ideas.