How do you Know You've Hit Rock Bottom?
The phrase "hit rock bottom" usually refers to an individual with an alcohol use disorder or a substance use disorder who is at the lowest point in their addiction experience. And although "lowest point" is subjective, it usually refers to a life-changing and/or traumatizing event. The event could be something as scary as driving while drunk and running into a building, nearly overdosing on an illegal drug, or an individual getting kicked out of their home due to their substance abuse habits. Rock bottom is relative to the beholder.
American Addiction Centers, the nationwide leader in addiction treatment, provides medical detox, inpatient and outpatient treatment services, and even aftercare planning. If you find yourself addicted to drugs or alcohol, you don't have to wait until you hit rock bottom before you decide to take action. Help is readily available when you need it.
Beliefs Around Rock Bottom
Dr. Peg O'Connor, professor of gender, women, and sexuality studies at Gustavus Adolphus college in Minnesota said "hitting rock bottom" was made popular by Alcoholics Anonymous (AA) and tends to signify when an individual has reached a point where there is nothing else for them to lose.
Dr. O'Connor goes on to say, "many of us stop our drug use well before we lose jobs, partners, families, and dreams." We don't have to wait until it gets so bad that we've lost irreplaceable people or destroyed our reputation that we may never be able to repair.
However, she suggests that individuals rationalize their behavior when they compare themselves to feeble standard of losses that have come to be perceived as facts. For example, some individuals battling a substance addiction may say the following:
"I never got a DUI."
"I still have my family and friends."
The above statements reflect an attitude that any continued drug or alcohol abuse at this point is acceptable because they haven't gotten to the point where they have been in trouble with the law or had family members who have walked out of their lives. The perception may be that they aren't "addicted" if their use of a substance hasn't gotten so bad that they're facing those experiences. Or an individual can take the approach that they aren't able to get sober since they haven't reached that low point of losing people in their lives or having run-ins with the law.
Getting Treatment Help Now Instead of Later
Rock bottom shouldn't serve as a gauge as to whether or when treatment should be sought. Both alcohol use disorders and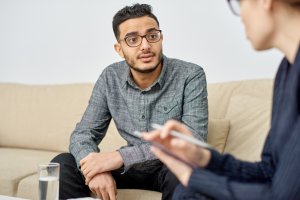 substance use disorders are serious medical conditions that require treatment by a licensed and professional medical staff. Many of these addictions require detoxification under medical supervision.
Additionally, contingent on the type of addiction, the individual, circumstances, medical history, and psychological and medical assessments, will determine whether the individual requires inpatient/residential treatment, standard outpatient, or even a partial hospitalization program (PHP). Many variables come into play when determining the customized treatment options for each individual. Waiting until matters get worse is not the best option.
If you find yourself struggling with an addiction to drugs or alcohol, please reach out for the help that you need today. Don't let waiting be an option.