How to Live with Someone with Depression
Clinical depression is a serious mood disorder. The severe symptoms that this mental health condition impacts includes daily activities, as well as how an individual feels and thinks. And if the depressed person is fortunate enough to have a supportive partner and/or people in their lives, this major depressive disorder impacts those relationships as well.
When alcohol or drug addiction is added to the equation, it can further complicate matters. On one hand, depression can jumpstart alcoholism or worsen it. On the other, alcohol can induce depression or worsen it.
At American Addiction Centers, the nationwide leader in addiction treatment, we treat alcohol use disorders, substance use disorders, and co-occurring mental health conditions. If you find yourself struggling with an addiction and with depression, please reach out for help.
How to Help a Loved One with Depression
Some people may feel like depression requires the attention to be on the individual suffering from the condition. And oftentimes, this is the case. They need help, support, love, and patience from loved ones. However, a partner, husband, wife, girlfriend, boyfriend, or just a friend have needs that are important to be met as well.
It's important to practice self-care even when you're being supportive of your partner who is struggling with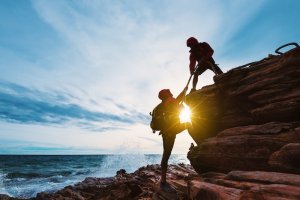 depression. Make sure that you're continuing activities that bring joy to you while balancing care for your loved one at the same time. The best way to help others is to make sure you're in the right frame of mind to be able to willingly and wholeheartedly give to someone else.
It can be challenging to watch someone you love to appear to be withering away or despondent. This may make you feel helpless. Nevertheless, there are tangible ways that you can take action that may make you feel less helpless.
Productive ways a partner can help a loved one with depression:
Encourage treatment. There's no substitute for professional help. Whether it's a psychiatrist, therapist, or psychologist, getting help can often get depression under control using psychotherapy and prescription medications.
Be there. In whatever capacity that is comfortable for both you and your loved, show up in a way that is supportive.
Focus on manageable, bite-sized goals. Tasks as small as getting out of bed or taking a shower can be small goals that you can help your partner regularly achieve.
Create a supportive habitat. Encourage exercising, eating healthy, focusing on treatment, and making plans for fun activities to do together.
Recognize the signs of suicide. This can be as simple as noticing your partner withdrawing from social activities, giving away belongings, to being distracted with thoughts about death, as well as a variety of other signs.
If your partner is battling an addiction and depression, they're not alone. There are resources available to help them achieve long-term sobriety and to get their depression under control. Please reach out to get the help that they need today.