How to Survive the Holidays with PTSD
Posttraumatic stress disorder, or PTSD, is a psychiatric disorder. It may occur in individuals who have witnessed or experienced a traumatic event. Examples would include a terrorist act, rape, natural disasters, combat/war, or even the threat of serious injury, sexual violence, or death. The holidays may not be when people want to think about PTSD, but sadly, it is a time of year that triggers it for so many.
With the challenges of 2020, many people might've even dealt with several other experiences that caused PTSD, or perhaps these challenges activated it in those who already suffer from it.
Additionally, some struggle to handle their responses and feelings to events outside of their control. This may cause some individuals to turn to drugs or alcohol for solace.
At American Addiction Centers, the nationwide leader in addiction treatment, our team of compassionate, licensed physicians and medical professionals provide medical detox and treatment for substance use disorders for those in need. If you find yourself struggling with PTSD and an addiction to substances, please reach out for help.
6 Holiday Tips for PTSD Sufferers
If your struggle is with PTSD, thinking about the holidays may not be an exciting thought as it is for others. Couple that with facing a pandemic and having to figure out how to safely spend the holidays with family,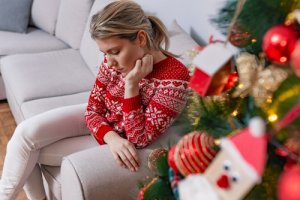 and the overall holiday season may feel daunting.
Be self-aware around crowds. Because individuals with PTSD easily tune into signals of threats or danger in unfamiliar environments (which may cause trigger flashbacks), it's best to shop online or in stores during hours that have fewer people. This is also helpful advice with the rising COVID-19 cases during this holiday season. Taking this step can decrease feeling trapped, feelings of anxiety, or panic.
Self-monitor emotions that don't serve you. Individuals with PTSD may feel emotionally numb, may feel too much, or may experience all of the feelings in between. Using self-monitoring techniques, such as keeping a mood diary, allows the individual to explore causes and change of symptoms throughout each week. Understanding what situations and circumstances cause negative moods and to apply coping strategies may be more effective than avoiding symptoms altogether.
Decrease triggers. Triggers are connected with a past traumatic experience. Activating this trigger can be confusing, terrifying, and mentally and physically paralyzing. Individuals with PTSD can track their triggers with the purpose of decreasing when the triggers happen or tracking the shock of those triggers. Just like the mood diary mentioned above, individuals can monitor and log dates, the event that caused a trigger, and the senses it affected.
Embrace who you are and don't hide. Individuals with PTSD can create new holiday traditions in order to gain a sense of safety and control. For example, have a tree trimming or meet a special friend or family member for coffee one-on-one. Often those suffering from PTSD don't want to be judged or viewed as differently. In doing so, they shield themselves from others. This shield hides guilt, powerlessness, pain, anger, and other emotions, so avoiding holiday gatherings tends to make sense from their perspective.
Be prepared with coping strategies beforehand. PTSD sufferers should not only understand their own body language, but should learn healthy coping strategies when confronted with a perceived threat (or trigger). Examples of healthy coping strategies include journaling, deep breathing exercises, and muscle relaxation techniques.
Control intrusive thoughts. Oftentimes, the holiday season itself serves as a trigger for some PTSD sufferers, opening the door for them to reflect on memories before their traumatic life-changing event. Intrusive reexperiencing results in symptoms that tend to be emotional reactions from trauma and sensory impressions. Individuals with PTSD can learn to reconstruct the memory and alter modalities (e.g., auditory or visual sensations) of the image of this memory. For example, if the traumatic event happened at night, an individual can visualize the memory to take place under the bright sun. This way they are learning to control the event within uncontrollable intrusions. This can restore a sense of control and modify the emotional quality associated with the image.
If you're struggling with PTSD or a substance use disorder, you're not alone. There are resources available to help you achieve peace of mind and long-term sobriety during the holidays and beyond. Don't let a battle with PTSD hinder you. Please reach out to get the help that you need today.