How to Talk to a Loved One About Their Addiction
It's natural to feel powerless against a loved one's addiction. 
It's virtually impossible to exert control over the person's self-destructive tendencies under the influence of addiction, especially since they don't have much control themselves. 
Addiction is a disease that most often requires professional help. 
So, how do we help the person acknowledge they have a substance abuse issue, and how do we convince them to seek help for it? 
How to Hold That First Conversation
If you've never talked to your loved one about their addiction, it can be scary. That's true for whether you're holding an intervention with other people or broaching the subject one-on-one for the very first time. 
You may be afraid of confrontation or resistance. You may be afraid of losing them if you push too hard.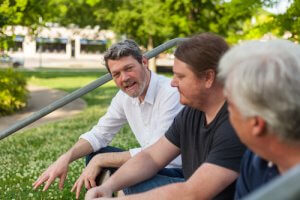 Remember, the conversation could be what nudges them towards realization and enables them to seek help. They may believe they can stop anytime they choose or, on the flipside, believe they aren't capable of stopping. 
The key to recovery is hope. You can't fight the addiction for them, but you can offer them support. If you care about them and believe they'll reach recovery with some extra help, tell them as much.
It may help to prepare a list of treatment resources and program suggestions moving forward. It can even be helpful to consult a professional about how to broach the subject for the first time.
What if you've tried to talk to them about their addiction, and the person is in denial? 
That's a common barrier to run up against. According to the National Survey on Drug Use and Health, out of the 18 million people in need of addiction treatment in 2017, only 5.7% of people agreed they needed treatment. This leaves an entire group of nearly 450,000 people who felt that addiction was not a problem for them, and treatment was unnecessary.
If you have the option, you can organize an intervention. 
Holding an Intervention
An intervention is a meeting of loved ones to express concern and initiate a change in behavior, often with a professional as a mediator. Hiring an interventionist may make the process easier and more effective, not to mention less intimidating for other participants. 
An intervention is an encouragement towards treatment, not an opportunity for chastisement or guilt, and the interventionist can help guide the group in that direction.
A professional will be familiar with how to convince someone to seek treatment and be able to form a calm, authoritative environment for the person. They'll also offer advise on location, speaking order, and prepared statements.
Once you've convinced your loved one to seek help, what options are open to them? Depending on their needs, they may look into seeing a counselor on a regular basis or residential care, which is often the preferable option for those who require more intensive help. 
Whatever the best way forward, you can empower them with your encouragement and belief as they go through those necessary steps. 
Research Sources
2017 NSDUH Annual National Report | CBHSQ." Site. June 30, 2019. Web. June 30, 2019. <

https://www.samhsa.gov/data/report/2017-nsduh-annual-national-report

>

"Substance Abuse and Mental Health Services Administration. "SAMHSA's Working Definition of Recovery." June 30, 2019. Web. June 30, 2019. <

https://store.samhsa.gov/system/files/pep12-recdef.pdf

>