What You Need to Know About Binge Drinking
We're living in highly stressful and unprecedented times. The COVID-19 crisis has upended the lives of most Americans, inciting fear and uncertainty into the majority of the population. Since initial lockdown orders were put in place in early 2020, alcohol use has increased significantly among adults in the U.S., no doubt because people are scared, bored, and looking for ways to relieve their anxiety. But how much is too much? Below is some important information to consider about binge drinking.
What Is A Binge Drinking Disorder?
The National Institute on Alcohol Abuse and Alcoholism (NIAAA) defines binge drinking as a pattern of drinking that brings an individual's blood alcohol concentration (BAC) to .08 percent or higher in a single sitting. For adult women, this means consuming four or more drinks in a two-hour period at least once a month. For men, it means having five drinks or more within the same timeframe.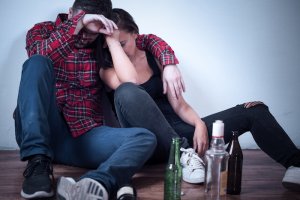 Binge drinking is most often associated with college students and for good reason—over 35 percent of full-time college students ages 18 to 22 admit to binge drinking in the past month. Fraternity and sorority events are known for encouraging alcohol-fueled hazing rituals, while on-campus parties often center around popular drinking games such as beer pong, quarters, power hour, and flip cup.
But binge drinking is not strictly a young-person phenomenon. It's been on the rise among older adults in recent years and continues to be a problem in our new, post-pandemic world.
How Binge Drinking Affects the Body
When a person binge drinks, it wreaks havoc on the body because they are consuming more alcohol than the body can metabolize. In addition to resulting in immediate physical impairments such as slurred speech, memory loss, and poor motor skill function, it can inflame the stomach lining, disrupt the gastrointestinal tract, and cause severe abdominal pain, vomiting, and diarrhea. Learn more about how binge drinking affects the body here.
Binge drinking can also suppress a person's gag reflexes—putting them at risk for choking on vomit while they sleep—as well as slow a person's breathing and heart rate, which can lead to coma and in some cases, death. Over time, excesses alcohol use can cause permanent brain damage and result in compromised memory, lack of coordination, depression, anxiety, and other cognitive side effects.
It's also important to note that excessive drinking weakens the immune system, which increases a person's risk of contracting Covid-19.

Cutting Your Consumption 
If you've noticed an increase in your drinking and struggling to cut down on your own, remember that you are not alone. Support groups such as Alcoholics Anonymous and SMART Recovery offer free meetings both in person and online. There are also a wide range of clinical treatment options, including residential rehab and outpatient groups.