LGBTQ+ Community and Substance Use
June is Gay Pride Month. Also known as LGBT Pride Month, Gay Pride Month started as a part of the gay rights movement, birthed from LGBT political activism in the late 1960s.
Pride signifies something different to everyone in the community. However, in general, it basically means to no longer be ashamed of who you are and to have the courage to choose to live an authentic life openly, despite what family, friends, or society may deem as unacceptable.
Each person comes out of the proverbial closet if and when he, she, or they choose to do so. And although an American paradigm shift within recent years has helped to make this transition a little smoother today, we have to respect the rough beginnings that got us here.
History
LGBT political activism was initially set in motion by the Stonewall Riots on June 28, 1969. That day, New York police officers raided a gay club in Greenwich Village on Christopher Street called Stonewall Inn. The police forced both patrons and employees out of the establishment, leading to a nearly week-long barrage of protests and bumping heads with law enforcement on that street and within the neighborhood itself.
What does it mean to be part of the LGBTQ+ community?
The answer may be loaded for some and simple for others, depending on to whom the inquiry is directed. "LGBT" and "LGBTQ+" tend to be the most used acronyms when describing the community as a whole. The letters stand for lesbian, gay, bisexual, transgender, queer or questioning, and the plus symbol is inclusive of those that are intersex, asexual, pansexual, and kink.
Although recognized and accepted in many mainstream arenas as a protected class today, this community continues to be marginalized and even stigmatized in certain social and religious groups.
It's the marginalization and stigma that isolates the minority from the majority. Barring socio-economic backgrounds, heredity, and environment, societal stigma and isolation may sometimes lead those in the gay and transgender communities to succumb to alcohol and substance abuse in the hopes of mentally escaping a world that they experience as unaccepting of who they are. However, substance abuse only offers a false escape from reality.
According to the Centers for Disease Control and Prevention (CDC), lesbians, gay and bisexual men, and transgender individuals are more likely to not only use drugs and alcohol, but to have higher rates of substance abuse compared to the broader population. Specifically, the Center for American Progress states that about 20% to 30% of gay and transgender individuals abuse substances, whereas about 9% of the general population abuses substances. 
Why are Substance Use Rates Higher?
Alcohol or drug abuse may be a response to a life faced with discrimination, violence, or homophobic attitudes. This can result in a negative impact on those in the LGBTQ+ community with both their personal and professional lives.
Three contributing factors to higher substance abuse:
Stress.
Limited treatment services tailored specifically towards LGBTQ+ needs.
Fear of potential discrimination within addiction treatment services.
Stress.
Stress is a result of your body attempting to protect itself from a threat or a demand. In most situations, this is a positive side-effect of humanity. For example, slamming on the brakes when a car cuts you off to avoid a terrible accident or having to secure a certain number of clients to keep your business running. This stress can push you. It's when stress debilitates your ability to function at your best when it causes problems.
Heterosexual adults face the challenges of balancing family, health, relationships, career, and finances. Those in the LGBTQ+ community are challenged just the same, but some individuals with the added pressure of workplace and housing discrimination; familial rejection specifically because of their sexual orientation or identity; or "accidentally" showing public displays of affection with a partner (such as kissing or holding hands) and getting physically attacked or verbally abused in person or on social media because of that display. This life experience can very well lead to drinking alcohol or using drugs in order to numb the internalized negative emotions in order to not deal with them.
Limited treatment services tailored specifically towards LGBTQ+ needs.
Many treatment programs that claim to have a program created specifically for those in the LGBT community do not actually have services for them that are any different from programs for non-LGBT individuals. Only 62 out of 854 treatment programs actually confirmed during a telephone follow-up that they had services geared towards the LGBT community. At American Addiction Centers, the nationwide leader in addiction treatment, we actually do have a program specifically for the LGBT community.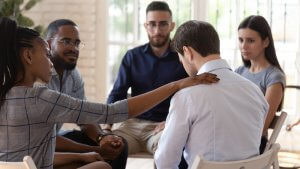 Fear of potential discrimination within addiction treatment services.
If the individual is able to make it pass the other obstacles and find a treatment option, there may be further concerns about whether or not they can fully open up to a physician or staff member about their life and who they are for fear of being stigmatized, dismissed, criticized, or outright discriminated against. Because of this, they may only share part of the challenges they are facing and may not get the total treatment required to help them reach long-term sobriety.
Final Thoughts on Gay Pride, the LGBTQ+ Community and Substance Abuse
Being able to be yourself in a world that may not accept you can be challenging. However, you are not alone. Your voice is heard. Your face is seen. And if you're battling a substance use disorder or an alcohol use disorder, know that help is here for you.
Wishing you a happy Gay Pride Month!