Resilience in Grief: Redefining Being Strong
No two people experience grief the same way. Grief is a highly individualized response to a traumatic event, so there is no neatly defined handbook with agreed-upon solutions. However, how we approach grief may assist in the process of coping. Too often, it seems that well-intentioned people offer advice in themes of strength. You need be strong or I admire your strength. Ultimately, grief does require a strength of spirit. However, we may need to redefine the idea of "strength" when it comes to grief and grieving.
Being strong during grief does not mean overcoming or stifling sadness, disbelief, anger, fear, or any other emotion. Nor does strength mean putting on a brave face for others. While there is some truth in 'time healing wounds,' strength doesn't mean placing a defined timeline on grief, and perhaps most importantly, strength does not mean grieving alone. Certainly, this past year has left many families grieving, and although we all cope with grief differently, there are a few suggestions that may assist in the process.
Accept Grief as Normal.
Grief is a totally natural and normal response to a particularly tragic or painful event. With that said, so are the symptoms of grief. You may cry regularly, feel lethargic, overeat or lose your appetite, withdraw from friends or family, question long-held beliefs, and experience a spectrum of emotions, from sadness and anger to relief and even joy. This is all normal. As such, strength does not mean overcoming these common – and normal – symptoms of grief.
Find beneficial social support.
As stated, everyone deals with grief differently. While it may be helpful to share our emotions with others, whether it's a long, in-depth conversation with a loved one or joining a support group, we also shouldn't feel pressured or expected to do so. Although connected with others is important, you don't have to consistently "process" your emotions, especially to satisfy the expectations of others. Be mindful and determine what's truly beneficial for yourself at any given stage of your grieving process.
Grieve purposefully.
Grieving with intention and purpose is also a way to redefine strength when it comes to grief. Instead of thinking of strength as a way to overcome grief, consider strength as a way to welcome it. Some examples of grieving purposefully could include journaling, looking through photos, having those aforementioned difficult conversations, or simply allowing yourself to reflect on memories. Although grieving can be overwhelmingly difficult, our minds (and hearts) can become increasingly resilient with intentional grieving.
Focus on self-care.
Grief can be exhausting. While it may be hard, practicing physical self-care is vitally important. When something detrimental occurs, the situation is typically compounded by other challenges, whether they're legal, financial, social, spiritual, or all of the above. Unsurprisingly, we tend to dismiss healthy routines and habits as our energies become enveloped by the event. However, ignoring our physical well-being can be especially harmful to our ability to cope. Although It may take some time, try to eat nutritiously, exercise regularly, and sleep well.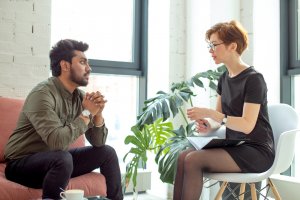 Seek professional help when needed.
No matter how 'strong' someone may be in their response to grief, some individuals may find an event too difficult to reasonably overcome without professional assistance. In this instance, normal grief may've escalated into complicated grief, which is a recently recognized medical condition. Some symptoms of complicated grief include:
An unreasonable and persistence focus on the event.
Episodes of rage or intense and persistent feelings of sadness and hopelessness.
Avoiding or obsessing on reminders of the event.
Trouble accepted the reality of the event.
Substance abuse or other self-destructive behaviors.
Suicidal thoughts or actions.
When someone begins to experience complicated grief, it may be absolutely necessary to seek professional help. As we redefine strength, receiving treatment may be the bravest step in the grief process.  Although grief is a normal response to traumatic events, our human resolve to ultimately find meaning, hope, and comfort – no matter how hard the circumstances – is an equally natural response. We just need to use our strength to remember that.