Simone Biles, Mental Health, and Success
Americans seem to be born with the natural ability to dream while we're awake. We're bred that way. Driven by the chance to succeed. The chance to rise above mediocrity. The chance to capture the ever elusive "American Dream." The chance to mentally place ourselves anywhere but where we are physically present. But as a country, we need to remember to put our mental health and well-being above success even if that's not our natural inclination to do so.
Our Olympic heroine—Simone Biles—showed courage, strength, and even goodwill towards her teammates as she cheered them on after sealing her own fate by withdrawing from the competition this week due to needing to focus on her mental health. Simone Biles's mental health decision can help Americans understand the importance of self-care in addition to physical care.
How Mental Health can Affect Success
Mental health is defined as our "emotional, psychological, and social well-being." This impacts how we act, how we think, how we feel, how we relate to others, how we handle stress, to the choices we make. Anyone can see how being an Olympic athlete would have their mental health tremendously affected.
"Mental health problems" may be inaccurately reduced to a pop culture catch phrase; an umbrella in which a variety of mental illnesses find refuge under. But they are real and vary from one to another, and includes mental conditions such as:
Depression.
Anxiety.
Eating disorders.
Attention deficit disorder (ADD).
Post-traumatic stress disorder (PTSD).
And schizophrenia, just to name a few.
Some of the above illnesses may lead to alcohol or drug addictions, which oftentimes exacerbates the problem instead of helping.
If you or a loved is struggling with addiction to drugs or alcohol and a co-occurring mental health disorder, know that you're not alone and there are people to help. American Addiction Centers, the nationwide leader in addiction treatment, provides treatment for those battling addiction and co-occurring disorders, such as depression or anxiety. If you're struggling, please reach out to get the help that you need.
Envisioning Success 
When it comes to our goals and dreams, most self-help books on the market tell us to never give up. These books tell use to never quit; to persist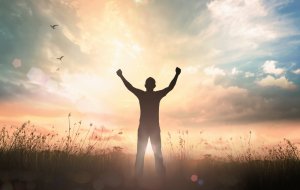 in the face of adversity; to be consistently working towards bringing our dreams to fruition. Self-help books encourage us to visualize ourselves where we want to be because where we are is not what we want. These books mean well. And there is a certain mindset that any individual needs to have in order to achieve the success that they seek. This is true of successful athletes, actors, writers, musicians, inventors, entrepreneurs, and all those that want something bigger than themselves. So, the self-help books are not necessarily wrong, but perhaps some of them may simply be incomplete.
There has to be a balance between being driven to succeed and maintaining a healthy quality of life. Mental health is important at every stage of our lives, which includes our childhood, the teen years, and throughout our adulthood. And if an individual experiences a mental health problem, this could impact their behavior, thinking, and mood.
Variables that contribute to a mental health problem:
Family history of mental health problems.
Biological factors (e.g., brain chemistry, genes).
Life experiences (e.g., abuse, trauma).
Simone Biles Made a Mental Health Decision
The pressure that professional athletes, actors, or musicians have in order to succeed is a kind that many of use can't fathom.  It's stressful to have to appear to be as close to perfect as possible because "all eyes" are on them. But we all face pressure and stress, and how we handle it and face it has everything to do with our mental health. Let Simone Biles be the role model for success, attitude, and a healthy quality of life by focusing on our own mental health.
Simone Biles chose her mental health; to work on herself holistically. You can make this choice as well. If you find yourself battling with substance or alcohol abuse and struggling with any co-occurring mental health conditions, please reach out for the help that you need today.