Sleep Deprivation and the Pandemic
What a difference a year can make. Nobody could've anticipated at the end of 2019 the challenges that 2020 would present to the United States, let alone to the world at large.
And with challenges, oftentimes comes stress. Stress can impact sleep patterns, as well as drug and/or alcohol usage.
At American Addiction Centers (AAC), the nationwide leader in addiction treatment, we follow the guidelines from the Centers for Disease Control and Prevention (CDC) and continue to safely provide treatment under the care of licensed physicians during this pandemic.
If you find yourself battling an addiction with drugs or alcohol, please reach out for the help that you need.
Stress, COVID, and Insomnia
Stress is the human body's reaction to pressures from a life event or circumstances. In other words, to the degree to which an individual feels overwhelmed or isn't able to deal with out-of-control pressures, is stress. It triggers a "flight or fight" reaction and mobilizes our immune system in order to respond rapidly to perilous situations.
According to the CDC, COVID-19 is stressful to people due to anxiety and fear over a new disease, as this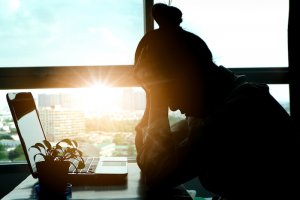 virus comes with so many uncertainties. And although social distancing is necessary to slow the spread of COVID, this requirement may cause some to feel isolated, which can lead to an increase in anxiety and stress.
Stress during an infectious outbreak may cause:
Challenges with sleeping and remaining focused.
Modifications with eating patterns/sleep.
Increase use in alcohol, drugs, and tobacco.
Fear about your health and that of loved ones.
Increase in mental health conditions.
Increase in ongoing health problems.
Sleep is a necessary biological process. It is even more critical during this pandemic due to the benefits it provides for both mental and physical health.
Increases brain function.
Empowers and strengthens the immune system.
Improves mental health.
Enhances mood.
Some people may be battling insomnia. Insomnia can be used to describe trouble falling asleep, fatigue, sleepiness upon waking, and waking in the middle of the night without being able to fall back to sleep.
Insomnia can be classified as primary or secondary insomnia.
Primary insomnia is when an individual has trouble falling asleep that isn't caused by neither a physical disorder nor psychological one.
Secondary insomnia involves an individual who has trouble falling asleep due to a mental health disorder or a medical condition.
Solutions
It hasn't just been the stress of contracting a virus that may or may not land someone in the hospital or
worse. It's also the stress of an unorthodox election year, the aftermath of election results interlaced with political and social unrests, and an unstable economy leaving numerous people jobless. There are many understandable concerns.
But people have to work through these struggles by taking good care of themselves. According to the Sleep Foundation, sleep is part of the solution and you should create a routine in order to make it effective.
Guidelines to effective sleeping during pandemic:
Wake up at the same time every day.
At the end of each day, decompress by meditating or doing some easy reading.
Turn off the lights, and go to sleep at the same time each night.
You can also reach out for professional help if you find the struggles you're dealing with to be too overwhelming.
And if you're battling an addiction, there are resources available to help you achieve long-term sobriety and to live a healthy and productive life during this pandemic and beyond. Don't let a battle with substance abuse hinder you. Please reach out to get the help that you need today.