Veterans Day: Celebrating Service, Sacrifice and Healing
November 11th is Veterans Day, a day to recognize and honor American's veterans for their patriotism, service, and sacrifice. In observance of Veterans Day, we should also recognize the ongoing battles many veterans face after service. According to an eight-year study, roughly 11% of veterans who first seek treatment through a Veterans Affairs (VA) facility meet the criteria for a substance use disorder. In many cases, veterans also struggle with co-occurring mental health disorders. However, in the past few years, specialty recovery resources have become increasingly available to veterans that address their unique needs.
Prevalence of Mental and Behavioral Health Disorders Among Veterans
According to Veterans Affairs, more than 1.7 million veterans received treatment in a specialty mental health program through the VA in 2018.  While the prevalence of mental health disorders may be attributed to many factors, many experts cite difficulties transitioning back to civilian life, combat-related trauma, grief, loss, and bodily injury as common contributors. According to studies, these four mental and behavioral health conditions are most prevalent among veterans.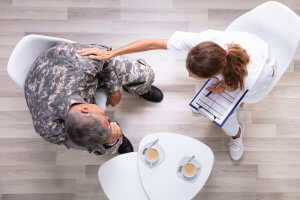 Anxiety Disorders: Anxiety is a normal biological response to a stressful event. However, anxiety disorders involve unwarranted or ongoing anxiety that may worsen over time. In some cases, anxiety disorders may develop into phobias or post-traumatic stress disorder (PTSD), a common disorder that affects many veterans with combat experience. Over the years, researchers have indicated a strong link between PTSD and suicide among veterans. Studies have also found correlations between PTSD and higher rates of veteran homelessness.
Depressive Disorders: Depression is the most wide-spread and costly mental health disorder in America. For veterans, depressive episodes may follow combat-related trauma, transitioning into civilian life, grief, or loss. Common symptoms of depression may include social isolation, loss of interest in everyday activities, persistent feelings of sadness, and thoughts of suicide. According to the National Council of Behavioral Health, 30% of active duty or reserve military personnel deployed in Iraq or Afghanistan, roughly 730,000 men and women, sought treatment for a mental health disorder, most commonly PTSD and major depression.
Substance Use Disorders: According to studies, higher rates of binge drinking were found among veterans with higher rates of combat exposure, relative to other military personnel. In addition, opioid dependency among veterans has proven to be a complex issue, due to chronic pain management. However, through efforts to prevent opioid misuse and addiction in recent years, service members using opioids has dramatically decreased since 2010.
Co-Occurring Disorders: Substance abuse and the co-occurring disorder of PTSD is a common concern among veterans. According to VA administrative data, roughly 63% of Iraq and Afghanistan veterans diagnosed with a substance abuse disorder were also diagnosed with PTSD. Fortunately, many VA resources are now available to veterans that address the complexities of a dual diagnosis.
Specialty Treatment Resources for Veterans
In recent years, mental and behavioral health has been dramatically destigmatized within the military. Currently, Veterans Affairs offers veterans a number of resources to those struggling with mental and/or behavioral health concerns through their various clinics and hospitals. Treatment options may include short- or long-term outpatient care, residential treatment, self-help groups, family counseling, relapse prevention, and case management.
If needed, medication-assisted treatment (MAT), such as Suboxone, to combat opioid abuse is now also commonly available through most VA clinic, as well as highly specialized treatment program tracks, such as specialized tracks for female veterans, homeless veterans, and veterans returning from combat.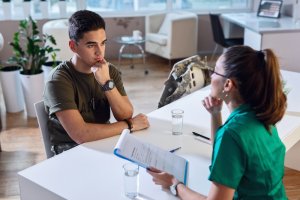 Many private treatment facilities now also offer veterans a specialized continuum of care to address their unique needs. For instance, American Addiction Centers operates The Salute to Recovery Program through their Desert Hope and Recovery First facilities, which provides specialized dual diagnosis treatment for veterans and first-responders.
As we celebrate our veterans this Veterans Day, it's appropriate to recognize both their past service and any scars they may've received. If you or a someone you know is a veteran struggling with mental or behavioral health concerns, explore the various resources of Veterans Affair or contact a private facility that specializes in veteran-specific treatment. Give the gift of healing this Veterans Day.