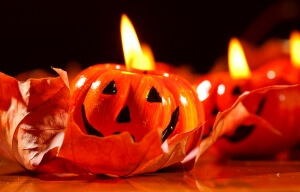 This year Halloween falls on a Saturday night, and if you're new to living in sobriety, it may surprise you by causing cravings to drink or get high.
No matter where you live, whole neighborhoods will come out and celebrate, and downtown areas will be overrun by revelers in costume – many of whom will be stumbling their way through the evening. Though this may be an irritation and a reminder of many of the reasons why you stopped drinking or using – people are not exactly showcasing their best attributes when they are wasted and wearing a ripped Superhero costume with thick makeup running down their faces – for others, it can be a reminder that they are not out on the town having a great time with friends, but sober and possibly lonely and bored.
Instead of letting Halloween trigger you to relapse, you can take control of the holiday and make a plan to avoid coming into contact with drugs, alcohol, or people who are drinking or using. Pick one or more of our 10 tips, and make your sober Halloween one of the best nights of the year:
1.     Go to a 12-Step meeting. In many areas, there are 12-Step meetings available at practically all hours of the day and night, and Halloween night is no exception – especially when it falls on a Saturday. It's well known that the weekend can be a trigger for those who used to go out to bars and hit party after party, and for that reason, there are often a number of 12-Step meetings available to provide those who need it with the community support they need to stay sober.
2.     Go to a sober event. Similarly, many people in recovery make a big deal out of Halloween, holding sober parties and other celebratory options for those who wish to have a good time without the drugs and alcohol. If you've spent any time in the "rooms" or regularly attend group therapy sessions – and you should if for no other reason than to have people to hang out with at times like this – then you'll likely hear about a number of different sober events happening around town.
3.     Throw your own party. If you're not interested in anything that other people are doing, throw your own sober Halloween party! There is no better way to control the people you spend time with, and whether or not you are around drugs and alcohol, than to play host. Invite only people you know will be supportive of your recovery and agree to be sober themselves, then focus on spooky decorations, a great buffet of snacks and nonalcoholic beverages, play "Monster Mash" on repeat, and throw open the doors.
4.     Head out of town. Not in the mood for anything that has to do with witches, ghosts, or goblins? No problem. Pack a bag and head out for the last camping trip of the year, or pick another remote destination that will allow you to get away from the Halloween madness and just breathe.
5.     Hand out candy. Let's be honest: Halloween is really about candy, so if you're in the mood, go out and grab a big bag of the good stuff, and spend the evening answer the doorbell. React with fear and awe to little zombies and princesses who come trick or treating. Want to meet some people in your community? Make a night of it, sit outside handing out hot apple cider to parents and full-size candy bars to kids, and connect with your neighbors rather than just tossing Tootsie Rolls through the mail slot.
6.     Make it a DIY night. Have you been planning on building a bookshelf for about six months, but the planks and nails are just gathering dust in the corner? Is there an amazing recipe you've been wanting to try, but it takes eight hours from start to finish and you haven't yet found the time? Do you need to clean the house from top to bottom or to finally organize your closet? Have you wanted to spend time exploring yoga videos online? Then this is your night. Lock the doors, turn off the front porch light, or simply put out a bowl with a sign reading "Take ONE, please!" Then, spend the evening getting a couple big projects off your to-do list.
7. Head to the movies. If ever you had a shot at getting a whole theater to yourself, Halloween night is the night. Few people head to the movies, and you'll find you practically have the place to yourself – no lines for soda refills, sit anywhere you like, and talk to your friends like you're at home.
8. Host a Halloween movie marathon. If you're a sucker for 1950s horror, or if you haven't seen the Friday the 13th movies since high school, then this the perfect night to hole up by yourself and really freak yourself out. Or invite some buddies over who are also looking for a fun way to celebrate a sober Halloween.
What are your plans for this Halloween? How will you have fun and stay sober? Leave a comment and share your thoughts for the best way to rock out a sober Halloween in 2015.