8 Tips for Staying Sober This Halloween
October 15, 2015
Staying Sober on Halloween may not sound difficult, but if you're new to living in sobriety you may be surprised by cravings to drink or get high.
Why Staying Sober on Halloween Can be Difficult
No matter where you live, whole neighborhoods will come out and celebrate, and downtown areas will be overrun by revelers in costume – many of whom will be stumbling their way through the evening. For most adults not trick or treating, it'll be obvious that staying sober on Halloween is not a priority.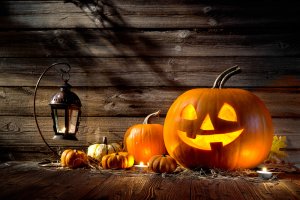 This may be an irritating reminder of many of the reasons why you stopped drinking or using. After all, people are not exactly showcasing their best attributes when they are wasted and wearing a ripped Superhero costume with thick makeup running down their faces. For those in sobriety, Halloween can also be a reminder that they are not out on the town having a great time with friends. For them, Halloween may serve as a reminder that they are sober, lonely, or bored.
This mindset of "sober = not fun" is just that; a mindset. Don't give into it. Instead, take control of the holiday and make a plan to avoid coming into contact with drugs, alcohol, or people using either substance.
8 Tips for Staying Sober on Halloween Night
Pick one or more of our 8 tips, and make your sober Halloween one of the best nights of the year:
1: Have a Party.
A bit of secret knowledge; staying sober on Halloween doesn't mean you can't party. Hosting your own or attending a sober party can be a great way to have fun on Halloween night. Invite only those who you know will be supportive of your recovery and agree to be sober themselves. Focus on spooky decorations, a great buffet of Halloween themed snacks, nonalcoholic beverages, and play Monster Mash on repeat. You may be surprised how many people are interested in a sober Halloween party.
2: Go to a Sober Event.
Sometimes staying sober on Halloween can be as simple as attending an event. Maybe there's a book signing in the area. Perhaps a new movie is premiering at the local theater. There could even be sober Halloween gatherings at local restaurants. All of these options are great ways to have a fun time on Halloween night, without breaking sobriety.
3: Trick or Treat with Your Kids.
For kids, Halloween is less about partying and more about candy. Spend your Halloween with them. Dress up in a costume yourself and accompany your little ones during their trick or treating. Don't have kids? Consider accompanying a friend or family member who does. You'll get to relive the glory days of trick or treating, and your friend might appreciate having another adult to talk to during the evening.
4: Take a Trip Out of Town.
One of the best ways to stay sober on Halloween? Go to a place they don't celebrate it. No, really. Have some extra vacation days lying around? Why not plan a trip out of town for the holiday? Go hiking in the mountains. Visit the family back home. Take a walk along the beach. And for those seeking a real adventure, there are several countries that don't celebrate Halloween at all.
5: Hand out candy.
Let's be honest: Halloween is really about candy. If you're in the mood, go out and grab a big bag of the good stuff, and spend the evening answer the doorbell. React with fear and awe to little zombies and princesses who come trick or treating. Want to meet some people in your community? Make a night of it. Sit outside handing out hot apple cider to parents and full-size candy bars to kids. Connect with your neighbors rather than just tossing Tootsie Rolls through the mail slot.
6: Make Your House a Haunted One.
Decorating your house can be a great way to spend Halloween sober. There are hundreds of supplies available at local craft stores. Whether you've covering bushes in cobwebs or filling each step on the porch with jack-o-lanterns, you can have fun making your house the most haunted on the block.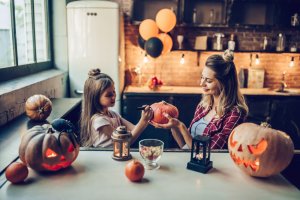 7: Make Some Pumpkin Art.
Artistic expression is one of the best ways to process emotions. Luckily, Halloween provides a unique creative activity: pumpkin carving. Grab a few pumpkins and see how many different faces or designs you can create in an evening. Your jack-o-lanterns will be sure to give trick-or-treaters a good chuckle (or a scare).
8: Watch a Horror Movie.
There's no better time of year to binge-watch horror movies than Halloween. Make some popcorn, dim the lights, and freak yourself out by watching a medley of Hollywood horror. You could even host a sober Halloween movie marathon and invite some friends over.
Whatever your Halloween plans, but sure to keep it safe, sober, and fun!
_____
Photos Courtesy of Shutterstock.