Substance Abuse and Treatment Options
Substance abuse is the pattern and use of any type of substance in an adverse way for the purpose of modifying one's mood. The word "substances" refers to prescription drugs, illegal drugs, over-the-counter drugs, or alcohol, as well as substances that are not considered drugs.
The National Institutes of Health (NIH), the Substance Abuse and Mental Health Services Administration (SAMHSA), and the National Institute on Drug Abuse (NIDA), relay that addiction is a long-term condition (and chronic) characterized by the individual's compulsive need to seek out and use drugs even though there are consequences involved.
These organizations define addiction as a disease when:
Addiction modifies how the brain reacts under circumstances regarding self-control, stress, and rewards.
Changes are long-term and have the ability to be ongoing after an individual stops using the substance.
American Addiction Centers (AAC) is the nationwide leader in addiction treatment. With several facilities across the country, there is an opportunity for those struggling with an alcohol use disorder or a substance use disorder to get the help they need. We provide medical detox, inpatient/residential treatment, partial hospitalization program (PHP), and outpatient treatment. If you find yourself struggling with an addiction to substances, please reach out for help.
Should I Enter an Inpatient or Outpatient Program?
There are several treatment options, inclusive of different lengths of stay, different types of therapies, and a variety of amenities at different facilities.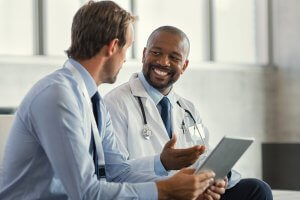 The focus here will be on inpatient versus outpatient treatment options. On the surface, the distinguishing difference that stands out the most is that with inpatient care, individuals commit to care 24 hours a day, seven days a week for either 30, 60, or 90 days at an actual facility. And on the other hand, outpatient treatment has a specific commitment for individuals to attend treatment for a certain number of days per week for a specific number of hours per day over the course of a specific period of time.
So, how do you know which treatment program is right for you?
Many variables may contribute to deciding whether or not to do inpatient versus outpatient treatment. Variables may consist of the amenities with a facility, executive chef-prepared meals, health insurance coverage, type(s) of substances misused by the individual, home environment, if the patient needs to continue working during treatment, and a host of other contingencies.
Additionally, a physician has to conduct a psychological assessment, review medical history, and determine if any co-occurring mental health conditions such as depression or anxiety exist.
If you're battling an addiction, you're not alone. We're not only here for you, but we are here to walk alongside you and to be a beacon of light on what may feel like a very dark and lonely road. AAC has resources available to help you live a healthy life, as well as to achieve long-term sobriety one step at a time and one day at a time… together. Don't let this battle with substance misuse hinder you. Please reach out to get the help that you need.