How to Talk to Your Child about Their Father's Addiction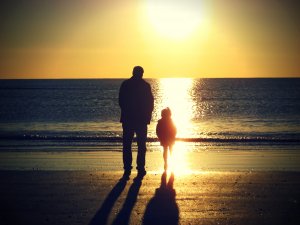 It is not easy to discuss the subject of a family addiction at any age or in any context, but it is an especially delicate topic for a child whose parent is living with an addiction. Though many adults prefer to gloss over the issue and avoid the discussion entirely in most situations, choosing instead to focus on the positive things, it is often necessary to broach the conversation if the child's father is struggling with addiction. By doing so, other parents and caregivers can help the child to gain some perspective and a deeper understanding of the situation, and help the young person to avoid internalizing feelings of anger, guilt, fear, anxiety, and/or sadness that commonly result.
Here are some tips to help you get started:
Safety first. If the child is in danger due to the father's erratic behavior under the influence or due to neglect, the first order of business is safety. It can be helpful to ask about visible bruises or lacerations and inquire if the child seems anxious or scared. Just remain calm and open no matter what the child says to help the child feel safe. If the child is in clear danger, take steps to protect them from further harm.
Focus on other aspects of their father. Even if not physically abusive, most parents under the influence will engage in behaviors that can be scary, unsettling, or unhealthy for kids. It can be helpful to discuss the positive points about their father, times when he was doing well or showed up for them or made them laugh.
Be mindful of the child's age. When discussing something as serious and life-threatening as addiction, it is important to keep in mind the age and maturity level of the child. Keep things simple and avoid too much detail. Answer all questions honestly but in terms that are fact-based and nonjudgmental.
Ask questions. Take the time to ask how the child is feeling, if there are any questions, or what has been experienced that may have been confusing. Keep the questions open-ended to encourage discussion but avoid pushing too hard for answers if the child is uncomfortable.
Avoid making false promises. It can be tempting to want to reassure a child who is scared about their father's addiction and tell them that their father will be fine. The fact is that things may not be okay. Addiction is a deadly disease, and while it is not necessary to emphasize the potentially fatal outcome of the situation or the risk that he is in every day, it is also not necessary to lie or make predictions about the future that are overly rosy. It may be helpful to emphasize that no matter what happens they have your love and support and will be able to turn to you if they have any questions or need anything at all.
Though it is troubling and exhausting when someone's father is living in addiction, you can help to ease a child's mind by discussing the issue and providing your support and assistance whenever possible.
For more information on addiction and the family, click here.