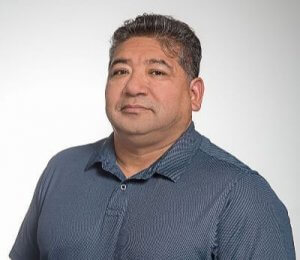 Dan Cerrillo
About
Dan Cerrillo is a decorated Navy SEAL veteran who currently serves as the chief of staff for American Addiction Centers. He is the recipient of the Bronze Star, Navy Commendation and Navy Achievement Medals, all with combat distinguishing devices, as well as the Purple Heart Medal.
Dan graduated as an original member of BUD/S Class 194 and served with SEAL Team One as an operator and instructor. In 1998, Dan was accepted to the Naval Special Warfare Center/ Special Operations instructor staff and received his accreditation as a Master Training Specialist for Advanced Applied Explosives, Diving Supervisor, Diving Maintenance and Range Operations Safety. He also earned a finance degree from National University.
On September 11, 2001, as Dan prepared for a career in finance, he watched the events of the day unfold. Instead of leaving the military, he chose to continue his service to this great nation and spent the next six years deploying with Naval Special Warfare Group One, SEAL Team Seven, and SEAL Team One to both Iraq and Afghanistan.
Following a blast injury in Iraq, Dan endured numerous surgical procedures that eventually forced him to seek medical retirement after nearly 15 years of service. After leaving the military,  Dan continued government service by working for the State Department before being recruited to work for Vulcan Inc. He worked for Vulcan Inc. for six years as a senior executive protection specialist and team leader.
During those six years, he also opened three CrossFit Gyms in the greater Seattle area and Turning Steel, an executive coaching/SEAL adventure company. Dan also coached defensive line, strength, and conditioning for Bellevue High School, Bellevue College and Bellevue Junior Football where he was part of winning multiple conference, state and national championships.
After selling his businesses in 2016, Dan worked for Remote Control Technology, serving as the senior vice president of military sales before being recruited to Bayshore Global Management as the director of recruiting for the Global Support Division. Dan also coached football for Cedar Park Christian Football and opened Spartan 7 Adventure and Security.
Dan now works full time assisting veterans with addiction and PTSD. He also serves on the board of directors for the Navy SEAL Fund and GEO Flight Academy. Dan is an ambassador for the Navy SEAL Foundation and financial advisor to The Time For A Hero Foundation. In 2020,  Dan was part of creating the Navy SEAL Support Alliance, a joint endeavor of the Navy SEALs Fund, SEAL Future Foundation, SEAL Family Foundation, Warrior Health Foundation, Time For A Hero Foundation, America's Mighty Warrior Foundation and American Addiction Centers.
Dan and his wife Leilani live in the beautiful countryside outside of Nashville. They have been married for 20 years and have three children.
Featured In
American heroes survive horrors of war, only to die at home: The Hill
Address mental health with GIs at deployment: Stars and Stripes