Table of Contents
---
An intervention is an important event, created by family and friends of a person struggling with addiction, to help the person realize they have a problem, they need help, and they have support. While reality television shows have popularized interventions in recent years, these depictions often offer a false sense of how an intervention should be conducted. While interventions should always provide encouragement and incentive for the person struggling with addiction to seek help, they come in more forms than the classic family meeting frequently displayed in popular media.
What Is an Intervention?
An intervention is a carefully planned process. It is important that the friends and family involved avoid spontaneity in what they say, when they gather, and where they gather. This helps all team members to stay on topic, and to avoid placing blame, making accusations, or saying other hurtful things, which may lead the person to refuse help.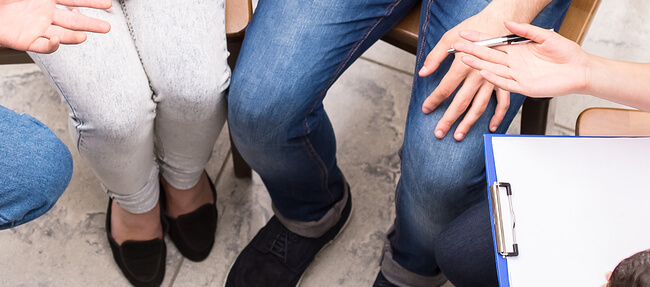 The intervention should focus on the positive. Although it is important for a person struggling with addiction to understand that their condition affects the mental and emotional health of their loved ones, the point is not to blame them for causing harm. Instead, it is to point out that the addiction causes negative changes in behavior, and there is a solution: detox and a comprehensive rehabilitation program.
Family and friends who want to stage an intervention can make a plan for one on their own, or they can consult with a professional interventionist. This professional will structure the planning process, guide the intervention team, and lead the overall event.
Steps Involved in an Intervention
When considering an intervention to help a loved one struggling with drug or alcohol addiction, there are some important steps that can guide the process.
Step 1: Get help. This may involve contacting a professional interventionist, social worker, or doctor. It could also involve contacting other family and friends. Support for the process is important, and it is important not to do all the work alone.
Step 2: Form the intervention team. This is the core group of organizers, and it may or may not include a professional interventionist. Generally, only close family members, friends, and coworkers should be included on the intervention team. If a person is currently struggling with their own substance abuse issues, they should not be included on the team.
Step 3: Make a plan. This includes scheduling a specific day, time of day, location, and guest list. It also includes an outline of how the process will work and what everyone will say. This is the overall guide to the event.
Step 4: Gather information. Learn about the substance of abuse, addiction, and the recovery process. Gather information about detox and rehabilitation programs, particularly those that suit the personality and needs of the person struggling with addiction.
Step 5: Write impact statements. Everyone at the intervention should have something to say about the person's struggles with addiction. These should be personal statements, detailing how the addiction has harmed the person they love. Relationships can be deeply hurt by substance abuse. Written statements about the impact on relationships can help the person struggling with addiction to understand that their struggle does not impact them alone. These statements should be emotionally honest and focus on love. There is no place for personal attacks in these statements.
Step 6: Offer help. People attending the intervention should be willing to support their loved one in some capacity while the person goes through detox, rehabilitation, and long-term recovery. For example, offer rides to treatment once a week, or offer to attend family therapy sessions or support group meetings with the person.
Step 7: Set boundaries. If the person refuses treatment, relationships with friends and family must change. Everyone present should commit to ending codependency and enabling behaviors. Be clear that there will be consequences if the person refuses help.
Step 8: Rehearse. Emotions run high regarding substance abuse and addiction. To avoid taking too much time, blaming the loved one, or falling into self-pity, rehearse the whole intervention with everyone at least once before it actually occurs. Then, each team member will have an idea of what to say, when they will speak, and when to cede the floor.
Step 9: Manage expectations. While television nearly always shows the person at the center of the intervention accepting help, this is not always the case in real life. Even with a well-planned intervention and clear offers of help, the individual may not accept help for a variety of reasons. If they do not, then follow through on the outlined consequences.
Step 10: Follow up. Whether the person accepts help or not, it is important to uphold statements made during the intervention. Otherwise, the person may experience excessive stress, which could slow down their rehabilitation process, lead to relapse, or deepen substance abuse problems.
Things to Avoid at an Intervention
Even with preparation, there are important points to avoid during an intervention. These include:
Labels like "alcoholic," "addict," "junkie," etc.: These can be taken as accusatory. Instead, opt for neutral terms and avoid defining the person by their addiction.
Too many people: Pick a core group of close friends and family, and stick to a small number of people.
Being upset during the intervention: Find ways to manage personal feelings so the event doesn't become overrun by strong emotions.
An intoxicated subject: If the subject of the intervention is intoxicated when the event is supposed to occur, it is not likely to be effective. Be prepared to wait for the person to sober up.
Different Types of Interventions
There are many different types of interventions to choose from. Many professional interventionists have a preferred intervention style they use.
Recovery Requires Social Support
Regardless of what style of intervention is used, the point of the process is to help someone struggling with alcohol or drug addiction realize that they have support to overcome this condition and real help is available. Support comes in many forms, including medical care, therapeutic help, and social support from loved ones.
Explore:
When Should an Intervention Be Performed?