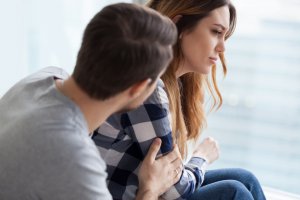 Getting the courage and having the resolve to get help for your own addiction is already difficult. If your spouse or partner is also an addict, it can seem like an insurmountable obstacle. Learn how you can get help not only for yourself, but for your partner as well.
Dually Addicted Couples
Relationships in which both members of the couple use drugs are very common. Substance abuse can severely damage the relationship, and this can further complicate drug use and lead to increased abuse among partners. At some point, one partner will make the decision to seek treatment. This act will hopefully prompt the other to also seek help.
Studies have shown that neither traditional individual therapy nor Behavioral Couples Therapy (BCT), a family-based treatment approach that focuses on both the individual seeking recovery and their partner, are effective when both partners in a relationship suffer from addiction.¹ The question thus facing couples in this situation is: what treatment is effective for us and how do we proceed?
Just the Two of Us (Together but Separate)
Treatment for couples is usually comprised of individualized therapeutic treatment along with regular couples therapy. These programs allow couples to undergo therapy in tandem, working on their issues as partners while still receiving the full range of independent treatment required for successful recovery.
Addiction recovery is a very individualized process. Although some of the treatment will be couple-based therapy, the processes of working through detox, healing, and overcoming the cause of addiction is very personal. Both partners may be dealing with addiction stemming from substance exposure at the same time, but the reasons why each continues to use is often quite different. It is therefore essential to determine the underlying cause of addiction for each individual.
Despite a couple having the best intentions to reach sobriety in unison, this is often just not the case. Partners may end up out of sync throughout any phase of their treatments, and this can have devastating effects. One partner moving more slowly than the other may feel a sense of failure, while one partner making rapid progress may feel being held back by the other who is struggling. For these reasons, separate courses of treatment are often initially recommended for couples embarking on their journey to recovery.
Ways to Get in Contact With Us
If you believe you or someone you love may be struggling with addiction, let us hear your story and help you determine a path to treatment.
There are a variety of confidential, free, and no obligation ways to get in contact with us to learn more about treatment.
[/callout-borders]
Find a Couples Recovery Program Near You
One is the Loneliest Number
For some couples, attending rehab together is not always ideal. Nor will it always be beneficial to one or both partners. Sometimes people just need to deal with their addiction on their own. The following are some of the situations in which each person may want to consider going to rehab separately:
Couples experiencing ongoing domestic abuse
Codependency (couples in a codependent relationship)
Someone has special treatment needs requiring a special facility (such as for a co-occurring mental health disorder)
Only one partner is interested in pursuing rehab
In cases where two addicted partners receive treatment at different rehab centers, there should be an attempt to schedule therapy sessions together. This allows the couple to work on their challenges together and will make treatment more effective and the results long-lasting.
Couples in Recovery
After the completion of rehab, partners can be a strong source of support for each other as they move forward. They can keep each other on track for continued sobriety, by helping to avoid triggers and remembering the tools and skills learned during rehab. With continued assistance from aftercare programs and peer support groups, the couple will be able to successfully face challenges and continue in their recovery together.
Sources:
Fals-Stewart, W., O'Farrell, T.J., & Birchler, G.R. (2004). Behavioral couples therapy for substance abuse: rationale, methods, and findings. Science & Practice Perspectives, 2(2), 30-41.