What to Expect in the First Week of Rehab
What you will learn:
What to expect in your first week of rehab.
Withdrawal symptoms, treatment, and therapies.
The first week of inpatient rehab is a time of challenging and necessary change. It's when the body and mind begin to break their reliance on drugs and alcohol. 
The addiction itself and the treatment of the addiction shape that first week.  Here we guide you through what to expect in rehab.
Withdrawal Symptoms
Every addiction withdrawal looks and feels different. Symptoms of the initial detox are dependent on the substance. 
For instance, withdrawal from heroin and prescription pain killers may include symptoms like nausea, vomiting, and body pains that last less than a week. Withdrawal from alcohol could bring on mood swings, brain fog, and tremors, and symptoms may last for more than a week.
Over those first 7 days and through the entire treatment, staff will help manage those symptoms of withdrawal. 
Withdrawal Treatment
Treatment during these first few days will strive to remedy both these physical and mental symptoms. Staff may suggest medication-assisted treatment. For example, buprenorphine is used to taper off addiction to heroin and narcotic pain medicines. 
Beyond the physical aspect, long-term treatment aims to change patterns of thoughts and behaviors. What this looks like is specific to the person and their needs.
For example, counselors may diagnose an underlying mood disorder or issue that drives a person to self-medicate. Staff could prescribe a combination of antidepressants, cognitive behavioral therapy, and group therapy. 
Or, maybe music and art therapy becomes vital to the individual's treatment. Creative therapies can help some patients express themselves and cope with the absence of drugs and alcohol.
The first week or two will be the time for patients to figure out what works best for them.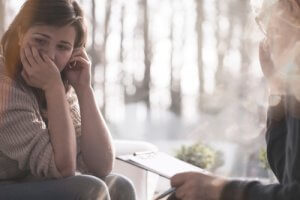 Experiential Therapies
Whether it's music, art, exercise, or reading, experiential therapy helps to address the underlying mental health causes of addiction. Not only do they provide a relief as you detox from your addiction, but they also help redirect the mind to focus on healthier habits that can replace the addiction. On top of the medical benefits, hobbies help make daily life a bit more fun, both in rehab and after.
Relationships
It's jarring to be plopped down into a new living situation with a whole bunch of strangers. The first few weeks or days of treatment in a new place with a completely new lifestyle is naturally uncomfortable, and a period of adjustment is normal. 
It's also an opportunity to form new friendships and find a core group of people who understand you and your situation. These strangers may even become vital to the recovery process.
Everyone's first week is different, but a customized treatment plan will give the patient a sense of the best way forward. Counselors will provide guidance along the way.
Research Sources
Iv. (2019) Alcohol withdrawal: MedlinePlus Medical Encyclopedia. Retrieved JUNE 30 2019, from https://medlineplus.gov/ency/article/000764.htm

National Institute On Drug Abuse. (2019) DrugFacts: Heroin | National Institute on Drug Abuse (NIDA). Retrieved JUNE 30 2019, from https://www.drugabuse.gov/publications/drugfacts/heroin

National Institute On Drug Abuse. (2019) DrugFacts: Heroin | National Institute on Drug Abuse (NIDA). Retrieved JUNE 30 2019, from https://www.drugabuse.gov/publications/drugfacts/heroin

Changing How The. (2019) Methadone | SAMHSA – Substance Abuse and Mental Health Services Administration. Retrieved JUNE 30 2019, from https://www.samhsa.gov/medication-assisted-treatment/treatment/methadone