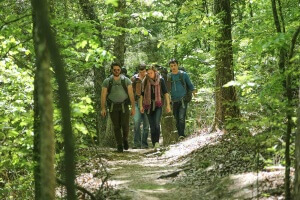 Situated around the central, private lake are our main lodge, medical services facilities, patient cabins, fitness center, equestrian center and outdoor pavilions. Our campus provides a gentle, inspiring environment in which to begin the hard work of recovery.
Equine Therapy
A signature piece in Oxford Treatment Center's residential treatment program is equine therapy. It's a powerful means of learning new instincts for healthy living — trusting nature's experts to lead the way.
Under the direction of a certified equine therapy specialist, patients at Oxford Treatment Center will interact with horses for a minimum of 10-12 hours during their stay. For many, the long trail rides through Oxford Treatment Center's many miles of nature paths are a highlight of their experience.
Ropes Course Therapy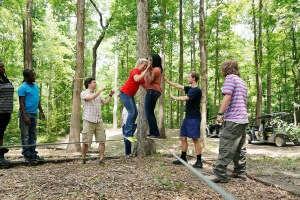 The wooded terrain surrounding Oxford Treatment Center campus provides a shaded setting for the challenge course, a series of outdoor elements and obstacles that patient groups overcome together through trust and teamwork.
The course includes low ropes elements — a series of cables, ropes and obstacles strung between trees or poles, 12 to 18 inches off the ground. A trained therapist works with each patient group to ensure safety and propose challenges, inviting the group to work together to find solutions. The experience gives patients a physical way to cooperate with one another, practice decision-making, broaden their comfort zones, build trust and develop leadership. It also builds self-esteem and provides an outlet for positive risk taking.
Art Therapy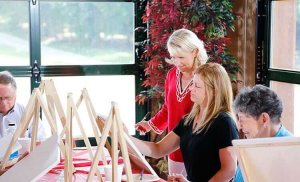 Oxford Treatment Center's art therapy program ranges from simple therapeutic painting to therapist-led visual expression. Art therapy can unlock new ways of looking at life and the influences that have fed addiction.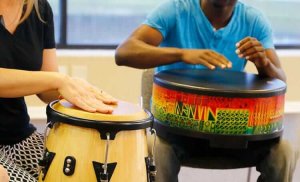 Music Therapy
From conveying emotions through the rhythm of a drumbeat, to reflecting together on the lyrics of a classic song, music therapy adds new dimensions of expression as patients journey along the road to recovery. At Oxford Treatment Center, music therapy takes place in small groups. Sessions may range from music meditation to collaborative lyric writing.
---