After patients at Oxford Treatment Center have finished the first step of medical detoxification and stabilization, they transition into the Residential Treatment portion of our program.
Your time in the residential portion of Oxford Treatment Center's program provides a balance between self-focused therapies and the encouraging perspective of therapeutic group sessions.
Each day, you will participate in four to six hours of individual and group therapy, as well as therapeutic recreation experiences. In the evening hours, patients gather for AA/NA meetings.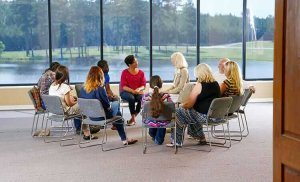 How Group Therapy Works
Among your fellow patients, you will engage in group therapy sessions and share your troubles and triumphs with one another. This phase of treatment enables our residents to gain a greater understanding of their addictions and the profound consequences these addictions have on themselves and others. You will begin to understand exactly what is required to achieve true recovery.
As your focus moves from a "me" to a "we" mentality, you will find relief from the isolation of addiction. The group gives support and strength to one another, moving forward together, along the path toward sober living. Meanwhile, your mind must make a deliberate shift from denial to acceptance, rebellion to compliance.
Accomidations
You will stay in one of our residential cabins, situated by the lakeside or nestled in the woods. Each includes a common living area and laundry room. Each semi-private bedroom has its own bathroom. All of your meals will be provided on campus in the dining hall.
Your time in residential treatment will equip you to begin integrating new, positive principles of honesty, open-mindedness and willingness into daily life.
---