Levels of Care
Medical Detox
During the medical and psychosocial assessments at admission, our clinical staff determines whether the client requires Medical Detox. At this level of care, the client is monitored 24/7 by our licensed medical team. This process allows us to manage the client's withdrawal symptoms in a safe environment. Although each client's withdrawal circumstances are different, Medical Detox lasts approximately 5-7 days.
Residential Treatment
The Residential Treatment level of care provides the client with supervision, support, and 24/7 monitoring in the structured residential setting of our facility. In this program, medical and clinical staff oversees the client's well being and ensures the client attends individual therapy sessions, 12-Step meetings, and peer activities as scheduled in his or her customized treatment plan.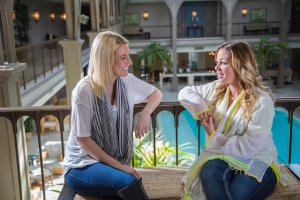 Outpatient Program
Sunrise House provides a full continuum of Outpatient Program services for adults. Entry into care begins with a comprehensive assessment by a trained clinician. Clients are placed into outpatient services based upon the evaluation, presenting symptoms, and placement criteria developed by the American Society of Addiction Medicine (ASAM). Clients attend OP care on an hourly basis, 1-2 days per week, as needed.
Intensive Outpatient Program (IOP)
Clients in the Sunrise House IOP program require less supervision than in our residential programs, but are committed to a structured schedule of onsite treatment anywhere from 3-7 days per week depending on the client. IOP therapy is offered in 3-hour blocks of treatment. The IOP client's objective is refining plans for reintegrating into society and preparing for the transition to wellness and recovery. Sunrise House offers morning and evening schedules for IOP care.
Partial Hospitalization Program (PHP)
PHP is a structured program providing care at least 5 days a week for no less than 6 hours per day. Clients attend daily programming, structured group therapy, and weekly individual therapy sessions. They also have greater access to the community and outside support group meetings, while learning how to have fun in recovery through recreational activities and experiential therapies. The purpose of PHP is to move clients away from around-the-clock supervision and gain more real-life experience in the community.
Addiction Treatment Modalities
Our comprehensive admission assessments of the client's addiction history, co-occurring mental health disorders, and ongoing medical issues ensure that the client receives the therapy types that will address his or her needs. The client, the primary therapist, and clinical team collaborate to determine the individualized treatment plan, focusing on the client's strengths, needs, assessments, and preferences. Furthermore, the individualized treatment plan is evaluated periodically throughout treatment so that it always stays on target.