Unique Challenges Women with Substance Misuse Problems Face
Substance Misuse and Women
Biologically, women are different. Sex hormones may make women more sensitive to substance use. For instance, as a result of substance use, women may experience adverse cardiovascular and neurological effects differently than men. Additionally, certain substances may cause panic attacks, anxiety, or depression in women. Furthermore, research indicates that women, who misuse substances, may also encounter other health issues related to their menstrual cycle, hormones, pregnancy, breastfeeding, fertility, and menopause.
Women may also turn to substance misuse for different reasons—to handle pain, exhaustion, control weight, and treat mental health conditions, for instance. The truth of the matter is, some women are genetically predisposed to mental health conditions, like substance use disorder, which means that even if they use smaller amounts of a substance for less time, they risk developing an addiction to it.
Why Women Don't Get Treatment
Unfortunately, many women who struggle with substance misuse never seek the treatment they need for a variety of reasons unique to them, including: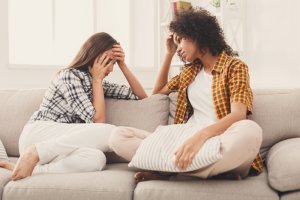 Fears surrounding the legal and social consequences associated with substance misuse and pregnancy.
A lack of resources and access to adequate childcare during treatment.
Bearing the weight of family, job/career, home, and other responsibilities.
Experiencing intensely uncomfortable withdrawal symptoms when they attempt to stop using the drug or alcohol.
Trying to begin their own recovery while caring for their baby that may be experiencing withdrawal symptoms.
Even in recovery, because women respond to substances differently, they may be more susceptible to relapse after treatment. So, how do women in recovery overcome the challenges they face?
Women in Recovery
Support is instrumental in maintaining long-term recovery. It's important for women—and anyone in recovery, for that matter—to surround themselves with a team of people who are supportive in their journey. This includes being around supportive family members and friends.
Attending a regular mutual-help group, such as a 12-step program; seeing a licensed therapist for ongoing counseling and therapy; and finding a primary care physician who specializes in women and substance misuse.
Additionally, routinely taking the time for self-care and exercise as well as eating a balanced diet can help women maintain healthy habits when challenges surface.
Recovery is an ongoing process that takes place one step at a time and one day at a time.
If you are battling substance misuse, or have recently relapsed, American Addiction Centers (AAC) has nationwide treatment facilities to help you reach long-term recovery. We provide inpatient and outpatient treatment services under licensed and compassionate healthcare professionals. If you're struggling, please reach out for the help you need today.