MagnaCare Insurance for Drug & Alcohol Rehab
Is Rehab Covered by MagnaCare Insurance?
If you are currently covered by MagnaCare, your treatment for substance abuse and addiction is likely at least partially covered by your insurance plan. However, it is still important to determine what benefits you have and what portion of your treatment will be covered.
How to Verify MagnaCare Coverage
Call us at Or use our online insurance checker below to see if you may qualify for addiction treatment coverage.
What is MagnaCare Insurance?
MagnaCare was founded in 1992 to help labor unions that struggled to pay for radiology and laboratory medical services. Over time, the company branched out to serve members in New York, New Jersey, and Connecticut. It offers health plans, medical management, and a large network of more than 225 hospitals and 130,000 doctors.1,2 MagnaCare offers a variety of networks and plans including: PPO, HDHP/CDHP, EPO, and POS plans.
Which Addictions Treatments Are Covered by MagnaCare Insurance?
MagnaCare will typically cover most addictions, including:
Alcohol.
Marijuana.
Prescription opioids.
Heroin.
Cocaine.
Methamphetamine.
Prescription stimulants.
Benzodiazepines.
Hallucinogens.
Does MagnaCare Cover Mental Health Disorder Treatments?
Co-occurring disorders, also known as comorbid disorders, are multiple illnesses that occur in the same person at the same time and usually affect one another.3 An example of a co-occurring disorder is an addiction and a mental health disorder. Sometimes, a mental health disorder can lead to an addiction and vice versa.
Co-occurring substance use disorders and mental health conditions may be best treated simultaneously.3 In most cases, MagnaCare will cover the treatment of co-occurring disorders. 
Which Types of Addiction Treatments Are Covered by MagnaCare Insurance?
Not all people are the same. Some people need more intensive treatment for addiction, such as those with severe withdrawal symptoms or those with co-occurring disorders. There are many different types of treatment available, including:
Detox. Detox focuses on helping people safely complete withdrawal. It may include support, monitoring, and medications. It is a key component of early recovery, but it is not, on its own, a comprehensive treatment for addiction.
Inpatient. Also called residential treatment, inpatient treatment provides 24-hour care. Patients eat, sleep, and attend individual and group therapy sessions at the facility. Medical care is available, and family members are usually allowed to visit.
Partial hospitalization. Also known as day treatment, patients who are in partial hospitalization receive treatment and monitoring during the day but return home at night. Programs are very similar to residential/inpatient rehab.
Intensive outpatient. Intensive outpatient programs provide care for patients who do not need 24-hour monitoring but still require considerable care and attention during recovery. Patients attend several hours of treatment a week when participating in an intensive outpatient program.
Standard outpatient. Outpatient treatment requires that the patient visit the facility at specific times (either daily or a few times a week) to receive assessments, medication, and/or therapy.
MagnaCare may cover a number of costs associated with treatment for addiction, such as:
Assessments.
Exams.
Therapy.
Residential treatment costs, such as food, room and board, etc.
An assessment from a substance abuse professional can help you decide what the right type of care is for you or your loved one.
How Does MagnaCare Insurance Coverage Work for Rehab?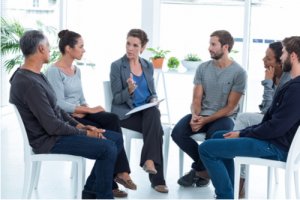 MagnaCare coverage depends on the state you live in as well as the plan you have. In most cases, you will need to seek treatment in a facility that is in MagnaCare's network in order to receive full benefits. If you choose not to receive treatment at an in-network facility, you might have to pay some or all of your treatment expenses out-of-pocket.
If you decide to seek treatment for your substance use disorder at a treatment facility that is out of MagnaCare's network, you may be able to discuss a payment plan with the provider. There may also be other payment options available to you.
In many cases, you will require preauthorization for your treatment. During this process, MagnaCare determines whether your substance abuse treatment is medically necessary. In addition, your authorization may include only a certain amount of days in the calendar year that you can spend in either inpatient or a certain number of visits you are allowed in outpatient care.
Even if you decide to choose a treatment facility in MagnaCare's network, you may still have out-of-pocket charges. The most common are the following:
A deductible is an amount you are required to pay out-of-pocket before your insurance begins to provide coverage.
A copay is a fixed amount that you pay when you receive a covered service.
Coinsurance is a fixed percentage of the treatment costs that you are required to pay before or after you meet your deductible.
How Do I Get Started?
Seeking addiction treatment for yourself or for a loved one can be extremely difficult. We understand the burden of doing so and want to make the process as easy as possible for you.
Contact us to verify your benefits with MagnaCare and find out what kind of coverage you are eligible for through American Addiction Centers. You can call our free, 24-hour hotline at
Not Sure If You Need Rehab?
Take our free, 5-minute substance abuse self-assessment below if you think you or someone you love might be struggling with substance abuse. The evaluation consists of 11 yes or no questions that are intended to be used as an informational tool to assess the severity and probability of a substance use disorder. The test is free, confidential, and no personal information is needed to receive the result.
Sources
MagnaCare. Our Story.
MagnaCare. Health Plan Management.
National Institute on Drug Abuse. (2018). Comorbidity: Substance use disorders and other mental illnesses.
Last Updated on December 21, 2021
Start your recovery today.
American Addiction Centers can help you get the care you deserve.