What you will learn:
Where to find and what to look for in a Christian treatment center.

Faith-basted treatment options at American Addiction Centers.

Finding faith-based 12-step programs.
Many people who are dealing with drug or alcohol addiction seek spiritual support in trying to detox and recover. For people who are Christian, there are a number of programs available that provide spiritual guidance as part of the support structure for addiction treatment.
The Spiritual Side of Recovery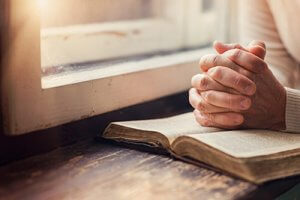 For some people, the idea of going to treatment for their addiction is daunting. Hearing about the difficulty of detox and withdrawal, and facing the unknown outcome on the other side, can leave them feeling anxious and fearful.
Those people who have a strong religious faith may find faith-based or spiritual-based treatment as a comfort. In fact, a study in the Journal of Substance Abuse Treatment indicates that a significant majority of participants credited spirituality as giving them a feeling of strength to be able to recover as well as a sense of safety and protection during the process.
Where to Look for Christian Treatment Centers
Christian treatment centers and recovery programs exist all over the U.S. One way to find Christian treatment programs is by talking to Christian leaders. Priests, ministers, and other leaders within an individual's specific church and community may have information about resources or support groups that focus on faith-based support for substance abuse and recovery.
AAC is in network with many insurance companies; treatment can be free depending on your policy and co-pay/deductible.
Matching Treatment to the Individual's Needs
At AAC, we focus on providing the best care for our patients by understanding their needs, medical backgrounds, and beliefs. There are different types of therapies used to support those recovering from addiction.
Combining addiction treatment with the social and community support of a Christian rehab program could provide support for people committed to the Christian faith during their addiction recovery.
Faith-Based Treatment at AAC
American Addiction Centers (AAC)  is the industry leader in addiction treatment. We have 8 facilities nationwide, including Greenhouse Treatment Center which offers faith-based treatment programs called Christian Recovery Center Program.
Facing an addiction is challenging for anyone and no one can do it alone. It requires a team of supportive family, friends, medical professionals, and oftentimes, religious beliefs, in order for you or a loved one to succeed. With a Christ-centered program, patients can combine their beliefs with evidenced-based substance abuse treatment in order to reach long-term sobriety. This comprehensive curriculum within the program was developed to be consistent with Biblical principles. Topics that our curriculum are:
The Struggle of Sin. Looking at addiction in the context of sin to gain a better understanding of the problem.
The Grace of God. We'll use scripture to gain a better understanding of God's grace and discuss how it can free us from our addiction.
Empowerment of Faith. Faith can be a mysterious subject. Using scripture, we will discuss what faith is and, more importantly, how it works in our lives.
The Importance of Honesty. The first step in recovery is that one must be honest with themselves. We will look at the denial of addiction and cognitive distortions in light of Biblical teaching.
Prayer and Meditation. Prayer and meditation is essential to spirituality. We will discuss the importance of prayer and mediation and how to make it a priority in our recovery.
These topics (and others) are explored through Christian group fellowship activities, drug counseling, and educational courses. Experienced in Christ-centered treatment programs in the past, Joshua Reed, BAAS, LCDC, PRC, is the therapist at Greenhouse Treatment Center who has been selected to lead the program.
Faith-Based 12-Step Programs
Faith-based programs, therapy, and organizations exist for a variety of faith traditions including, Christian, Jewish, and other religious and spiritual beliefs.
A few 12-Step rehabilitation programs offer faith-based support groups such as Alcoholics Anonymous (AA). AA was originally based on Christian teachings, and over the years, it continues to help many people in facing their addictions. Since its creation in the 1930s, AA has spread around the world, helping people find comfort and fellowship in the pursuit of sobriety based partly in finding the support of a higher power.
Additionally, Salvation Army, which started in the late 1800s, is a known organization for encouraging sobriety and to this day provides faith-based rehabilitation and recovery programs through its Harbor Lights programs. Salvation Army centers can be found throughout the United States and around the world.
Finding the Right Christian Treatment Program
It is important to keep in mind the level of addiction treatment you or a loved one needs in addition to the faith-based options a facility or organization can provide. You or a loved one can call 888-966-8152  to learn more about AAC's treatment programs and ask questions about faith-based programs.
If you or a loved one is looking to being addiction treatment a facility that provides treatment and therapies with a medical team with Christian principles or additional faith-based programs.
If you or a loved one has already been through medical detox and cognitive behaviors therapy and a support program, a faith-based 12-Step program, or a peer support group could provide the needed support to stay sober
Through researching these organizations and finding the most appropriate treatment center for the level of need in balance with their beliefs, Christians who are struggling with addiction to drugs and alcohol – and their families – may find the spiritual guidance, strength, and support needed to help them attain long-term recovery and resume lives of sobriety with faith and hope.