Where can I find a Christian drug treatment program?
There are a number of programs that pair spiritual guidance with addiction treatment. Christian community leaders, including priests and ministers, may have information on approved programs for believers, and the Internet makes searching for the right program really easy. Most programs that offer a Christian focus make that clear online.
Many people who are dealing with drug or alcohol addictions seek spiritual support in trying to detox and recover.
Although this is not true for everyone, some people find recovery easier to manage through their faith tradition.
For people who are Christian, there are a number of programs available that provide spiritual guidance as part of the support structure for addiction treatment. Because these programs can help Christians apply their faith to the difficult process of addiction rehab, they have been shown in many cases to be as effective as other treatment options, provided they include standard treatment protocols as well. In order for a faith-based program to be most helpful to a person wanting to achieve recovery, it is important to be sure to find the program provides evidence-based and spiritual support that best matches an individual's needs
The Spiritual Side of Recovery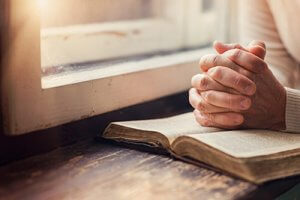 For some people, the idea of beginning to treat their addiction is daunting. Hearing about the difficulty of detox and withdrawal, and facing the unknown outcome on the other side, can leave them feeling anxious and fearful. In 2014, according to SAMHSA's (Substance Abuse and Mental Health Services Administration) National Survey on Drug Use and Health, only about 1 percent of the estimated more than 21 million people who required treatment for a substance abuse issue received specialty treatment. The overwhelming number of those who didn't could be partially attributed to these fears.
Those people who have a strong religious faith may find their fear eased by the idea of having spiritually based treatment. In fact, a study in the Journal of Substance Abuse Treatment indicates that a significant majority of participants credited spirituality as giving them a feeling of strength to be able to recover as well as a sense of safety and protection during the process.
With this in mind, it seems that, for at least some people, having a rehab program that emphasizes their faith could help them feel more able to seek out and succeed in treatment, making it easier for them to achieve recovery from their addiction.
Faith-Based Rehab
Faith-based treatment options and organizations exist for a variety of faith traditions. Christian, Jewish, and other spiritually focused programs are believed by those of the faith tradition to be more effective than treatment without a spiritual focus. For Christians, they may feel most comfortable undertaking rehab in a facility that supports and emphasizes their spiritual focus, providing an extra boost that may help them feel more confident and secure in being able to move past their addiction.
The first 12-Step rehabilitation program, Alcoholics Anonymous (AA) was originally based on Christian principles, and over the years, it has been a help to many people in overcoming their addictions. Since its creation in the 1930s, AA has spread around the world, helping people find comfort and fellowship in the pursuit of sobriety based partly in finding the support of a higher power.
Similarly, one of the better known organizations for encouraging sobriety is the Salvation Army, which started in the late 1800s and to this day provides, among other services, faith-based rehabilitation and recovery programs through its Adult Rehabilitation and Harbor Lights programs. Salvation Army centers can be found throughout the United States and around the world.
Since then, many similar faith-based groups have sprung up, helping to provide a wide variety of programs geared to specific paths along the Christian belief system and helping to bring comfort, a feeling of support, and a system of recovery that motivates participants through their connection to the salvation promised by Jesus Christ.
Matching Treatment to the Individual's Needs
Research indicates that longer term recovery is more easily achieved with evidence-based treatments, including medical detox, inpatient rehabilitation, and post-treatment support through self-help and peer support groups. According to an article in the New England Journal of Medicine, evidence-based treatment is preferred and recommended by experts who have studied the process of drug and alcohol addiction treatment.In addition, there is evidence that social and community resources reinforce treatment and therefore can contribute to longer term recovery outcomes. For example, a study in the Journal of Psychoactive Drugs demonstrates that about one-third of people who have been through drug or alcohol rehab and who have remained in recovery for the long-term credit that outcome to participation in a 12-Step program.
Taken together, it would seem that combining evidence-based treatment with the social and community support of a Christian rehab program would provide a higher level of support for people committed to the Christian faith. So, based on the individual's needs and beliefs, the combination of evidence-based and Christian resources would be more likely to lead to long-term recovery.
Where to Look for Christian Treatment Centers
To at least some degree, Christian treatment centers and rehab programs exist all over the US. As just one example of this, the Salvation Army, mentioned above, has locations in every state in the US and in many locations around the world. It joins a few other major Christian organizations that provide rehab from substance abuse and addiction.
One way to find Christian treatment programs is by talking to Christian leaders. Priests, ministers, and other leaders within an individual's specific church may have information about resources that are available to their congregants. A similar source of information could be the governing body of the church. For example, as part of the Catholic Church, Catholic Charities has offices all over the country that provide addiction treatment and recovery services based on the Roman Catholic faith. Through their website, it is possible to search for such facilities in local areas.
As a secondary source, a number of websites dedicated to Christian-based drug and alcohol rehab provide lists of organizations that provide this type of faith-based treatment program.
Finding the Right Christian Treatment Program
There are several sources that could help an individual find the Christian treatment center that is right for them. It is important to keep in mind the level of treatment required, as discussed above, in choosing a program that meets the needs of the individual. For example, if people have already been through medical detox and are looking for a program to keep them strong through post-treatment recovery, a self-help group or 12-Step program could provide the needed support. However, for those who have not yet begun the treatment process, a program that provides evidence-based detox and therapy combined with Christian principles, as well as post-treatment Christian support programs, would be a good choice.
Through researching these organizations and finding the most appropriate treatment center for the level of need in harmony with their beliefs, Christians who are struggling with addiction to drugs and alcohol – and their families – may find the spiritual guidance, strength, and support needed to help them reach long-term recovery and resume lives of faith and hope.