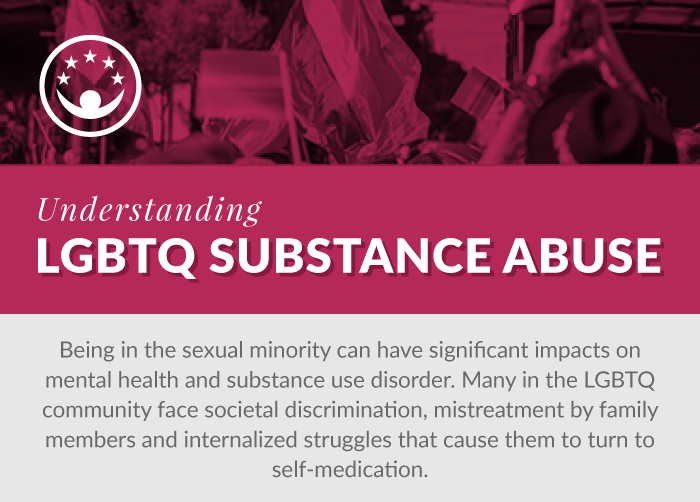 As understandings of human sexuality and gender identity have grown, so too has the knowledge of substance abuse and mental health issues facing gay, transgender, and alternative communities. This guide to LGBTQIAPK addiction treatment explains the intersection of drug and alcohol misuse as well as the kaleidoscope of sexual and gender expression.
The Growth of LGBT+ Identity
The abbreviation LGBTQIAPK represents one of the newer forms of the definition of the larger gay community. According to Ms. magazine, the term gay itself came from the underground slang used in the 1940s and 1950s, which referred to both male and female homosexuals. As time went on, lesbians objected to the word gay because it was used almost exclusively to refer to male homosexuals. During the feminist movement of the 1960s, the term lesbian was adopted to differentiate female homosexuals from the popular understanding of gay being used to talk about men and to draw more attention to the issues facing women in the same-sex community. By the 1970s, the expression gay and lesbian came to refer to all same-sex people.[1]
For decades, bisexual and transgender had been battling being lumped into the term gay and lesbian, primarily because bisexual people were neither gay nor lesbian, and transgender is a definition of gender identity, not sexual orientation. In the early 2000s, organizations that welcomed and advocated same-sex people changed their terminologies to welcome the new GLBT community.[2]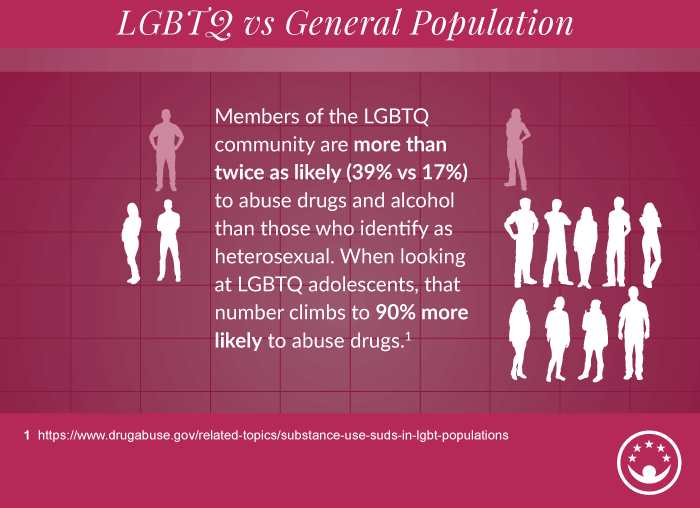 In the years that followed, the abbreviation was changed again to LGBT, again giving lesbians more visibility in a rapidly growing movement. The constant evolution is a sign that people will always need new words or letters to define their emerging identities. To this point, Ms. magazine observes that "today, there is no single correct term." LGBT has been augmented (and continues to be augmented) to include every possible point on a growing spectrum of human sexuality and gender identity.
What Does LGBTQIAPK Mean?
For this guide, LGBTQIAPK refers to:
Lesbian: women who have emotional and/or sexual attraction to other women
Gay: men who have emotional and/or sexual attraction to other men
Bisexual: a person who is emotionally and/or sexually attracted to both men and women
Transgender: a person whose personal and gender identity does not correspond to the gender they were assigned at birth
Queer or questioning: The term queer has been traditionally used as a slur against same-sex people, but some have reclaimed the term as an issue of pride; others prefer the Q to mean "questioning," people who are unsure of their sexual orientation and/or their gender identity, and who are in the process of exploring and discerning their respective sexuality/identity.
Intersex: a person born with reproductive or sexual anatomy that does not fit the typical understanding of that particular gender (Their physical, hormonal, and even chromosomal characteristics are neither all-male, nor all-female.)
Asexual: a person who does not feel sexual attraction toward people of any gender, though emotional attraction is still possible
Pansexual: a person who feels attraction without regard to gender identity (The term bisexual is used for people who experience attraction to the established binary genders of male and female.)
Kink: from the word kinky, used for those who find comfort in expressing their sexuality in alternative and countercultural ways
Many other abbreviations exist, a testament to the ever-growing expansion of the complete canvas of how human beings can identify themselves and express their attraction to each other.[3]
LGBTQ Substance Abuse & Addiction Statistics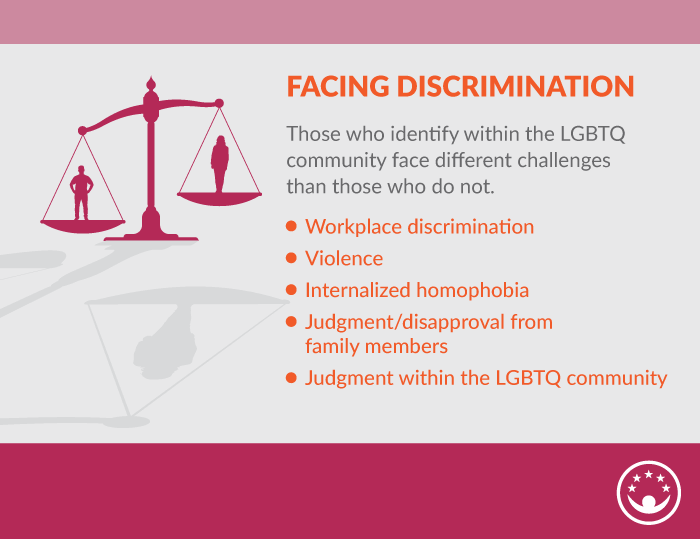 The LGBTQIAPK community has made remarkable strides over the last few decades, but the stress and discrimination that gay, transgender, and questioning people face remains at critically high levels. The Center for American Progress wrote that upwards of 43 percent of LGBT individuals have been the victim of workplace discrimination, and as many as 90 percent of transgender members of the American workforce say they have been harassed and mistreated on the job.[4]
This has led to remarkably high rates of substance abuse in the larger LGBT community. In Missouri, for example, 35–40 percent of the state's population smoked while only 21 percent of the general population did.[5] In explaining this, ThinkProgress noted that many private and state healthcare systems do not have the resources or training to address LGBT-specific concerns, which serves as a barrier to treatment for many. In some cases, LGBT patients experience hostility and prejudice at healthcare facilities, which further compounds the stress that leads them to substance abuse. This has far-reaching effects. While just 5–10 percent of the general population drink dangerous amounts of alcohol, 25 percent of the LGBT population struggle with that problem.[6]
The Center for American Progress also found that the stress of discrimination and homophobia compels many LGBT people to "use drugs and alcohol to cope." This was backed up by the Substance Abuse and Mental Health Services Administration, which reported that 20–30 percent of gay and transgender people meet the criteria for substance abuse compared to just 9 percent of the straight population. The Center for American Progress identified discrimination in employment, education, housing, healthcare, and relationship recognition (both socially and administratively, where same-sex families are denied access to public resources that are meant to provide an economic benefit to a family's security, like childcare tax credits and Social Security benefits).
Some of the most troubling issues for LGBT individuals and families is that the lack of information and adaptability in the healthcare system can be downright harmful to them. Transgender people are routinely denied coverage, LGBT people have higher rates of lack of insurance than straight people (and are typically excluded from many health plans and programs), and people on the LGBT spectrum are usually offered a prohibitively negative quality of care. As a result, they have "additional emotional stress and pressure," according to the center, and many resort to self-medicating with drugs and alcohol.[7]
Quality of Care
The quality of care issue is vital in helping LGBTQIAPK individuals find the right kind of addiction treatment. Many healthcare professionals still lack the necessary training and education to deal with the medical and psychological issues unique to same-sex, transgender, and questioning people.
Additionally, homophobia is still an issue in the healthcare industry. Many established medical schools still have problems of institutional bigotry, which is used against minority students, and that prejudice is then passed on to minority patients.[8] In 2012, researchers at the Lesbian and Gay Foundation at the University of Cambridge wrote that "traditional" drug treatment programs would often exclude LGBT individuals, compounding concerns of rejection, fear, and shame among this vulnerable population. At best, treatment in such contexts is simply unhelpful; at worst, it is actively harmful.[9]
Cultural Denial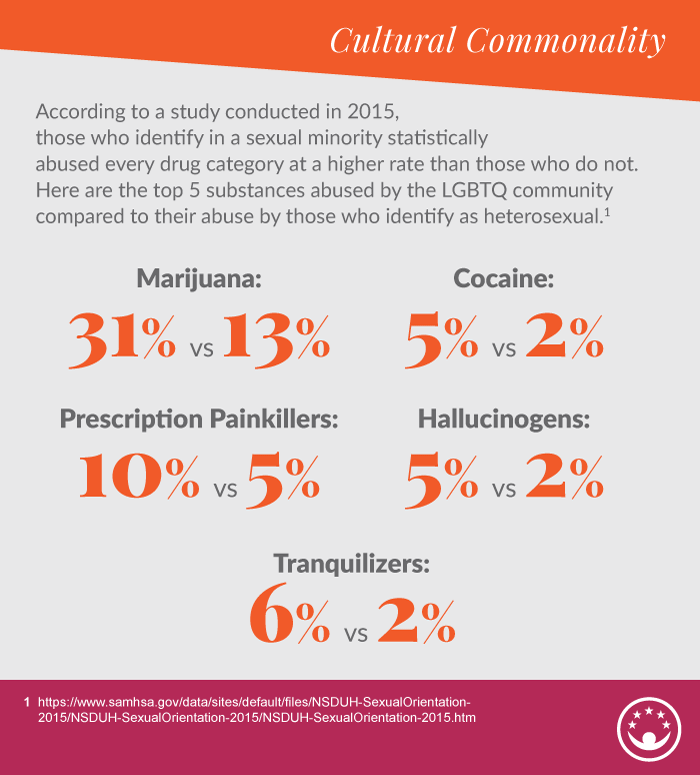 There may also be a sense of cultural denial at the scope of substance abuse in the larger LGBT community. In The Advocate, an editorial asks if the push to legalize same-sex marriage (and the ultimate victory) has detracted from any significant efforts to address some of the particular healthcare needs of gay, transgender, and questioning people. There is a concern that by drawing attention to the issue of addiction in the LGBT community, the victories of marriage equality will be tarnished, and many gay and transgender people will be exposed to new stigmas and stereotypes.
Substance abuse is also widespread in the gay club and bar scene. For many who feel ostracized and unwelcome in traditional healthcare settings, the socialization and escape they achieve through recreational activities can further deepen the need for drugs and alcohol.[10][11]
What Kind of Treatment Is Needed?
All these factors mean that an addiction treatment program for LGBTQIAPK people has to consider many unique issues that same-sex and transgender people are very familiar with, that straight patients may not ever have to think about, and that healthcare professionals have to very mindful of.
As an example, transgender people are often entirely left out of treatment programs and services, or they are grouped with other sexual minority groups and do not receive specialized care that specifically addresses their needs and concerns. The journal of Substance Abuse Treatment, Prevention and Policy notes that transgender people who were on the receiving end of social rejection and violence would often leave addiction treatment early because of "isolation and conflicts." Researchers identified pre-existing stigma, directed toward transgender people because of their perceived refusal to conform to a binary gender identity as the attitude behind the barrier to treatment.[12]
Bias still exists in healthcare, and an assistant professor at the University of Buffalo School of Nursing notes that healthcare providers have a reputation of being judgmental. The Journal of Gay and Lesbian Mental Health reported that many transgender people have had such negative experiences with healthcare in the past that they are very wary of seeking out help again. The journal pointed out that many transgender individuals were actively afraid of being mistreated by a healthcare worker "who could not understand them."[13][14]
One study, reported on in the Journal of Substance Abuse Treatment, found that "members of the LGBT community seek treatment at a significantly higher rate than their heterosexual counterparts," but the researchers also noted that LGBT clients will still "encounter the same prejudices in treatment" that they experience at work and school. Often, the treatment centers that do admit them do not, or are unable to, fit their needs and identities.
The report noted that treatment centers should accept the client's "family of choice," and not the definition of "family" in terms of biological relation or legal ruling. This ensures that the client will have their preferred support system on hand, and it will not limit the client to identifying family members who may not be affirming of their sexual orientation or gender identity, which can be a source of intense stress in and of itself, ultimately contributing to a failure of treatment.[15]
LGBTQIAPK Addiction Treatment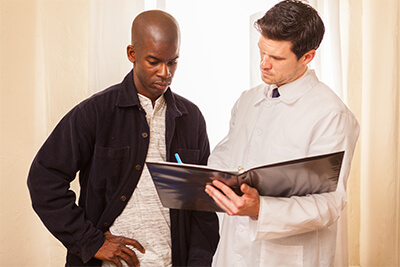 What should an LGBTQIAPK person do for addiction treatment? The Advocate says that the onus is on the treatment centers themselves. If a facility is unaware of the issues that are unique to LGBT people and families, then it is the responsibility of the facility to refer the individuals to a place that can offer them exactly what they need. Forcing LGBT people into a generic addiction treatment program, and brushing aside the specific rehabilitation goals, can easily lead to higher rates of treatment failures and relapse.
An addiction treatment program for LGBTQIAPK people has to properly reflect the dynamic between the nature of the drug abuse and the clients themselves. It is imperative that clients feel safe and comfortable in their treatment environment, so they must be made welcome to speak about their experiences without the fear of judgment or misunderstanding.
The Advocate warns that facilities that are unable to provide this level of care to their LGBTQIAPK clients risk contributing to the increase of recidivism, which is exponential. Additionally, there are fundamental differences in how addiction affects heterosexual and LGBT people using the same drugs, and these differences have to be taken into account when providing recovery options.[16]
The Substance Abuse and Mental Health Services Administration has published a guide for providers who need to know about the details and dynamics of providing addiction treatment to LGBTQIAPK individuals, which aims to "raise awareness about the issues unique to LGBT clients." As necessary as this is in order to provide competent and effective treatment to same-sex, transgender, and questioning patients, it will also help such individuals find a rehabilitation center that fits the criteria.[17]