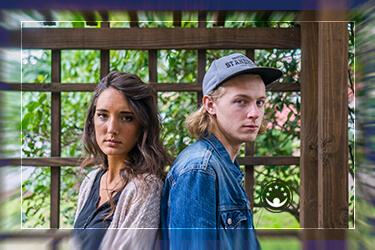 Over 20 million Americans battle addiction to drugs and/or alcohol, according to the 2014
National Survey on Drug Use and Health
(NSDUH), and
Psychology Today
estimates that there may be as many as 12 million spouses struggling with an addicted partner. Addiction can be one of the biggest trials in a marriage, and the sober spouse is often left picking up the pieces.
Addiction is a progressive disease that can get worse and worse as time goes on and drug abuse is perpetuated. Financial strain, legal problems, lying, cheating, social withdrawal, communication issues, episodes of aggression or violence, unpredictable mood swings, and an inability to consistently fulfill household and occupational obligations can cause difficulties at home and with loved ones. Someone battling addiction may lose their job, stay out late, get into trouble with law enforcement (e.g., driving under the influence), and be a master at manipulation. They may attempt to shift the blame onto the non-addicted partner, producing intense feelings of guilt and shame.
Marriage does not mean that you are tied to a sinking ship, and you do not have to wait for your partner to hit rock bottom to get help. It is important to stop enabling them and allowing them to continue along the path they are on. It is easy to offer excuses and deny that a problem with drugs exists, but this merely serves to feed into and validate the addiction. Instead, family members need to take a stand and refuse to allow these self-destructive behaviors.
Partners should attempt to talk to their spouse, when both parties are calm and sober, about their drug use. If they are unwilling to discuss this, continue to make excuses for their erratic behaviors, and refuse to admit to drug problems, it may be time for an intervention.
The goal of an intervention is to get the loved one to agree to enter into a treatment program and start getting the help they need. There are more than 14,500 specialized drug addiction treatment facilities in the US, giving loved ones numerous options and amenities to choose from, the National Institute on Drug Abuse (NIDA) publishes. A drug treatment program can offer support, hope, and tools for recovery for all family members.
How to Stage an Intervention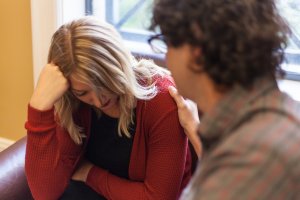 An intervention is a planned meeting between the person battling addiction and their circle of loved ones. Spouses, family members, coworkers, teammates, neighbors, members of the clergy, and anyone personally impacted by the person's drug abuse may be included in an intervention. Typically, interventions are organized without the knowledge of the person struggling with addiction. Members of the intervention team may meet one or more times to plan the actual intervention meeting.
The meeting should take place when the person feels the most at ease, not when they are "high" or coming down from a high. Members of the intervention team will often write letters that will be read at the intervention. These letters should focus on the drug use and how it has affected them. Specific instances should be cited, such as times when the addicted spouse didn't make it to their child's play or school event.
Team members, including the spouse of the addicted individual, should be assertive (not aggressive), respectful, and objective in nature. The intervention team should also give their loved one specific consequences that will be enacted if they refuse to enter into treatment after the meeting. For example, "You will no longer be able to see your kids if you don't get help," "I will not give you any more money to support your drug habit," or "You may no longer continue living here with me if you do not seek professional help." Spouses and other family members should research treatment options before the intervention and lay them out as choices during the meeting. Ideally, at the end of the meeting, the person battling addiction will agree to enter directly into a treatment program.
Oftentimes, it is the spouse of an addicted individual who takes the initiative to set up an intervention, but it can greatly help the process if they enlist the help of a professional. A professional interventionist can offer support, encouragement, education, and guidance, and takes the reigns when it comes to the actual planning and staging of the intervention. The Association of Intervention Specialists (AIS) certifies professional interventionists to help families with this process.
If your spouse is prone to violent outbursts and aggression, suffers from a co-occurring mental health disorder, or does more than one drug, it is highly recommended that a professional interventionist be present. Drugs can make a person highly unstable, unpredictable, and even potentially dangerous. As a professional with expertise in managing the heightened emotions that are often present during interventions, an interventionist can help to keep everyone safe during the meeting. This professional can create an overall plan, choose the intervention team, keep the actual intervention on track and positive, and even transport the addicted individual into a specialized treatment program that is right for them.
Tips for How To Live With a Drug Addict
If you are married to a drug addict, all the focus may be on the addicted individual all the time. It is just as important for you to take care of yourself as it is to deal with the problems that addiction brings into the relationship and family.
It's important to stand your ground and avoid enabling behaviors. Stick to the consequences outlined in the intervention, no matter how hard it can be. Do not get sucked into the addicted individual's patterns of self-destruction. Remember that addiction is a disease of the brain, and it can take time for the brain to heal and normalize.
Like all spouses of drug addicts, you'll need to learn how to avoid codependency, improve upon communication skills, and acquire healthy coping mechanisms for stress. Getting an addict into a treatment program is undoubtedly an important step in recovery. There are some things you can do to support this endeavor while also taking care of yourself.
Recognize that you are not alone and reach out for help and support.
Join a support group for families of addicts, such as Al-Anon.
Attend family and spousal therapy and counseling sessions together with your spouse. Be an active part of the treatment and care plan.
Become educated on the disease of addiction and how treatment and recovery work.
Engage in personal therapy and counseling sessions to work through your own mental health challenges, both those that are related to your spouse and addiction and ones that are more self-focused.
Participate in relaxation, mindfulness meditation, massage therapy, and/or yoga to ease stress and strengthen the connection between mind and body.
Take up a hobby or artistic endeavor to occupy the mind and provide a healthy outlet for stress.
Get enough sleep, and eat healthy, balanced meals.
Put yourself and your family first ahead of the addict's needs for a change.
Continue to keep up with family routines, such as meals together, etc., even if your partner doesn't join.
Keep up a healthy social life to combat the isolation that so often accompanies addiction.
Research treatment programs and contact appropriate programs to learn how the admissions process works.
The Substance Abuse and Mental Health Services (SAMHSA's) Behavioral Treatment Services Locator can be a great resource for finding a local treatment center. Primary care providers, members of community outreach programs and 12-Step programs, and mental health professionals can help with referrals and reviews of local treatment centers as well.
Call your insurance company, and discuss coverage and how to use it to help pay for treatment. Treatment centers often have dedicated financial advisors who can help families determine ways to pay for treatment, and many facilities offer payment plan options to alleviate some of the financial burden of treatment that insurance does not cover.
Once your spouse is in treatment, continue to be supportive and positive about their efforts to get well. While it can be tempting to unload on them regarding how they hurt you while living in active addiction, save this for couples or family therapy where a professional can guide you both as you work through your pain and issues that affect your relationship.
Again, remember that your own health and wellbeing is just as important as your partner's, so take time to take care of yourself. If you support yourself, you are in a better position to help your spouse overcome addiction.