Co-Occurring Disorder & Dual Diagnosis Treatment Guide
What is A Co-Occurring Disorder?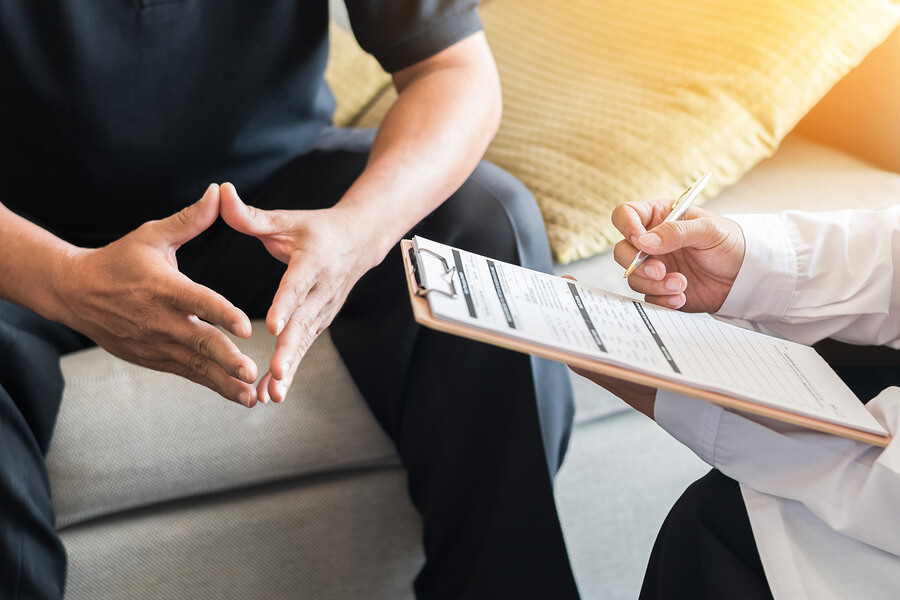 Someone with substance abuse disorder (drugs or alcohol) and mental illness (depression, PTSD, anxiety, OCD, etc.), the diagnosis is called a co-occurring disorder. Any combination of mental health disorders and substance abuse or addiction qualifies for this diagnosis (sometimes referred to as a dual diagnosis), such as alcoholism and depression, anorexia and cocaine dependence, post-traumatic stress disorder and heroin addiction, prescription drug dependence and anxiety, and more.
Though the symptoms of one disorder may predate the other, both disorders tend to exacerbate one another, making it impossible to extricate the symptoms caused by one disorder from the other. For example, those who attempt to escape symptoms of depression associated with a mood or personality disorder by taking prescription painkillers or shooting heroin will quickly find that though this may be effective the first few times.
In addition to the symptoms of depression, they will soon be struggling with:
Cravings for their drug of choice
A tolerance to their drug of choice, requiring higher and higher doses
Increased episodes of mental health symptoms
More intensive or longer-lasting mental health symptoms
Addiction
For the purposes of treatment, it is recommended that clients receive
intensive medical and therapeutic intervention and care for both disorders at the same time
. This allows them to manage the symptoms caused by the mental health disorder without abusing drugs and alcohol and worsening those symptoms — or allowing an untreated mental health disorder to increase the urge to drink or get high. Comprehensive care that begins during detox and continues through aftercare treatment and support is the best way to build a new life in recovery from co-occurring disorders.
What Comes First: Addiction or Mental Illness?
All people are different when it comes to their experience with addiction and mental illness. Some begin to experience mental health issues during childhood or adolescence and experiment with drugs and alcohol soon after, developing both an addiction problem and a serious mental illness at the same time.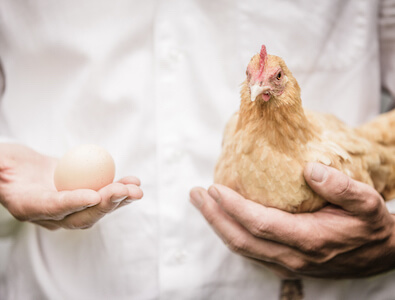 Others may seek out drugs and alcohol in an attempt to "self-medicate" a mental health issue that develops in early adulthood or that develops out of an injury or trauma later in life. Still others may first develop an addiction problem that grows so severe that it causes mental health issues or triggers the onset of symptoms that may otherwise have remained dormant.
What Is Addiction?
Addiction is defined as both a physical dependence and a psychological dependence upon a drug or multiple drugs, including alcohol. Physical dependence is characterized by a tolerance to the drug of choice (e.g., needing an increasingly larger dose in order to experience the desired effect), and psychological dependence is defined by cravings for the drug or obsessing over getting and staying high.
According to the American Psychiatric Association's Diagnostic and Statistical Manual of Mental Disorders (DSM-5), substance dependence is a single disorder that is measured on a spectrum from mild to severe and classified according to the substance of choice, with the exclusion of caffeine, which cannot be the subject of a substance abuse/addiction disorder diagnosis. For example, someone struggling with an alcohol problem may be diagnosed with alcohol abuse disorder or alcoholism depending upon the severity.
The diagnostic criteria for almost all substance abuse disorders are the same, according to the DSM-5. There are 11 symptoms that can signify a substance use disorder, and in order to be diagnosed with a mild drug abuse disorder, the person must exhibit two or three of these symptoms.
What Is a Mental Illness?
DSM-5 is the industry standard in the US for identifying the characteristics of any mental health disorder. For each mental health disorder, DSM-5 offers the diagnostic criteria sets, the classification information, and an explanation of the disorder. The diagnostic criteria set includes the symptoms that must be exhibited by the individual and the period of time that those symptoms must be an issue as well as the symptoms and disorders that must be ruled out prior to diagnosing a person with the disorder in question.The specifics of each mental health disorder will be defined by a range of symptoms at different severity levels impacted by the unique experience of the individual. Though everyone lives with a certain level of anxiety, depression, and other common mental health symptoms from time to time, experiencing symptoms that are severe enough to intrude on daily life and relationships for an ongoing period of time often indicates a mental health diagnosis.
Why Is Underlying Mental Illness the Root Cause of Addiction?
In some cases, a mental health disorder predates the development of a drug or alcohol abuse disorder; in other cases, addiction becomes an issue first and mental health symptoms are not apparent until later — sometimes, they are triggered or worsened by drug use.
Everyone is different and there is no one cause of addiction, though living with a mental health disorder may increase the likelihood of developing an addiction disorder — and vice versa.
Why Integrated Treatment Is Recommended
Living with both a mental health disorder and substance abuse or addiction is a deadly combination. The poor lifestyle choices associated with these two disorders often translate into early and/or sudden death for the individual if no treatment is received.
What Does an Integrated Treatment Program Look Like?
Each client should have a unique treatment plan, but for those who are living with both a substance abuse or addiction disorder and a mental health disorder, an integrated treatment plan may typically include the option of:
What Types of Mental Illnesses Can Be Treated at an Integrated Treatment Center?
Statistics, Facts, and Data
An estimated 17.3 million Americans over the age of 12 reported living with an alcohol use disorder in 2013, and about 6.9 million Americans in the same age group reported past year abuse of illicit drugs and/or addiction in a SAMHSA survey.
According to the National Association for Alcoholism and Drug Abuse Counselors,
women are at a higher risk for developing a dual disorder
.
1
Results from the 20018 National Survey on Drug Use and Health show that approximately 4.3 million women (about 3% of all women in the United States) have both a substance use disorder and a serious mental illness.
2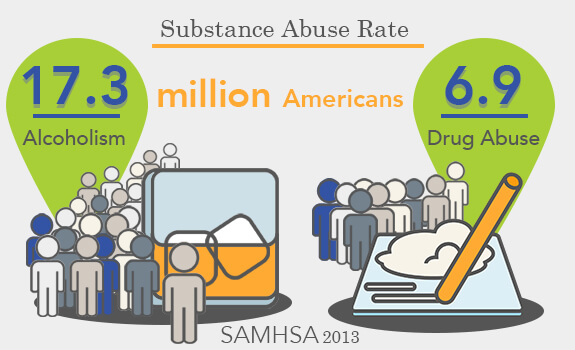 It is not uncommon for a person to be diagnosed with co-occurring disorders. Those who present with symptoms of a substance abuse or addiction disorder are about twice as likely to also experience symptoms of a mental health disorder as compared to those who do not struggle with drug and alcohol use. By the same token, those who enter treatment for mental health symptoms that indicate a mental health disorder are likewise twice as likely to also be living with a substance abuse disorder.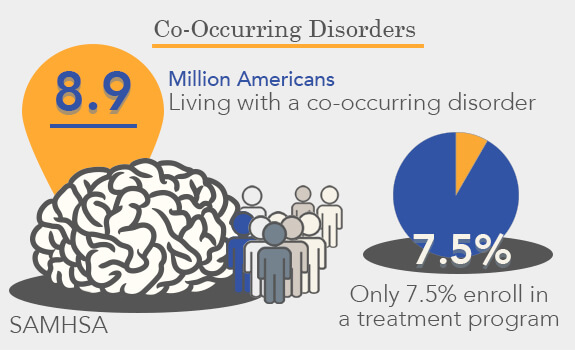 SAMHSA says that an estimated 8.9 million Americans are living with co-occurring disorders. However, they also report that fewer than 7.5 percent of these people enroll in a comprehensive treatment program that can effectively address those disorders each year.
The most common causes of disability in the US are mental health disorders. This classification of disorder bears the largest disease burden of any disease or disorder. The National Institute of Mental Illness (NAMI) estimates that about one in 17 Americans or over 13 million people in the US are living with a serious mental illness or mental health disorder in any year.
An estimated 9.6 million Americans over age 18 were believed to be living with a serious mental illness (SMI) in 2012 — or about 4.1 percent of all adults in the US. In addition, it is estimated that about 20 percent of American kids under the age of 18 either had at one time or currently have a debilitating mental health problem.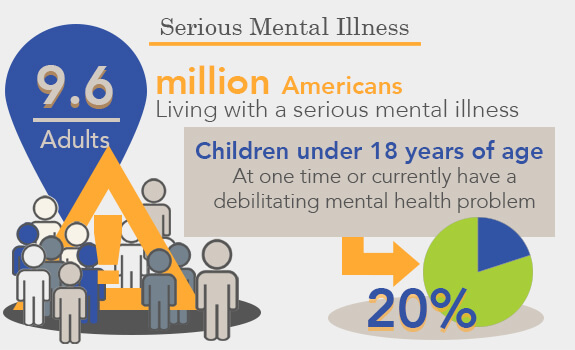 The World Health Organization (WHO) reports that in the US and Canada, it is believed that about 25 percent of all years of life lost to premature death are caused by disability. Part of this number may be attributed to the high rates of suicide connected to mental health symptoms and disorders; about 30,000 Americans commit suicide every year, making the act the 11 th leading cause of death in the US.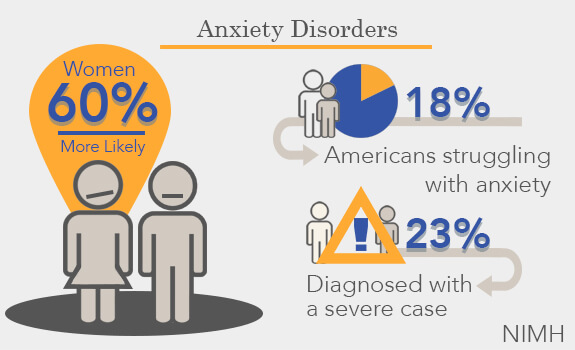 Anxiety disorders are some of the most commonly diagnosed types of mental health disorders in the United States. More than 18 percent of Americans over the age of 18 struggle with anxiety, and about 23 percent of these people are diagnosed with a severe case. Incidentally, women are about 60 percent more likely to struggle with an anxiety disorder than men.
Major depressive disorder, dysthymic disorder, and bipolar disorder are among the disorders classified as mood disorders. These disorders are diagnosed among an estimated 9.5 percent of American adults over the age of 18, and about 45 percent of these clients have cases that are severe. Again, women are about 50 percent more likely to be diagnosed with mild, moderate, or severe depression, bipolar disorder, and other mood disorders than men. An estimated 14 percent of children between ages 13 and 18 are diagnosed with a mood disorder, with almost 5 percent classified as a severe case.
Antisocial personality disorder, borderline personality disorder, narcissistic personality disorder, and avoidant personality disorder — these are just a few of the many personality disorders that are diagnosed in more than 9 percent of the US population. Though these disorders are characterized by perspectives and behaviors that make it difficult for the person suffering to function effectively with others, it is estimated that only 39 percent of people living with a personality disorder get treatment.
Some of the most deadly mental health disorders are eating disorders (e.g., anorexia, binge eating disorder, and bulimia) because malnutrition and organ failure are common results of caloric and nutritional deprivation. Though it is often believed that teen and adult women are the only people living with eating disorders, an estimated 2.7 percent of children in the US are living with an eating disorder, and an estimated 10-15 percent of people living with anorexia and/ or bulimia are men.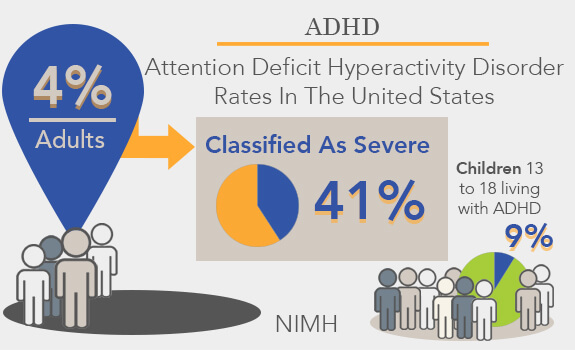 Though it is believed to be an illness that only impacts children, attention deficit hyperactivity disorder (ADHD) is diagnosed among more than 4 percent of American adults and about 41 percent of these cases are classified as severe. Also, 9 percent of children between 13 and 18 are living with ADHD.
An estimated 1 of every 68 children is born with a disorder on the autism spectrum (ASD). Autism is a disorder that can have a wide range of impacts on social, cognitive, and behavioral function through adulthood, and it occurs five times more frequently among males as compared to females.
Frequently Asked Questions
Back to FAQ Menu
Back to FAQ Menu
Back to FAQ Menu
Back to FAQ Menu
Back to FAQ Menu
Back to FAQ Menu
Back to FAQ Menu
Back to FAQ Menu
Back to FAQ Menu
Last Updated on September 30, 2020