Drug Rehab Centers for Couples
What you will learn:
Addiction treatment programs for couples & coed programs
Information about rehab for couples
Where to find couple's rehab near me
Couples and Drug Addiction
Couples and Addiction Treatment Programs
Attending Drug Rehab Treatment Programs Together
Separate but United
Couples Therapy and Mental Health
When Attending Couples Addiction Recovery Isn't Helpful
Take Our Substance Abuse Self-Assessment
Couples in Recovery
Where to Find Couple's Rehab Near Me
FAQs About Rehab for Couples
When both members of a couple are dealing with substance abuse or drug addiction, it could complicate recovery.
If only one member of the couple goes to rehabilitation, and the other continues to use substances, it can make it much harder for the first partner to avoid relapse after treatment is over. Nevertheless, not getting help for either person could allow certain issues already faced by the couple to worsen, such as relationship challenges, financial loss, and even declining physical and mental health for both partners.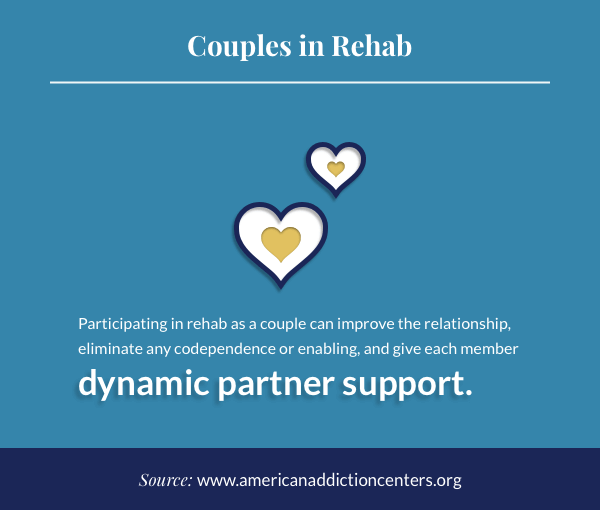 However, should both partners be willing to participate in the therapeutic process, it could help them to learn to recover together. A family-oriented treatment approach, such as behavioral couples therapy (BCT), can be beneficial for cohabitating partners dealing with addiction issues.1,2  It may also offer help in improving the relationship, managing issues such as codependence and enabling, and creating a new relationship dynamic that supports each partner alone and together in maintaining recovery.
Recovering from addiction alone is difficult, and even more challenging if there are two of you. American Addiction Centers (AAC) offer personalized treatment for alcohol and substance abuse for you and your partner, and will help you build the skills to hold each other accountable and stay sober together. We welcome couples together, and when you walk into any of our facilities, you are family. We are committed to helping you and your loved one on the road to recovery. For more information or to get set up in a program together, contact us now at .
Couples and Drug Addiction
Partnerships where both members of the couple use drugs are very common. The relationship itself can be damaged by substance abuse, regardless if the couple is committed to making the relationship work. Based on information from the American Association for Marriage and Family Therapy (AAMFT), signs of trouble for the relationship include:3
Drug use or drinking is the only thing the partners enjoy doing together.
Substance use leads to domestic violence on the part of one or both partners.
The partners need to be drunk or high to demonstrate affection or talk about the relationship.
The partners neglect common responsibilities, such as housework or childcare.
Worsening substance use can make it difficult for couples to resolve existing relationship issues, as it often introduces additional emotional distance between both people; this, in turn, could further drive maladaptive patterns of substance use. Treatment becomes increasingly important in the face of such a potentially perpetuated cycle.
Couples and Addiction Treatment Programs
In the case where a couple has a strong relationship, it can be helpful for the partners to go through recovery together.4 To reinforce the power of a romantic relationship in helping both partners to get and stay clean, couples can attend or otherwise participate in treatment together in a variety of ways, depending on the couple's dynamic and the individuals' needs.

Research supports the benefits of working with the two members of a couple together during rehab. Behavioral couples therapy (BCT), helps to strengthen relationship factors that will promote abstinence, since people in more communicative, happier, and healthier relationships may experience lower risk of relapse.
AAC is in network with many insurance companies. Your addiction treatment can be free depending on your policy.
Attending Drug Rehab Treatment Programs Together
One option for getting help together is to attend the same rehab treatment program. A number of treatment centers and facilities offer this option for couples who have a strong relationship and are equally committed to recovery. Motivation is a key factor to having couples in therapy together. As summarized by the Substance Abuse and Mental Health Services Administration (SAMHSA), a individual's motivation to change and recover from substance abuse is a vital element in treatment, which makes the person more likely to complete treatment with the focus and dedication needed to maintain long-term recovery.
Couples Inpatient Rehab
In a treatment program where couples can attend together, this motivation is reinforced through the couple's continual reaffirmation of commitment to one another. Couples that attend inpatient rehab together may have the opportunity to attend treatments and therapy sessions together. This may provide the motivation and support that each people in the relationship needs to recovery from substance abuse.
At AAC, our healthcare providers will work with you to provide treatment and care that works best for you and your partner's needs. We offer couples addiction treatment that focused on and supports the individual as well as the couple. Call us at to speak with an admissions navigator who can discuss treatment options that meet your and your partner's unique needs.
Therapies, such as behavioral couples therapy (BCT) have been shown to be effected during addiction treatment.2 BCT is usually used when one person in the relationship is being treated for a substance addiction.2
Separate but United
Sometimes, attending rehab together may not be an option. In certain cases, each individual may have issues that need to be dealt with independently – issues that may not be managed as effectively if the couple is living in the same facility. In this case, the couple may be placed in separate living arrangements. This might be the case if there has been violent behavior between the partners, or if one partner has medical or psychological issues that warrant a more intensive level of care.
Still, if the couple is committed to making the relationship work, this situation can involve communication and therapy with the two partners together. A regular schedule might include couples therapy sessions multiple times weekly, along with the ability to visit one another. Otherwise, the two would be in separate parts of the facility, or even in separate facilities, for the main treatment program elements.
Couples Therapy and Mental Health
Substance abuse affects relationships in ways that make it difficult to go back to the way things were before the substance abuse started. Even when a person completes treatment, the possibility of relapse is always present, and there are emotional and sometimes physical injuries that cannot be reversed or taken back. In addition, a couple might have developed relationship habits, such as enabling substance use or codependency on a partner's substance abuse, that need to be reversed before either partner can move forward in recovery.
BCT teaches couples better ways to communicate and increases overall positivity. Couples that have undergone BCT:2
Were happier and healthier, had fewer cases of separation, and were at a lower risk of divorce than does individual-based treatment.
Experienced a reduction in domestic violence after BCT for both alcoholism and drug abuse.
In some cases, incurred lower costs for treatment for substance abuse by attending rehab together.
One of the main goals of couples therapy in rehab is to help the couple develop a new relationship standard, including new ways of interacting and spending time together that support abstinence.
These new behaviors take time to learn, but they can deepen a relationship and provide ways for the couple to maintain a strong bond through supporting each other in maintaining sobriety.
When Attending Couples Addiction Recovery Isn't Helpful
There are situations in which it may not be a good idea for a couple to attend rehab together. These include situations the followings situations:
One member of the couple has special treatment needs that require a special facility.
A diagnosis of antisocial personality disorder has been made.1
There is ongoing domestic abuse.
Only one partner is interested in rehab.
There is a lack of commitment to continuing the relationship after rehab.
Whether or not an individual enters rehab when a partner isn't ready to do so can be a hard decision to make. However, it is important to remember that a person can never make a loved one ready for change. In this circumstance, getting into rehab alone is a step that can be vital for the individual who gets help, and that may also serve as an example to the partner.
Take Our Substance Abuse Self-Assessment
Take our free, 5-minute substance abuse self-assessment below if you think you or someone you love might be struggling with substance abuse. The evaluation consists of 11 yes or no questions that are intended to be used as an informational tool to assess the severity and probability of a substance use disorder. The test is free, confidential, and no personal information is needed to receive the result.
Couples in Recovery
Once the couple has completed rehab, and the partners are managing recovery together, they can offer each other a great source of support for future challenges. With commitment, they can keep each other on track, support each other avoid triggers and cravings, and remind one another about the tools and skills learned in rehab. A challenge may arise if one of the partners does relapse, as this makes it more probable that the other partner will relapse as well. However, with continued involvement in aftercare programs and a peer support group, the couple should be able to maneuver through these challenges and continue in recovery.
Where to Find Couple's Rehab Near Me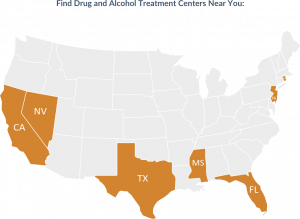 FAQs About Rehab for Couples

Sources:

Miller, S. C., Fiellin, D. A., Rosenthal, R. N., & Saitz, R. (2019). The ASAM Principles of Addiction Medicine, Sixth Edition. Philadelphia: Wolters Kluwer.
Ofarrell, T. J., & Fals-Stewart, W. (2000). Behavioral couples therapy for alcoholism and drug abuse. Journal of Substance Abuse Treatment, 18(1), 51–54
American Association for Marriage and Family Therapy (n.d.), Substance Abuse and Intimate Relationships.
Simmons J. (2006). The interplay between interpersonal dynamics, treatment barriers, and larger social forces: an exploratory study of drug-using couples in Hartford, CT. Substance Abuse Treatment, Prevention, and Policy, 1, 12.