When both members of a couple are dealing with substance abuse or addiction, it could complicate recovery.
If only one member of the couple goes to rehab, and the other continues to use substances, it can make it much harder for the first partner to avoid relapse after treatment is over. Nevertheless, not getting help for either person could allow certain issues already faced by the couple to worsen, such as relationship challenges, financial loss, and even declining physical and mental health for both partners.
However, should both partners be willing to participate in the therapeutic process, it could help them to learn to recover together. A family-oriented treatment approach, such as behavioral couples therapy (BCT), can be beneficial for cohabitating partners dealing with addiction issues.1,2  It may also offer help in improving the relationship, managing issues such as codependence and enabling, and creating a new relationship dynamic that supports each partner alone and together in maintaining recovery.
Couples and Addiction
Partnerships where both members of the couple use drugs are very common. The relationship itself can be damaged by substance abuse, even if the couple is committed to making the relationship work. Based on information from the American Association for Marriage and Family Therapy (AAMFT), signs of trouble for the relationship include:3
Drug use or drinking is the only thing the partners enjoy doing together.
Substance use leads to domestic violence on the part of one or both partners.
The partners need to be drunk or high to demonstrate affection or talk about the relationship.
The partners neglect common responsibilities, such as housework or childcare.
Worsening substance use can make it difficult for couples to resolve existing relationship issues, as it often introduces additional emotional distance between both people; this, in turn, could further drive maladaptive patterns of substance use. Treatment becomes increasingly important in the face of such a potentially perpetuated cycle.
Couples and Treatment
In the case where a couple has a strong relationship, it can be helpful for the partners to go through rehab together.4 To reinforce the power of a romantic relationship in helping both partners to get and stay clean, couples can attend or otherwise participate in treatment together in a variety of ways, depending on the couple's dynamic and the individuals' needs.
Research supports the benefits of working with the two members of a couple together during rehab. Behavioral couples therapy (BCT), helps to strengthen relationship factors that will promote abstinence, since people in more communicative, happier, and healthier relationships may experience lower risk of relapse.
Attending Rehab Together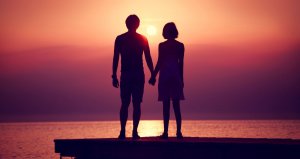 One option for getting help together is to attend the same rehab program. A number of treatment centers and facilities offer this option for couples who have a strong relationship and are equally committed to recovery. Motivation is a key element to having couples in therapy together. As summarized by the Substance Abuse and Mental Health Services Administration (SAMHSA), a person's motivation to change and recover from substance abuse is a vital element in treatment, which makes the person more likely to complete treatment with the
focus and dedication needed to maintain long-term recovery.
In a program where couples can attend together, this motivation is reinforced through the couple's continual reaffirmation of commitment to one another.