Inpatient Rehab: Finding Inpatient Rehab Near Me
Inpatient drug rehab is a live-in program where patients can receive supervised and highly-structured care for drug and/or alcohol addiction from professionals. Find out what it is, and when you might need inpatient treatment.
See Spanish Version
What you will learn:
What inpatient rehab is and what to expect
How to know whether you need inpatient treatment
Information about the best inpatient drug rehab centers
Where to find inpatient rehab near you
What is Inpatient Rehab?
Inpatient rehab is a type of addiction treatment where patients reside at a rehabilitation facility 24/7 while receiving supervised and highly structured care for their drug and alcohol abuse.1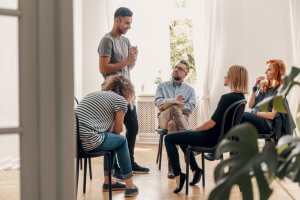 This page will refer to inpatient rehab as such, though it should be noted that inpatient rehab may also refer to inpatient rehabilitation for physical therapy or recovery from other medical conditions in an inpatient environment.
Once a person enters an inpatient rehab facility, they become a full-time resident of their chosen program and receive targeted care and support for 24 hours a day, seven days a week. They may live alone in an assigned room or board with a roommate, eat meals at their facility, and go to structured one-on-one or group therapy sessions several times per day. The average length of stay is 30 days, but depending on the situation, more time may be beneficial to long-term recovery and preventing relapse.
For many, one benefit of inpatient treatment is that it allows for the placement of distance between patients and their potentially problematic home environments. Removed from these distractions and stressors, a person may be better able to focus on recovery efforts—all under the trained guidance and supportive care of a professional addiction treatment team.
Learn more about what inpatient rehab is through our video below.
The Benefits of Inpatient Rehab
The following are the potential benefits of inpatient rehab:
Safety: Patients who attend inpatient treatment are supervised around the clock by their care team. Many of which will be a licensed healthcare professionals who can ensure the safety of their patients throughout their treatment lifecycle. This is especially important for those undergoing detox.
Distance from Triggers & External Influences: Patients who attend inpatient rehab can remove themselves from the negative triggers and influences that may drive them to use.
Sense of Community & Support: At an inpatient rehab facility, patients will be in a supportive environment that will foster their wellbeing and recovery.
All of the aforementioned benefits of inpatient rehab contribute to the overall success rate and well-being of someone undergoing addiction treatment.
How Do I Find Inpatient Rehab Near Me?
There are many ways to find an inpatient treatment near you. American Addiction Centers operates facilities across the United States, making it easy to find a local facility that provides effective, high-quality treatment for you or your loved one.5
You can also call the phone number on the back of your insurance card to connect with an insurance representative who will help you find a local facility that accepts your insurance plan. Finally, the Substance Abuse and Mental Health Services Administration operates a directory that allows you to search for a facility by location, facility and program type, payments accepted, and other options. You can access this directory here.
Understanding Detox vs. Inpatient vs. Outpatient Treatment
Different treatment settings exist on a continuum of care; the most appropriate level is best determined by an addiction treatment professional after careful consideration of a person's unique circumstances and specific treatment needs.1,2
Inpatient rehabs are typically residential treatment programs where patients stay at the facility for treatment and receive specialized and intensive treatment. With outpatient treatment, participants will attend treatment sessions at a treatment center, clinic, or hospital and return home to their regular life between sessions. Those attending inpatient drug rehab usually do not leave the facility aside from special cases or situations and may be preferable for cases where: clients need monitoring for withdrawal symptoms, clients have toxic home environments, and others.
Many facilities offer both inpatient and outpatient treatment services as part of their program, and a person may move through them as more or less intensive levels of care are needed. Treatment durations may also vary; for instance, a person's treatment stay could range from weeks to months, depending on the type of program and the person receiving care.2
Many patients' first inpatient experience will be medical detox, where medical staff members are present 24/7 to provide support and medication as needed to ensure comfort and safety during the withdrawal process.2
Following a period of medically managed detox, many people will move to relatively less intensive, but still highly structured and supportive residential treatment. Residential treatment centers near me will initiate frequent and intensive counseling and therapy sessions to help people identify and address the causes of their compulsive substance use. Many residential programs are also equipped to address other issues (e.g., social, medical needs) as part of the patient recovery plan. Residential treatment program lengths vary and may last from weeks to months.2
For instance, the therapeutic community (TC) model of care involves a prolonged treatment stay of around 6 to 12 months, and places emphasis on readjusting to life outside of a hospital setting.2 This type of program provides structure while participants receive counseling designed to challenge maladaptive beliefs and patterns of behaviors, learn more constructive ways of social interaction, and complete any employment or educational training.2
What Happens During Inpatient Treatment?
The experience you have in an inpatient drug and alcohol rehab depends on the type of program you attend. Patients will typically remain at their facility full-time throughout the duration of inpatient treatment. Some inpatient treatment facilities offer short-term residential treatment and some facilities have long-term residential programs as well. Treatment therapies consists of individual and group counseling and may also include or behavior therapies. In some cases, medication to reduce cravings may also be provided.
Inpatient Rehabilitation Sample Schedule
The below is what a typical day in inpatient rehab might look like:
7:00 a.m. Breakfast
7:45 a.m. Meditation
8:30 a.m. Physical Wellness Training
10:00 a.m. Behavioral Health Group
11:00 a.m. Relapse Prevention Group
12:00 p.m. Lunch and Reflection Time
1:00 p.m. Nutrition and Wellness Group
2:00 p.m. One-on-One Therapy
3:00 p.m. Expressive Therapies in Recovery
4:00 p.m. Therapeutic Community Group
5:00 p.m. Dinner
6:30 p.m. Recovery Meeting
7:30 p.m. Clean & Sober Structured Activities/Recreation
10:00 p.m. Lights Out
Inpatient Rehab Therapies & Treatments
Inpatient addiction treatment may contain a combination of the following substance misuse therapy types:
Individual, Group & Family Therapy: Therapist guided therapy in a safe, supportive environment.
Cognitive Behavioral Therapy (CBT): A type of psychotherapy where clients are encouraged to question and examine recurring thoughts in order to phase out those that are negative and unhealthy.
Motivational Interviewing (MI): An addiction treatment method where the purpose is to strengthen the client's own motivation for and commitment to change in a manner that is consistent with said client's values.
Dialectical Behavioral Therapy (DBT): A type of addiction treatment that teaches clients how to regulate their emotions to reduce the self-destructive behaviors that derive from extreme, intense emotions.
Eye Movement Desensitization and Reprocessing (EMDR): EMDR uses the individual's eye movements to desensitize and help them reprocess the emotional stress associated with traumatic experiences or events.
12-Step Programs: peer support groups that help people recover from substance use disorders, behavioral addictions, and sometimes other co-occurring mental health conditions.
Medication Assisted Treatment: The use of medications in addiction treatment.
Dual diagnosis & mental health treatments: Many inpatient rehab centers are able to treat substance abuse and mental health disorders concurrently.
Alternative & holistic therapies: Art, music, massage, acupuncture, and experiential therapy to name a few.
And more.
Do I Need Inpatient Rehab?
The decision to attend inpatient rehab is highly personal and may be best made after evaluation and guidance from a doctor or other treatment professional. Whether or not you need inpatient treatment depends upon several factors, and the appropriate type of care for one person may be different than another.
Inpatient rehab programs and outpatient treatment programs provide a structured environment for recovery and provide the necessary tools to address how addiction affects various areas of a person's life.
Overall, these considerations are meant to help place individuals in the most appropriate level of care that will set them up to succeed in accomplishing the overall goals for treatment.
The placement criteria used by providers is evidence-based, however, there is always a risk of relapse when a person has a substance use disorder.  If someone relapses during treatment, a provider may need to adjust or reinstate portions of their treatment plan, or they may suggest the patient attends a treatment program of longer duration.2
Common reasons people seek inpatient rehab treatment include:
They have reached rock bottom, and are looking for a change.
They have strained relationships with people they love.
Someone has suggested they have a problem with addiction.
They have tried to quit unsuccessfully on their own.
They have relapsed and need help getting clean again.
They have a home environment that is not conducive to making health choices.
How Long is Inpatient Rehab?
Inpatient rehab programs can range anywhere from 3 to 12 weeks depending on multiple factors, such as insurance coverage, medical necessity, or other personal needs.2 Some longer-term treatment scenarios, including the therapeutic community model, can last beyond 6 months.2
Learn more about:
How to Choose an Inpatient Treatment Center
Choosing an inpatient treatment center may feel overwhelming, and there are many options out there. The best inpatient rehab program will differ depending on an individual's situation.  Items to consider include:
Multiple levels of care.
Medical staff to patient ratio.
Qualification of staff.
Reviews, accreditations, and awards.
Cost and insurance coverage for treatment.
Specialty programs and therapies.
Amenities, privacy, and location.
How Much Does Inpatient Addiction Treatment Cost?
The cost of inpatient addiction treatment varies by treatment provider, what services they offer, what state the facility is located in, what type of insurance coverage you have, and many other factors. Inpatient addiction treatment has been shown to have significant long-term benefits on a person's health, employment, and relationships.2
The only way to know for certain how much inpatient treatment will cost you is by calling the admissions helpline at your desired rehab and speaking to an admissions specialist. The admissions navigators at American Addiction Centers can help you or your loved one figure out exactly what their financial responsibility will be at rehab.
Health insurance is frequently able to cover all or at least part of the cost of treatment.
The Drawbacks of Inpatient Treatment
Inpatient rehab gives people struggling with substance use disorders the best chance for long-term recovery. Potential drawbacks of inpatient treatment may include:
The cost associated with treatment being too high.
The commitment of time away from family or work, and the consequences associated with the time away.
Because addiction treatment can potentially be life saving, there are many solutions to the above problems. In regards to cost, for example, many insurance providers now are able to cover all or at least part of the cost of treatment.
Call us today at There, we can help you create a treatment plan that suits your individual situation and needs.
Inpatient Treatment Reviews