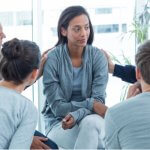 Inpatient Drug Rehab Near Me (Live-In Addiction Treatment)
Inpatient drug rehab is a live-in program where patients can receive supervised and highly-structured care for drug and/or alcohol addiction from professionals. Find out what it is, and when you might need inpatient treatment.
What you will learn:
What inpatient rehab is and what to expect
How to know whether you need inpatient treatment
Information about the best inpatient drug rehab centers
Where to find inpatient rehab near you
Recovering from an addiction to drugs or alcohol isn't easy, and many people need additional support to manage their addiction and maintain lasting sobriety. Depending on the severity of your substance abuse issues, you may consider attending an inpatient rehab center that will help you stop using drugs or alcohol with the support of addiction treatment professionals. However, not every treatment center is alike, and some programs may be better than others for your particular needs and situation.
Just as each person recovering from drug or alcohol abuse is unique, so is each drug and alcohol recovery program. If you're looking at inpatient rehab, there are various considerations to make and questions you'll need to ask before you choose the right fit. In this guide, we'll show you how to make an informed decision when choosing a drug and alcohol rehab program for yourself or your loved one.
Insurance may be able to cover all or at least a part of the cost of rehab treatment. Find out if your insurance provider qualifies below:
What is an Inpatient Drug Rehab Treatment Program?
Inpatient rehab is a type of addiction treatment where patients reside at a rehabilitation facility 24/7 while receiving supervised and highly structured care for their drug and alcohol abuse.1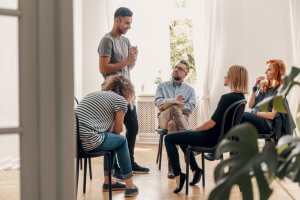 Once a person enters inpatient drug or alcohol rehabilitation, they become a full-time resident of their chosen program and receive targeted care and support for 24 hours a day, seven days a week. They may live alone in an assigned room or board with a roommate, eat meals at their facility, and go to structured one-on-one or group therapy sessions several times per day. The average length of stay is 30 days, but depending on the situation, more time may be beneficial to long-term recovery and preventing relapse.
For many, one benefit of inpatient treatment is that it allows for the placement of distance between patients and their potentially problematic home environments. Removed from these distractions and stressors, a person may be better able to focus on recovery efforts—all under the trained guidance and supportive care of a professional addiction treatment team.
Addiction is a multifaceted disease and effective treatment for substance use disorders should adhere to several principles, according to the National Institute on Drug Abuse (NIDA). Some of these include:2
Treatment isn't a one-size-fits-all endeavor; it should be tailored to each person's needs, and continually adjusted as these needs change.
Treatment should be readily available.
Treatment should address any other issues that are present in addition to substance use.
Longer treatment periods yield better outcomes. A stay of 90 days or more in treatment may optimize treatment outcomes.
Behavioral therapies will be the mainstay of treatment in helping people to maintain abstinence.
Medication may be incorporated as needed, in combination with behavioral therapies.
Detox is only the first phase of treatment and should be followed by additional treatment to create lasting sobriety.
Testing for infectious diseases and education on harm reduction should be available at the program. Programs can help link patients to treatment if they test positive for any illnesses and offer counseling.

Different treatment settings exist on a continuum of care; the most appropriate level is best determined by an addiction treatment professional after careful consideration of a person's unique circumstances and specific treatment needs.1,2
Many facilities offer both inpatient and outpatient treatment services as part of their program, and a person may move through them as more or less intensive levels of care are needed. Treatment durations may also vary; for instance, a person's treatment stay could range from weeks to months, depending on the type of program and the person receiving care.2
Many patients' first inpatient experience will be medical detox, where medical staff members are present 24/7 to provide support and medication as needed to ensure comfort and safety during the withdrawal process.2
Following a period of medically managed detox, many people will move to relatively less intensive, but still highly structured and supportive residential treatment. Residential treatment programs will initiate frequent and intensive counseling and therapy sessions to help people identify and address the causes of their compulsive substance use. Many residential programs are also equipped to address other issues (e.g., social, medical needs) as part of the patient recovery plan. Residential treatment program lengths vary and may last from weeks to months.2
For instance, the therapeutic community (TC) model of care involves a prolonged treatment stay of around 6 to 12 months, and places emphasis on readjusting to life outside of a hospital setting.2 This type of program provides structure while participants receive counseling designed to challenge maladaptive beliefs and patterns of behaviors, learn more constructive ways of social interaction, and complete any employment or educational training.2
What Happens in Inpatient Drug and Alcohol Rehab?
The experience you have in an inpatient drug and alcohol rehab depends on the type of program you attend. Patients will typically remain at their facility full-time throughout the duration of inpatient treatment. Some inpatient treatment facilities offer short-term residential treatment and some facilities have long-term residential programs as well. Treatment therapies consists of individual and group counseling and may also include or behavior therapies. In some cases, medication to reduce cravings may also be provided. Learn more about what to expect during a typical day at rehab at American Addiction Centers.2
Do I Need Inpatient Rehab?
The decision to attend inpatient rehab is highly personal and may be best made after evaluation and guidance from a doctor or other treatment professional. Whether or not you need inpatient treatment depends upon several factors, and the appropriate type of care for one person may be different than another.
Inpatient rehab programs and outpatient treatment programs provide a structured environment for recovery and provide the necessary tools to address how addiction affects various areas of a person's life.
Providers may use certain criteria to determine the level of care most appropriate for a patient. The evaluation process may include a thorough assessment of the person's physical and mental health history and the identification of any co-occurring mental or medical conditions someone may suffer from. Providers may also take into account the personal needs (e.g., culture, responsibilities), the outlook or attitude of the patient (i.e., their level of motivation to change), as well as the patient's current living situation (i.e., is there a high risk of relapse).3
Overall, these considerations are meant to help place individuals in the most appropriate level of care that will set them up to succeed in accomplishing the overall goals for treatment.
The placement criteria used by providers is evidence-based, however, there is always a risk of relapse when a person has a substance use disorder.  If someone relapses during treatment, a provider may need to adjust or reinstate portions of their treatment plan, or they may suggest the patient attends a treatment program of longer duration.2
How Long is Inpatient Rehab?
Inpatient rehab programs can range anywhere from 3 to 12 weeks depending on multiple factors, such as insurance coverage, medical necessity, or other personal needs.2 Some longer-term treatment scenarios, including the therapeutic community model, can last beyond 6 months.2
Learn more about:
Do I Need Detox?
Consistent and heavy use of drugs or alcohol often leads to dependence, a state that is characterized by experiencing withdrawal symptoms after a person stops taking or significantly reduces their intake of the drug. Withdrawal symptoms are typically opposite the effect of the substance being misused and the intensity of withdrawal can be highly variable from person to person. In general, withdrawal symptoms can range from mild and uncomfortable to severe and distressing.
Although it is rare for withdrawal symptoms to be fatal, some withdrawal symptoms may necessitate medical attention for either health-related reasons, safety or comfortability. A person in withdrawal after heavy use of alcohol or benzodiazepines, for example, may be at risk of having life-threatening seizures. The risk of experiencing severe withdrawal symptoms or life-threatening medical complications is rare, and some will be more at risk dangerous can often be managed with medicinal therapies in an inpatient treatment setting. While in an inpatient detox setting, medications can be given to ease the discomfort of such symptoms.4 
Withdrawal symptoms have been identified in cases of alcohol, opioid, sedative, hypnotic, anxiolytic, stimulant, and cannabis withdrawal.4 Symptoms of withdrawal can vary by substance and the severity of use (frequency, duration, and dose), but may include:4,5
Appetite changes.
Bone or muscle pain.
Hallucinations
Mood changes.
Nausea, vomiting, or diarrhea.
Rapid pulse.
Runny nose or tearing eyes.
Restlessness.
Sleep troubles.
Strong cravings.
Sweating or fever.
Tremors.
Yawning.
Seizures.
How Do I Find an Inpatient Drug Rehab Near Me?
There are many ways to find an inpatient rehab near you. American Addiction Centers operates facilities across the United States, making it easy to find a local facility that provides effective, high-quality treatment for you or your loved one.7
Find Inpatient Drug and Detox Treatment Centers Near Me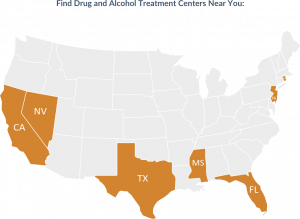 You can also call the phone number on the back of your insurance card to connect with an insurance representative who will help you find a local facility that accepts your insurance plan. Finally, the Substance Abuse and Mental Health Services Administration operates a directory that allows you to search for a facility by location, facility and program type, payments accepted, and other options. You can access this directory here.

What is the Difference Between Inpatient and Outpatient Rehab?

Inpatient rehabs are typically residential treatment programs where patients stay at the facility for treatment and receive specialized and intensive treatment. With outpatient treatment, participants will attend treatment sessions at a treatment center, clinic, or hospital and return home to their regular life between sessions. Those attending inpatient drug rehab usually do not leave the facility aside from special cases or situations and may be preferable for cases where: clients need monitoring for withdrawal symptoms, clients have toxic home environments, and others.

How to Choose an Inpatient Treatment Center

Choosing an inpatient treatment center may feel overwhelming, but there are some questions you can ask that may help you decide which facility is the right one for you.

Questions to Ask When Choosing the Best Rehab

What Types of Addictions Does Inpatient Rehab Treat?

While rehabs typically treat addiction to a wide variety of substances, some specialize in treating those with addiction to specific substances, like opioids or alcohol. If you are suffering from an addiction to a certain substance (or multiple substances), be sure to double check that your desired provider treats addiction to the substance(s) you are addicted to. Some facilities also tailor their treatment methods to specific populations such as people with co-occurring mental, health disorders, veterans, LGBTQ+, or adolescents.

Does This Rehab Treat Co-occurring Disorders?

Many people who have a substance use disorder at some point in their lives also experience a mental illness. Mental illnesses and substance use disorders share common risk factors, and each can impact the development or worsening of the other. However, they can also often be treated simultaneously with common therapies. 6,7

Treating If you know or believe that you may have a co-existing condition, such as anxiety, depression, or bipolar disorder, alongside substance abuse issues, you may want to ask whether your desired rehab treats those with co-occurring substance use and mental health disorders, sometimes also called "dual diagnoses."

What Types of Therapy Does This Inpatient Rehab Offer?

There are many forms of therapy that have been clinically proven to be effective in treating SUDs.8 Before you go to rehab, you may want to ask what types of therapies this rehab offers based on your specific wants and needs. Some therapies are more effective for treating addiction to specific substances, but some of the most commonly-used treatment modalities include cognitive behavioral therapy (CBT), motivational interviewing, and contingency management.2,8 Inpatient treatment centers may also employ certain forms of experiential therapy, like art or music therapy.

What Kind of Aftercare and Sober Living Options Does This Rehab Offer?

Many facilities offer some form of continuing care options, such as outpatient groups and individual therapy sessions, or telephone counseling sessions, brief check-ins, and peer support groups.9 Aftercare and sober living options offer ongoing support that can help people prevent relapse after treatment ends.9

Who is Involved With Inpatient Treatment?

Inpatient treatment teams may consist of a varied group of licensed professionals that may include: doctors, nurses, psychologists, psychiatrists, and more.

What Credentials and Licensing Does the Facility Have?

When a facility is licensed and credentialed, it means that a third-party organization oversees the treatment program to ensure it is following appropriate quality standards. Credentialing and licensing organizations can be state-specific or nationwide and may include the Department of Health Care Services (DHCS).10

What Are My Rehab Payment Options?

If you're considering going to rehab, you'll also need to consider your options for paying for treatment. A large majority of drug and alcohol treatment facilities accept state-funded and private insurance or private payments. State-funded rehabs are low-cost or free for people who meet certain requirements. Medicaid is sometimes able to cover at least part of the cost of treatment for those who qualify.

For those who don't have any form of insurance or who would prefer a drug and alcohol treatment program that does not accept insurance, many treatment centers accept private payments.

If you're curious about whether your insurance plan will cover detoxification, residential treatment, or other forms of substance abuse treatment, reach out to our admissions navigators or fill out our easy VOB form. We'll get back to you with crucial information regarding your particular insurance benefits.

Can Family Visit Me at an Inpatient Rehab?

Family can easily visit their loved ones in rehab by coordinating with the treatment team at the rehab facility. Family therapy options are also available and can be facilitated via Skype, telephone, or in-person as well.

Can I Use a Cellphone at Inpatient Rehab?

Typically, cellphones are allowed or may be restricted to use during certain times depending on the treatment plan. Every rehab center sets its own policy on cellphones and electronic devices, so be sure to call ahead for a list of approved and prohibited items.

How Much Does Inpatient Addiction Treatment Cost?

The cost of inpatient alcohol rehab and inpatient drug addiction treatment varies by treatment provider, what services they offer, what state the facility is located in, what type of insurance coverage you have, and many other factors. Inpatient addiction treatment has been shown to have significant long-term benefits on a person's health, employment, and relationships.2

The only way to know for certain how much inpatient treatment will cost you is by calling the admissions helpline at your desired rehab and speaking to an admissions specialist. The admissions navigators at American Addiction Centers can help you or your loved one figure out exactly what their financial responsibility will be at rehab.

Sources

American Society of Addiction Medicine. (2015). What are the ASAM levels of care?
National Institute on Drug Abuse. (2020). Principles of drug addiction treatment: A research-based guide (Third edition).
National Institute on Drug Abuse. (2020). Treatment Settings.
American Psychiatric Association. (2013). Diagnostic and statistical manual of mental disorders (5th). Arlington, VA: American Psychiatric Publishing.
Health Direct Australia. (2020). Addiction withdrawal symptoms.
S. Department of Health and Human Services. (2019). Mental health and substance use disorders.
National Institute on Drug Abuse. (2020). Comorbidity: Substance Use Disorders and Other Mental Illnesses DrugFacts.
McHugh, R.K., Hearon, B.A., & Otto, M.W. (2010). Cognitive-behavioral therapy for substance use disorders. Psychiatric Clinics of North America, 33(3), 511-525.
McKay, J.R. (2009). Continuing care research: What we've learned and where we're going. Journal of Substance Abuse Treatment, 36(2), 131-145.
Department of Health Care Services. (2020). Facility Licensing.

You Might Also Be Interested In