Drug & Alcohol Rehab Daily Schedule Example
What you will learn:
A day in the life sample schedule of what attending rehab at one of our facilities is like.
Clients in our residential treatment centers follow a highly-structure program that allows them to be fully engaged in their treatment, with limited down time during daylight hours.
Client schedules are customized to address the unique treatment needs of each individual and tailored to address not just the addiction, but also wellness of the mind, body, and spirit during their treatment stay.
Rehab Daily Schedule Example
Below is a sample of what one may expect during a day in one of our residential treatment centers
7:00 a.m. Breakfast
7:45 a.m. Meditation
8:30 a.m. Physical Wellness Training
10:00 a.m. Behavioral Health Group
11:00 a.m. Relapse Prevention Group
12:00 p.m. Lunch and Reflection Time
1:00 p.m. Nutrition and Wellness Group
2:00 p.m. One-on-One Therapy
3:00 p.m. Expressive Therapies in Recovery
4:00 p.m. Therapeutic Community Group
5:00 p.m. Dinner
6:30 p.m. Recovery Meeting
7:30 p.m. Clean & Sober Structured Activities/Recreation
10:00 p.m. Lights Out
Additional Classes May Include:
Gender-specific classes
Life skills education
12-step principles and other peer support groups
Process group therapy
Symptom management
Board certified physician-led groups
Individualized family therapy
Weekend family programs
Cooking classes
About The Contributor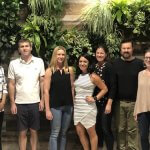 The editorial staff of American Addiction Centers is made up of credentialed clinical reviewers with hands-on experience in or expert knowledge of addiction treatment.
Read More