AAC is a Community Care Provider
Community Care Providers are members of the Veterans Affairs Community Care Network who provide necessary care when the Department of Veterans Affairs (VA) is unable to do so.1 American Addiction Centers (AAC) is a Community Care Partner, which means that veterans can receive excellent and timely care when they require rehab for alcohol or drug abuse.
This article will explain what Community Care Partners do, why they are important for veterans seeking addiction treatment, and how AAC's Salute to Recovery program can help veterans on the path to healing and recovery. We are here to answer your questions about substance abuse and treatment options. Give us a call today at, (888) 902- VETS.
What is Community Care?
When the VA is unable to provide the type of care you or loved one needs, you are able to seek care with Community Care Partner. These are external providers located in your community that can offer a wider range of services than your local VA offers, including rehab for substance abuse and veterans with co-occurring diagnoses. Services are usually covered by the VA.2
The MISSION Act was designed to offer veterans a wider range of health care providers that may be closer to them or offer services that their local VA doesn't provide.
The MISSION Act also provides more family caregivers access to the Program of Comprehensive Assistance for Family Caregivers. This program is currently only available to eligible caregivers of veterans who were injured on or after September 11, 2001. The MISSION Act Community Care program will expand coverage to caregivers of veterans.3
The MISSION Act may provide coverage for veterans with a substance use disorder (SUD). Before care is provided an assessment will be conducted to determine which level of care is appropriate. If all criteria are met, addiction coverage for a veteran may include:4
Detox. Detox allows the body to clear itself of substances. Medications, provided by a health care provider, may be provided to help ease withdrawal symptoms.
Inpatient treatment.Residential facility that is staffed full-time, 24/7. Intensive therapy is provided in group and individual settings.
Partial hospitalization.This provides the benefits of inpatient care without requiring a residential stay. Programs can be tailored for those with co-occurring physical or mental illness in addition to drug or alcohol abuse.
Outpatient treatment.This involves shorter session durations than inpatient or partial hospitalization care. Outpatient treatment is best for people with strong social supports who have also completed inpatient treatment or partial hospitalization. This may also be an good option for those who have responsibilities at work or school.
 We are a Community Care Provider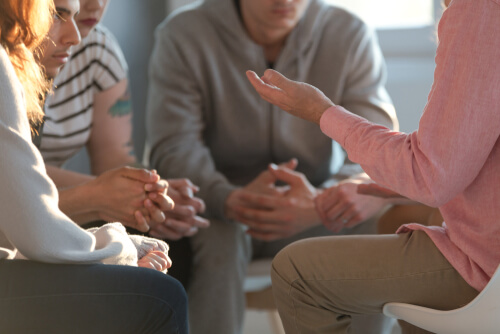 AAC is a community care provider, which means that we are members of the VA's community care provider network.
Community care providers ensure that veterans receive timely and high-quality care. To obtain certification as a community care provider, a treatment provider must enter into a Veterans Care Agreement with the VA and meet their stringent criteria.1
Veterans seeking treatment can rest assured that AAC has met all of the VA's certification guidelines. In addition, providers like AAC can access the VA's improved technology systems, which allow for electronic file sharing to expedite the referral and treatment process.1 Providers are also able to access required training materials from the VA, which helps to maintain high standards of care. 1
AAC's Salute to Recovery Program for Veterans
AAC's Salute to Recovery program is specially designed to treat first responders and veterans
with substance and mental health issues, such as
depression
,
post-traumatic stress disorder
(PTSD), and
anxiety
. The Salute to Recovery program is the best program for veterans; treatment may include:
Cognitive Processing Therapy
Coping skills and relapse prevention

AAC is unique because we are the leading provider of addiction treatment in the U.S. We believe in providing treatment that addresses addiction from every angle and specialize in evidence-based treatment. This means that AAC's treatment methods have been thoroughly evaluated and proven effective in scientific research. In addition, all treatment programs are tailor-made to meet your specific needs.
Sources:
Last Updated on April 1, 2020