Setting and Accommodations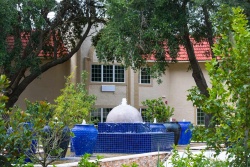 Historical observation and recent research have shown that people with a higher socioeconomic status are not immune from the issues that drive drug abuse and addiction.
A study from the
Journal of Studies on Alcohol and Drugs
showed that young adults from more affluent homes were more likely to binge drink and use marijuana, while their rates of other drug use were not statistically different from those of other socioeconomic classes.
Drug abuse and addiction occur regardless of one's income level, and treatment is needed across societal constructs.
Upscale rehab centers, often shown on celebrity news programs and even in reality television shows, provide treatment amid lavish living in exotic, secluded locations. Beaches, mountain resorts, and country manors alike offer lush accommodations with private rooms and beautiful grounds. Well-appointed furnishings, the most celebrated medical and therapy personnel, and spa-like activities create a soothing experience that can seem more like a vacation than a substance abuse treatment program
These high-end facilities also often provide executive treatment programs that cater to CEOs, celebrities, and others who may feel pressure to continue conducting business while undergoing rehab. Computer and business centers, and availability of outside communication, may be enhanced for these individuals who need to keep up with their busy lives while also managing their treatment.
At the same time, secluded locations provide a level of privacy often desired by those who want to protect their reputations in their personal and professional lives. This can also be a great benefit in that, when attending inpatient rehab in these private places, the individual can be more focused on treatment and less likely to be distracted by daily responsibilities at home.
Amenities of Luxury Rehab
The settings of these rehab centers are enhanced by the rich and varied amenities provided, including:
Recreation, such as horseback riding, swimming, and tennis
Meditation and yoga classes
Exercise facilities and programs
Massage and other physical therapy
Catered gourmet dining
Concierge and room service
The small size of these facilities can allow for more personalized treatment, often by high-profile doctors and therapists. They may also provide holistic programs, offering treatments that consider not just the physical and mental aspects of treatment that are commonly covered, but the spiritual, environmental, nutritional, and emotional effects that can support a person through treatment and recovery.
These amenities can be very attractive to those who can afford them. They make the treatment process more pleasant. When money is of little concern, it can be very tempting to enter a program simply based on these offerings; however, there is more to consider when it comes to substance abuse treatment.
Quality of Care
Comfort and service are only part of what defines quality of care for a drug rehab facility. The other, arguably more important, aspect of treatment is the combination of treatment modalities that provide the potential for recovery from the addiction that required treatment in the first place.
The aspects of treatment that provide the highest likelihood of long-term recovery, as acknowledged by an article in the journal Psychiatric Services, are intense treatments that involve services focused on the substance or behavior in question and the psychiatric elements that contribute to addiction. These services are the hallmark of quality care.
These types of services are more easily provided through residential treatment, where the person receiving treatment can remain focused and free from distractions and outside influences. However, they can also be effective through outpatient treatment, such as that which is often given to executives who must continue with their work throughout the treatment process.
Not All Luxury Rehabs Are Equal
The challenge often comes in figuring out which rehab is right for the particular individual who is selecting the program. Depending on the severity of the substance addiction or abuse, one rehab may not have the treatments needed to support long-term recovery.
As explained in the Principles of Drug Addiction Treatment: A Research-Based Guide from the National Institute on Drug Abuse, treatment that is more likely to lead to long-term recovery is tuned to a range of the individual's physical and psychological needs, not just the drug abuse itself. Behavioral therapies, post-treatment coping strategies, and other research-based treatments are important aspects of any drug addiction rehab program.
In addition, if a center's focus is all on setting and luxury, they may not provide appropriate treatment to result in long-term recovery. The following is a list of items to ask about and consider when selecting a luxury rehab program:
Availability of medically supported detox services
Range of mental health therapy and support services
Treatment of addiction for the specific substance in question
Prevalence of peer support in addition to individualized treatment
Provision of medical maintenance if needed
Reliance on research-based treatments over other methods
Programs that use these methods, among other methods backed with scientific and medical research, are more likely to provide the appropriate level of value for the money invested into high-end treatment services.
Getting the Best Value for the Price
The key in looking for any service is getting value for the money spent. For those who are looking at investing in an upscale addiction rehab program, the luxuries provided are better looked at as perks for the program. The important elements – medical treatment and research-based therapies that are more likely to result in long-term recovery – are the basis for getting the most out of an investment in substance abuse treatment.