 Our 90 Day Brand Promise For Recovery & Rehab
Learn about our 90 Day Promise, and how it helps build a solid foundation towards recovery.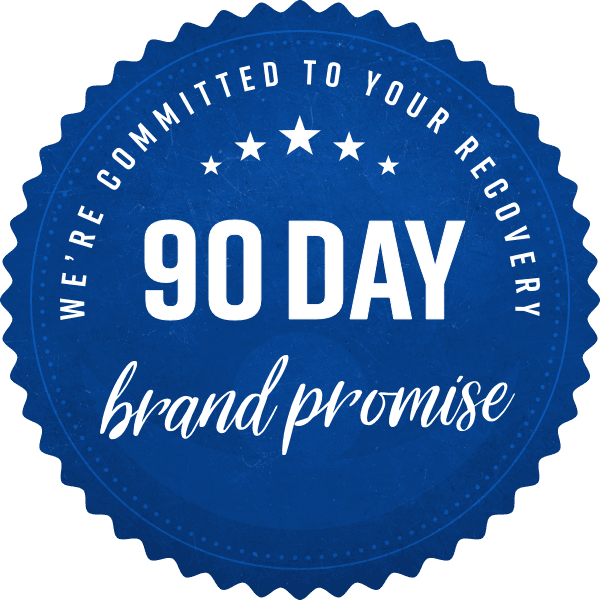 We're Committed to Your Recovery
When you invest and successfully complete 90 consecutive days at an American Addiction Centers facility, we believe that you have created the most solid foundation for your long-term goals of sobriety. In the event that you experience a relapse, you are welcome back for a complimentary 30 days of treatment.
American Addiction Centers offers different levels of care ranging from Acute Detoxification to Outpatient Treatment which allows for you to consistently progress over those 90 days, at the appropriate level of care, based on your personal growth and individual needs assessed by our clinical staff.
*Terms and conditions may apply, and results may vary.
Call
Brand Promise Terms and Conditions
In the event of a relapse at any time post-treatment, American Addiction Centers, Inc. will provide qualified individuals with up to an additional 30 consecutive days of treatment at one of its facilities at no additional cost to you. Some people think of it as a treatment guarantee – to us, it's our brand promise.
In order to qualify under the terms of this offer, you must successfully complete 90 consecutive days of treatment as prescribed by counselors and staff at a facility owned and operated by American Addiction Centers, Inc. (AAC) commencing on or after September 1, 2012. Eligibility is based on a combination of consecutive inpatient days regardless of the level of care, and/or days at one of AAC's Sober Living facilities with concurrent treatment. Eligibility for clients living in the community and attending outpatient sessions will be based on consecutive sessions attended on a session per session daily credit.
To apply for your complimentary 30-days of treatment you must first contact an authorized American Addiction Centers Admissions Coordinator. One of our Admissions Coordinators can be reached at .
AAC will make every effort for a reasonable accommodation on facility placement based on the client's wishes, however; we reserve the right to place the client at the most appropriate facility based on clinical necessity and availability. If at or around the time of relapse there are no current vacancies, American Addiction Centers, Inc., in its sole discretion, may postpone the admittance to a date when there is availability in one of its corporate-owned facilities.
If admitted for treatment under the Brand Promise, any unauthorized departure from the treatment facility or discharge Against Medical Advice (AMA) prior to the completion of the entire complimentary 30-days will result in the forfeiture of any remaining balance of days. American Addiction Centers, Inc. will not cover the cost of travel to and from any facility.
Eligible clients must not have any delinquent balances for previous treatment episodes, including travel costs, that are owed to AAC or any of its affiliates or must bring their account to good standing prior to admitting under the Brand Promise. The Brand Promise covers services rendered by the facility and staff and does not include any services rendered by other professional(s) in the community including, but not limited to, detox clearance, emergency room visits, urgent care visits, hospital admissions, and outside lab work. Prescription medications are also excluded.
This offer is non-transferable, may only be used once, and the complimentary 30 days must be used consecutively.
The Brand Promise offer is valid under current ownership only. In the event, American Addiction Centers, Inc. is a party to a transaction in which change of control is affected, or in the event of corporate dissolution, the Brand Promise guarantee may expire, effective immediately. At its sole discretion, American Addiction Centers, Inc. may update the terms and conditions from time-to-time and without notice. Any additional questions regarding eligibility should be referred to the AAC Corporate Billing Office.