A traditional path to a drug addiction problem might sound like this: First, the person makes a choice to use a drug just one time, just for fun. Next, the person finds that feelings of sickness appear when drugs aren't taken. And finally, the person feels both a physical and a psychological need for drugs that takes over almost every aspect of the person's life.That is a typical progression, but as Robin L. Hoover, RN, MSN, CADCi, Director of Nursing at American Addiction Centers, points out, addiction can be variable.
"The condition of addiction knows no boundaries in terms of age, gender, socioeconomic status, education, profession, religion, culture, marital status, etc…An addicted person's motivation to seek treatment and embrace recovery is as broad and varied as the population of sufferers themselves."
— Robin L. Hoover, RN, MSN, CADCi, Director of Nursing at American Addiction Centers
But one thing that might motivate people to get care, or to stick with treatment plans once they start, involves the health complications addiction can deliver.
"Health complications are among the motivational factors, but certainly not necessarily the most convincing and rarely the sole rationale," she cautions. "Many other factors come in to play for most addicted people, such as legal, financial, relationship, child custody, job/professional, family pressure, loss of loved ones through drug use, loss of basic needs (food, shelter, clothing), and more. But in my experience, the more mature addicts perceive health complications as a worthy inspiration."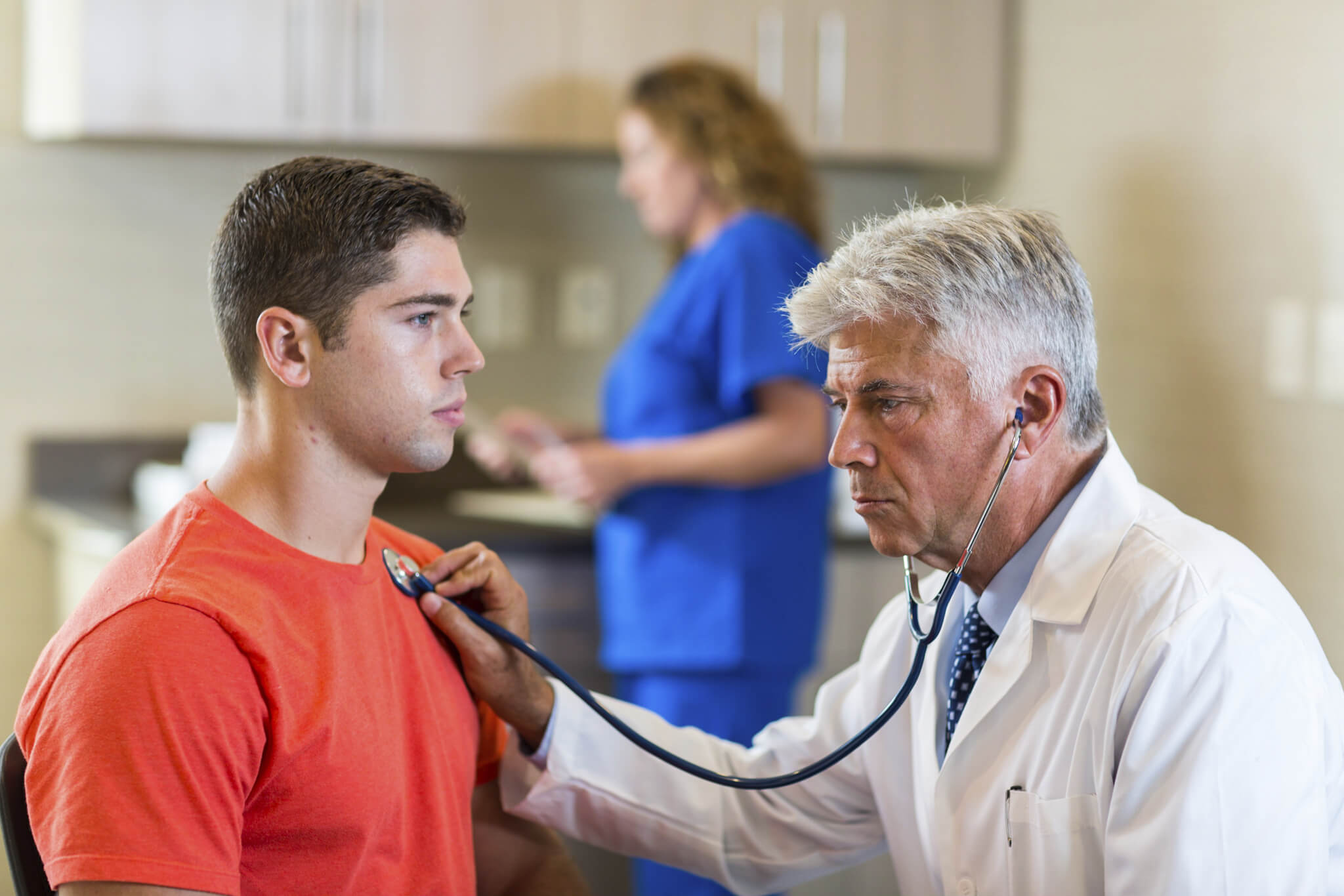 That means it might behoove families to understand the health complications associated with addiction, so they can provide people with addictions a reason to consider rehab. Should that addicted person agree to treatment, that information could help people to stick with care once it starts.
---
The types of drugs used, and the length of the drug addiction, are responsible for the vast majority of health problems practitioners face. But some health problems can be tied to the way people take in drugs.
Ingestion
Eating drugs in pill or powder form means putting volatile substances in contact with the sensitive tissues of the mouth and digestive tract. Some drugs, like painkillers, are made to go through the body in this way, but other drugs are simply not designed to work with these sensitive digestive tissues. Sometimes, putting these tissues in contact with drugs leads to serious health consequences. Cocaine, for example, constricts blood vessels on contact. People who routinely swallow cocaine may kill off tissues in the digestive tract, which can lead to bowel obstructions and/or bowel blockages.
Smoking
Some people choose to ignite their drugs and breathe in the vapors, rather than dealing with the digestive system. Unfortunately, many drugs are simply impure, and when they are ignited, their vapors contain substances that are toxic to the human body. Drugs like crack cocaine are terribly harmful to the mouth and lungs, while some types of marijuana also produce toxic smoke. That toxicity can lead to cancerous changes in the mouth, tongue, throat, or lungs. And the website run by the Wales Drug and Alcohol Hotline suggests that other health conditions like bronchitis and emphysema can also come from smoking drugs.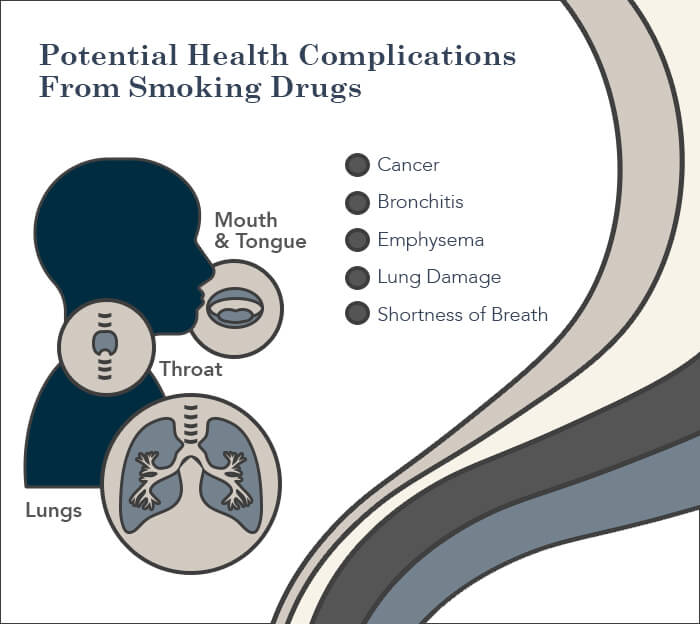 People who choose to smoke drugs may be using their own bodies to answer that question, and the results of their experiments could be life-threatening.
Snorting
Taking in drugs through nasal passages is another semi-popular method, as it puts intoxicating substances into the bloodstream almost immediately. But the tissues inside the nose and throat can take the brunt of each hit, and sometimes, they can collapse and/or die off due to constant use of drugs. People who use cocaine through their noses may, for example, experience a collapse of the bones that hold the nose in place, as those tissues may be starved for blood and nutrition due to the constant presence of drugs. In addition, people who snort drugs may share their sniffing tools. According to the Trip Project in Canada, sharing tools can lead to cross-contamination of blood products, and that could lead to the spread of diseases like hepatitis and HIV. Every time a person shares tools, this risk can go up. Without proper treatment, some of these diseases can be life-threatening.
Injecting
Some drugs, including heroin and crack cocaine, can be melted or manipulated into a liquid state, and that liquid can be popped into a needle and shot into a person's veins. This is one of the most dangerous ways to take drugs, as each and every prick of the needle can do damage to sensitive cells. Some people develop scarring in veins and arteries due to long-term needle use. Those scars can lead to heart attacks or strokes, and some people develop infections near the sites they inject drugs. Injecting drugs can also lead to body-wide infections, as many people who inject drugs share equipment. The people they share with may have AIDS, hepatitis, or another form of blood-borne illness.
That is a consequence that might befall someone who chooses to crush a painkiller pill, like Vicodin, and inject that pill when it is mixed with liquid. The ingredients in these pills are not made for blood vessels, and exposing them to blood vessels can lead to all sorts of terrible consequences.
Adsorption
In addition to smoking, snorting, and shooting drugs, some people choose to take in drugs through the skin, through a method called adsorption. They may use drugs specifically made for this purpose, or they may make up a paste of another type of drug and slather that on the skin. This may seem safe, but a study in the Indian Journal of Dermatology suggests that it can be difficult to measure how much of a drug gets into the body with this method of administration. Some parts of skin are thinner, so they are more permeable to drugs. And other parts of skin may be fragile or broken, allowing drugs to move right in through the blood. Some people overdose because of these issues. Some people can also develop skin irritations due to the substances they put on their skin cells.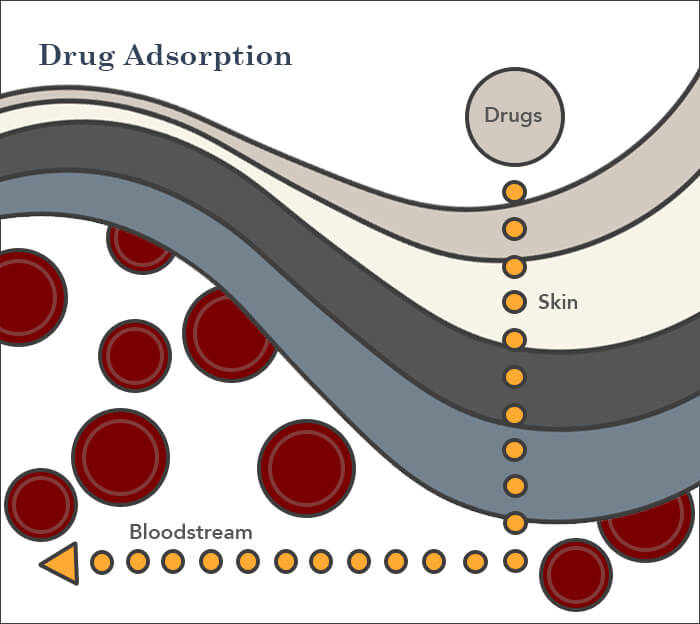 ---