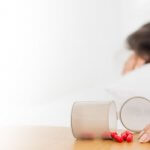 Drug Addiction and Abuse: Is it Disease or a Choice?
Drug addiction, like many diseases, is marked by periods of recovery and symptom recurrence (relapse) and often require continual effort to manage. Learn about the disease of drug addiction.
What you will learn:
More about the disease of addiction and what causes addiction.
Why some substances more addictive than others.
How to get help and find treatment.
What Is Drug Addiction?
Is Drug Addiction a Disease?
Why Are Drugs Addictive?
What Are the Signs of Addiction?
What Are the Causes of Drug Addiction?
What Are the Most Addictive Drugs?
Getting Help for Drug Addiction
What Is Drug Addiction?
Drug addiction, in the simplest terms is the strong compulsion to get and use substances, even though a number of undesirable and dangerous consequences are likely to occur. Addiction has been described as a "medical disorder that affects the brain and changes behavior."[1] Various substances including alcohol, illicit drugs, prescription medications, and even some over-the-counter medicines may fuel the development of an addiction.
Certain behaviors such as compulsive gambling or sex are sometimes labeled as addictions,[2] but here, the term "addiction" is reserved for drugs of abuse.
Is Drug Addiction a Disease?
The definition of addiction varies among individuals, organizations, and medical professionals, and society's viewpoints about addiction are ever-evolving. The National Institute on Drug Abuse (NIDA), the Substance Abuse and Mental Health Services Administration (SAMHSA), and the National Institutes of Health (NIH) all similarly describe addiction as a long-term and relapsing condition characterized by the individual compulsively seeking and using drugs despite adverse consequences.1
These organizations call addiction a disorder or a disease because:1
Addiction changes how the brain responds in situations involving rewards, stress, and self-control.
These changes are long-term and can persist well after the person has stopped using drugs.
Comparing substance addiction to heart disease may help illustrate why it is defined as a disease by so many:1
Both addiction and heart disease disturb the regular functioning of an organ in the body – the heart for heart disease and the brain for addiction.
They both can lead to a decreased quality of life and increased risk of premature death.
Addiction and many types of heart disease are largely preventable by engaging in a healthy lifestyle and avoiding poor choices.
They are both treatable to prevent further damage.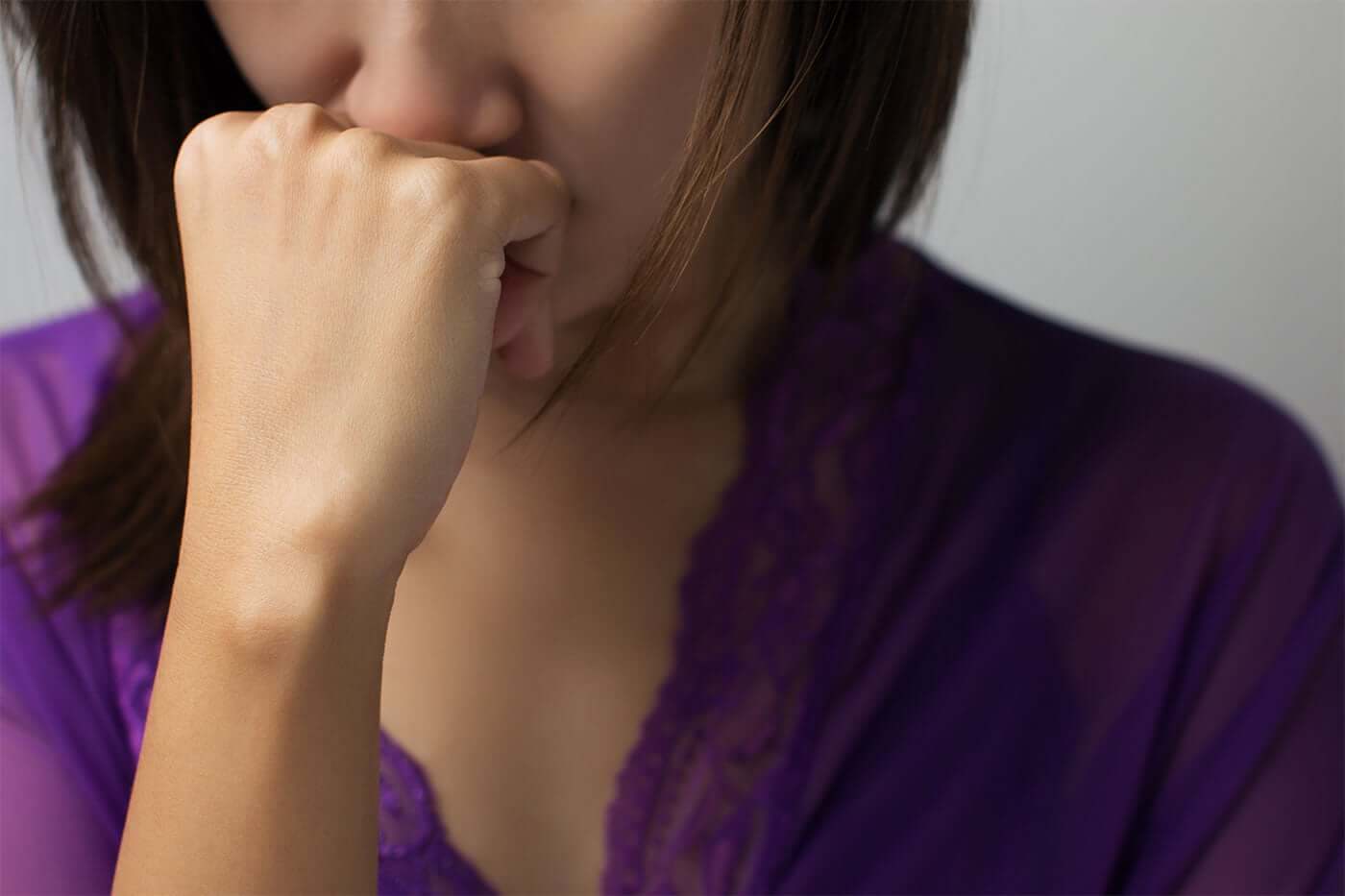 AAC is in-network with many insurance companies. Your addiction treatment could be free depending on your policy and deductible.
Furthermore, since addiction is marked by periods of recovery and symptom recurrence (relapse), it resembles other diseases like hypertension and type-2 diabetes.[3] These diseases are lifelong conditions that require continual effort to manage. Symptoms will likely return during periods where treatment compliance is low or absent, and symptoms will likely diminish when compliance to treatment begins again in earnest. 3
The idea that substance addiction is a disease is not, however, universal. Some would argue that addiction is not a disease because:[4]
Addiction is not transmissible or contagious.
Addiction is not autoimmune, hereditary, or degenerative.
Addiction is self-acquired, implying the person gives the condition to himself.
Proponents of this way of thinking put much more emphasis on the social and environmental factors of addiction—one proponent claims that addictions may be "cured" by locking addicts in a cell where there is no access to substances—instead of on the brain changes that occur as a result of substance abuse.4
Some schools of thought view treatment for addiction as little more than the individual making the decision to stop using.[5]
Specific aspects of these opinions are hard to refute. For example, it is true that most substance abuse begins with a decision (although in many cases substance use began with a prescription from a doctor for a real medical problem and evolved into abuse).
But while no one forced an addicted person to begin misusing a substance, it's hard to imagine someone would willingly ruin their health, relationships, and other major areas of their lives. Surely, if overcoming addiction were as easy as simply choosing to stop, the problem of addiction would be much easier to address and relapse would not be as common.
It should be noted that the "addiction is a choice" view is largely relegated to individuals and small groups. There are few, if any, nationally recognized substance abuse-focused organizations whose views have not evolved to understanding addiction as a disorder or disease. In fact, the NIH views the idea that addiction is a moral failing as an outdated, ill-informed relic of the past.[6]
The American Psychiatric Association (APA) no longer uses "addiction" as a term or diagnosis. Instead, the APA adopted the phrase "substance use disorder" as a way to describe problems related to "compulsive and habitual" substance use.[7]The change was made specifically to avoid confusion surrounding the term addiction and it's "uncertain" definition, as well as the negative stigma attached to the word. 7
No matter how one defines addiction or what term is used, what is clear is that addiction is an enormous problem in the U.S. that affects millions. Another irrefutable fact is that many drugs—both illicit and prescription—are quite addictive.
Why Are Drugs Addictive?
People get addicted to drugs for many reasons, but one of the major factors behind why drugs are so addictive is the rewarding, euphoric high they bring about. Drugs have the potential to significantly impact the systems in the brain relating to pleasure and motivation and make it difficult for other natural pleasures to compare.1
Every person experiences natural rewards in their life like a delicious meal, a favorite song, the pleasant feeling following exercise, or the happiness after sex, but drugs offer something more. The high that comes from abusing drugs is bigger, brighter, louder, and more gratifying than any natural reward, and it can make natural rewards seem small, dim, and quiet by comparison.
When drugs enter the brain
, they can:
1
Mimic naturally occurring brain chemicals.
Trigger the release of brain chemicals in large amounts.
Prevent brain chemicals from being recycled and reabsorbed into the brain.
One of the brain chemicals often discussed in the addictive power of substances is dopamine.
1
Scientists believe, when a rewarding event occurs, the brain releases dopamine to signal the experience and encourage repetition.
1
In terms of natural rewards, this is healthy and keeps life going; consider the pleasure derived from sex: it encourages repetition, thus perpetuating the reproduction of the species.
Dopamine tells the brain that the experience of using a drug is important and should be repeated. The brain is programmed to remember the people, places, and things associated with the use, so it will be easier for the person to repeat the situation.
With repetition, these bursts of dopamine tell the brain to value drugs more than natural rewards, and the brain adjusts so that the reward circuit becomes less sensitive to natural rewards. This can make a person feel depressed or emotionally "flat" at times they aren't using drugs.1 If natural rewards are a plate of broccoli, drugs are a huge bowl of ice cream, and broccoli is even less appetizing after ice cream.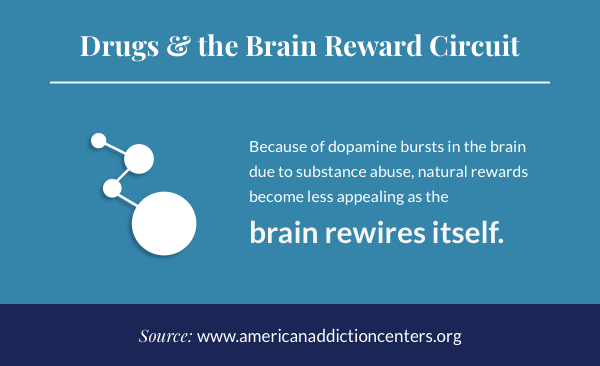 Over time, the desire for drugs becomes a learned reflex—a person can be triggered to use by the people, places, and things that are linked to their drug use, just as someone might get hungry driving by their favorite restaurant, only the desire is likely to be much more overwhelming. Cravings can feel uncontrollable even years after a person gets sober.1
At the same time the drug is producing these changes in the brain that are associated with the development of addiction, the individual may also come to tolerate higher doses and even depend on the drug to feel well. 3 Tolerance and dependence develop because of adjustments the brain makes to manage the alterations that come from the repeated presence of a drug. Tolerance and dependence are two signs of a substance use disorder but may also develop to some extent in the absence of addiction. 3 So what are they?
Tolerance is a state where the body's reaction to the presence of a given amount of drug becomes diminished over time. To compensate, the person will consume a higher dose or consume it more often (or both).1 A growing tolerance to a substance's effect and the ensuing increase in substance use may hasten the development of an addiction and increase the risk of overdose.
Physical dependence is the state of needing alcohol or other drugs just to feel normal. 3 Without these substances in the system, withdrawal will arise, and depending on the substance, symptoms could range from irritating to life-threatening.7
Addiction and physical dependence are often talked about as though they are interchangeable; however, they are separate phenomena that can exist without the other. 3 Someone using their opioid pain medications as prescribed can develop some physiological dependence but may not exhibit the compulsive behaviors of addiction. Conversely, some drugs may be used in a compulsive manner that indicates an addiction without physically relying on it to feel well.
What Are the Signs of Addiction?
What Are the Causes of Drug Addiction?
What Are the Most Addictive Drugs?
Getting Help for Drug Addiction
Find Drug and Detox Treatment Centers Near You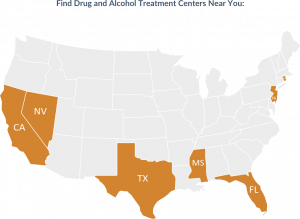 You Might Also Be Interested In

Sources

[1] National Institute on Drug Abuse. (2018). Drugs, Brains, and Behavior: The Science of Addiction. [2] Grant, J. E., Potenza, M. N., Weinstein, A., & Gorelick, D. A. (2010). Introduction to Behavioral Addictions. The American Journal of Drug and Alcohol Abuse, 36(5), 233–241. http://doi.org/10.3109/00952990.2010.491884.fo [3] National Institute on Drug Abuse. (2018). Principles of Drug Addiction Treatment: A Research-Based Guide. [4] Holden, T. (2012). Addiction is not a disease. CMAJ: Canadian Medical Association Journal, 184(6), 679. [5] Heyman, G. M. (2013). Addiction and Choice: Theory and New Data. Frontiers in Psychiatry, 4, 31. [6] National Institutes of Health. (n.d.). Drug Abuse and Addiction. [7] American Psychiatric Association. (2013). Diagnostic and statistical manual of mental disorders (5th ed.). Arlington, VA: American Psychiatric Publishing. [8] National Institute on Drug Abuse. (2018). Frequently Asked Questions. [9] National Institute on Drug Abuse. (2016). What to Do if Your Teen or Young Adult Has a Problem with Drugs. [10] National Institute on Drug Abuse. (2018). Opioid Facts for Teens. [11] Substance Abuse and Mental Health Services Administration. (2016). Stimulants. [12] National Institute on Drug Abuse. (2018). Misuse of Prescription Drugs. [13] Natioasnal Institute on Alcohol Abuse and Alcoholism. (n.d.). Alcohol and Neurotransmitter Interactions. [14] Substance Abuse and Mental Health Services Administration. (2015). Detoxification and Substance Abuse Treatment.