TRICARE Insurance Coverage for Drug and Alcohol Rehab Treatment
Does TRICARE Cover Drug or Alcohol Rehab?
TRICARE health insurance does typically cover drug and alcohol rehab treatment. If you are in need of TRICARE substance abuse treatment, you are eligible for coverage at a wide range of treatment programs, including American Addiction Centers. TRICARE is accepted at many treatment facilities, but TRICARE rehab coverage does depend upon the specific provider at hand, the member's specific health plan, and a few other variables.
At American Addiction Centers (AAC), we offer treatment for substance abuse and co-occurring mental health conditions in states across the country. To learn more about AAC's treatment options and TRICARE drug rehab give us a call at , or you can verify your insurance by filling out the form below.
Please note: American Addiction Centers strives to provide you with the most updated information on each carriers' addiction insurance coverage but policy changes and errors do occur. Please check with your insurance carrier directly to confirm coverage levels.
What is TRICARE Health Insurance?
TRICARE health insurance is a health care program offered exclusively to service members (both actively serving and retired) and their families. TRICARE doesn't just offer its members medical and dental coverage in most of their plans, but also many forms of behavioral health coverage. This insurance carrier used to be known as the Civilian Health and Medical Program of the Uniformed Services.
TRICARE health insurance is managed by the United States' Defense Health Agency, or Military Health System, whose mission consists of providing exceptional medical benefits for those who have serve or have served our country, as well as their family members.
Does TRICARE Cover Mental Health and Substance Abuse Treatment?
Depending on the approval to receive treatment, there are a few different forms of mental health and substance abuse treatment that TRICARE will often cover for its members. TRICARE will review your case and specific needs to recover, typically TRICARE plans cover:
Does TRICARE Cover Drug and Alcohol Detox?
TRICARE plans provide coverage for several types of drug and alcohol detox.1 Having TRICARE inpatient coverage does not mean you will be immediately covered fully for drug and alcohol detox. Detox centers that take TRICARE may require you to pay partial fees based on your specific insurance plan, or get the authorization and recommendation of a doctor. For example, many insurance plans require that you meet certain criteria for admission to an inpatient detox program. TRICARE may determine that you can successfully be detoxed on an outpatient basis.
Does TRICARE Cover Inpatient Rehab?
TRICARE does cover inpatient rehab for drug and alcohol abuse if you meet the criteria for inpatient treatment.2 Substance abuse treatment providers have certain guidelines that must be followed to determine if you need inpatient treatment. The first step in knowing whether TRICARE will approve inpatient rehab for you is to speak with a representative. If you are in immediate medical danger, they will provide treatment to stabilize your condition as long as it is medically necessary. While some people seeking treatment for addiction do not need 24/7 medically supervised treatment, others do.
Does TRICARE Cover Intensive Outpatient Rehab?
TRICARE does offer coverage for outpatient rehab.3 In general, insurance companies are more willing to approve and pay for the cost of outpatient rehab. This type of treatment is typically appropriate for people who need substance abuse treatment without 24/7 oversight. At times, a person may go to outpatient rehab after having completed an inpatient treatment program, as a way of stepping down or transitioning from a more intensive treatment program. Other times, a person's first treatment episode might be in outpatient treatment if the addiction is not as severe.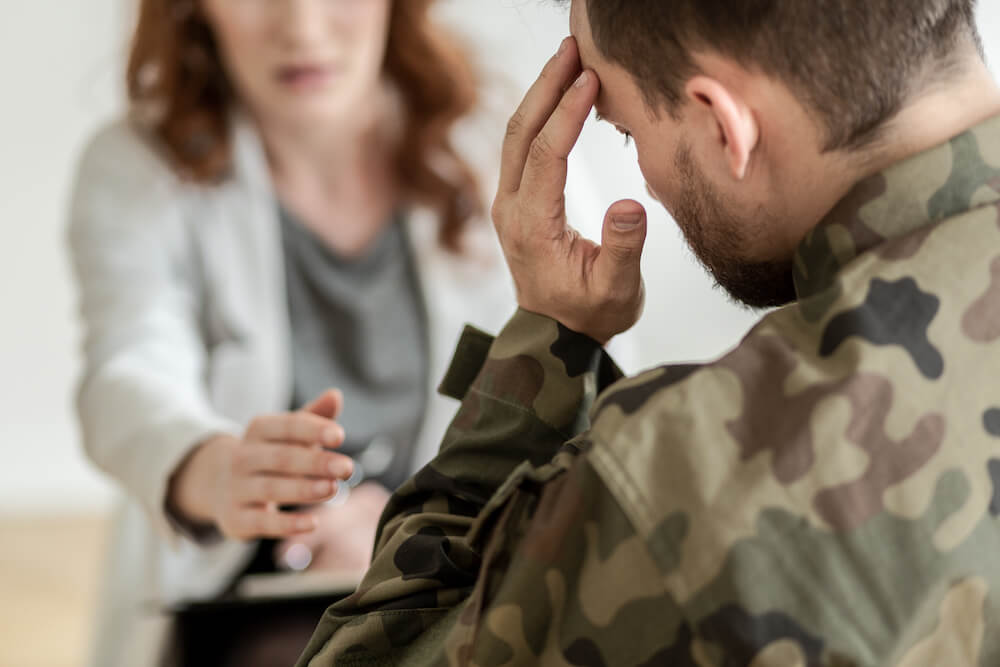 Does TRICARE Cover Therapy?
Yes, TRICARE typically covers many forms of psychotherapy for its members, such as one-on-one therapy sessions and counseling appointments. TRICARE also often covers marriage and family counseling, as well as multiple forms of group therapy for a variety of mental health conditions.4
In addition to its therapy and counseling benefits, TRICARE also covers many types of psychological testing – assessments that help diagnose patients with certain mental health conditions. There is also a possibility that this service member-exclusive insurance carrier will cover some experiential therapies, such as art therapy and music therapy.4
TRICARE Health Plans
TRICARE offers a variety of plans, and each type of plan has different forms of coverage.4-11
TRICARE Prime is a mandatory TRICARE plan for active-duty members of the military. It covers active duty and retired military members and their families, as well as activated members of the National Guard and their families. TRICARE Prime offers coverage for most forms of substance abuse treatment, including inpatient and outpatient treatment, and detox.
TRICARE Prime Remote is an option for those who qualify for TRICARE Prime, but live and work at least 50 miles from the nearest military hospital.
TRICARE Select is another option for active duty and retired military members and their families. While members have additional choices in the providers they see, there are higher costs. This coverage is very similar to TRICARE Prime, but certain services must go through an approval process before authorization occurs.
TRICARE Standard Overseas is a plan offered to active duty and retired military members and families that allows a choice of providers but has higher costs associated with it. As with TRICARE standard, authorization is required for many services.
TRICARE for Life is a program for people who receive Medicare Part A and B. TRICARE for Life is a form of health insurance that covers many of the expenses that Medicare does not.
TRICARE Reserve Select coverage is for members of the Reserves who are not on active duty. It is similar to a typical insurance plan with a deductible, monthly payments, and a provider network. Members can choose to go to a non-network provider for treatment but will pay a higher deductible and copay.
TRICARE Retired Reserve offers coverage for eligible retired reserve service members under the age of 60 and some surviving spouses of eligible retired reserve members. As with Reserve Select, members of this plan have monthly premiums, deductibles, and copays, but can opt to use non-network providers at a higher cost.
TRICARE Young Adult offers coverage for those who need healthcare after their "regular" TRICARE coverage ends after the age of 21 (23 if in college). You must also be under the age of 26, unmarried, and the child of an eligible TRICARE member.
Do Treatment Centers Need to Be In-Network?
For some TRICARE plans, such as TRICARE Reserve Select, TRICARE Young Adult, and TRICARE Prime Remote, you can opt to receive care from an out-of-network provider, but the costs are higher than using an in-network provider. Other plans require you go to an in-network provider. It is important to note that an in-network provider with TRICARE can offer you the least expensive coverage as the rates negotiated between a provider and the TRICARE insurance plan are usually the best possible value for TRICARE members. Also be aware that, with some providers, you will be required to pay the entire cost of treatment up front and wait several weeks for TRICARE to reimburse you. This cost could range from hundreds of dollars for outpatient treatment to thousands of dollars for inpatient treatment, and reimbursement could take several weeks.
How Can I Pay the Costs Not Covered by TRICARE Insurance?
Fortunately, if you use providers within the TRICARE network, you are only responsible for the costs that remain after TRICARE pays the provider the negotiated rate. If you chose a non-network provider, you will have a higher out-of-pocket cost. You can usually work out a payment plan with the provider to cover the remaining costs. However, the easiest way to determine your coverage, benefits, and costs will be to speak with a TRICARE representative and discuss which options offer the best value for your situation.12
Suboxone Doctors That Take TRICARE
More often than not, TRICARE covers the cost of Suboxone for it's members, a form of Medication-Assisted Treatment (MAT) and common medicinal method for the treatment of opioid addiction. Many forms of MAT, including Suboxone, are proven to lessen the severity of drug withdrawal symptoms and provide a fair amount of craving relief for patients. In turn, this allows patients to focus on other forms of addiction treatment, such as behavioral therapies.
To attain coverage for Suboxone, TRICARE members must first attain a pre-authorization for their treatment. Without insurance, the generic form of Suboxone may cost up to $200 for a 1-month supply.
Find Drug Rehab That Accepts TRICARE
Sources
Last Updated on December 21, 2021
Start your recovery today.
American Addiction Centers can help you get the care you deserve.