Alcohol Misuse in the Workplace
Alcohol is both a legal and an intoxicating substance that is often intertwined in socially work-related settings. Needing to impress a potential client? Take them out for drinks. Happy Hour with co-workers meant to build comradery and good will? Show up after work ready for conversation and drinking. The Christmas party at work? Wear your "ugly sweater" and expect an assortment of drinks available at the makeshift bar. For many, these incidental potential interactions with alcoholic beverages hold no emotional weight. However, for those struggling with an alcohol addiction and are innocently placed in workplace situations involving libations, the circumstances may prove too heavy a burden on one's shoulders. Alcohol misuse in the workplace may easily go unnoticed.
Joy Sutton, host of American Addiction Centers' (AAC) Sober Thursdays, had the opportunity to interview another set of four current employees of the nationwide leader in addiction treatment, who also happen to be in long-term recovery themselves. They provide the compassion to their patients that they once sought.
The third episode of Sober Thursdays: An AAC Chat included the following panelists:
Courtney Messina, LPC, LCDC, Clinical Director.
Chris Ferrante, Outreach Coordinator.
Josh Shannon, Admissions Navigator.
And last but not least, Kevin Davis, Outreach Associate.
This group shared their experience with alcohol misuse in the past and their perspective as AAC employees. The conversation in this episode focuses on the topic of "Occupational Hazard: Alcohol in the Workplace."
If you're battling an addiction to alcohol, you're not alone. AAC provides care in a compassionate environment under licensed medical professionals and offers inpatient and outpatient treatment. If you're struggling with an alcohol use disorder, please reach out for help.
Substance Misuse & Alcohol on the Job
One of the major takeaways from the conversation that Joy had with the panelists is the idea that when drinking evolves as part of the workplace culture, it becomes accepted as the norm.
Those that are battling an alcohol use disorder may find it challenging to even realize they have a problem since their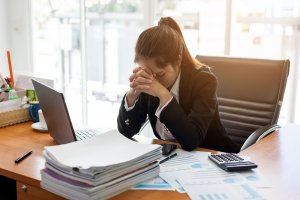 behavior is acceptable and encouraged in certain workplace settings. And if individuals have been working from home and drinking while [on the job], it's a secret that is easily kept.
In response to the statistic that 66% of people admit to using alcohol in the workplace, Clinical Director, Courtney Messina, shared that she wasn't surprised by that number at all. "Alcohol is actually the single most used and abused drug in the United States of America," said Courtney.
Christ Ferrante, Outreach Coordinator, chimed in. "…Prior to two and half years ago, the number one thing that I was seeing—and what we all were seeing across the news—was the opiate epidemic. I would say, you know, rough numbers, probably 70% of the people that I was coming across were struggling with opiates."
But things changed with COVID.
"Now it's 70% or greater percentage of people that I'm getting calls for are struggling with alcohol," continued Chris.
He believes these numbers have a lot to do with drinking during work hours or drinking in the workplace. Especially with having to redefine what the workplace actually is within the last two and a half years [with so many people working from home].
"Drinking became more convenient. The pressures of life became greater, and they were able to do it in greater secrecy because of the whole work from home option…"
To learn more about alcohol misuse and the panelists, including Josh Shannon and Kevin Davis, watch this episode of Sober Thursdays in its entirety. And if you find yourself struggling with an addiction to alcohol, please reach out for the help that you need today.