Substance Abuse Among Food Service Workers
Substance use in the food service industry is a habit thought to be, albeit stereotypically, commonplace by many Americans. The high stress, often late-night work conditions fuel an environment where substance use is viewed as more socially acceptable than in other workplaces. With over 5 million restaurant jobs available in the United States, we decided this was an area worth learning more about to better serve those in recovery.
We decided to survey Americans employed in the food service industry on their drug and alcohol use habits, both on and off the job. Read on to discover what we found.
According to our survey results, the majority of food service workers have never used drugs or alcohol at work. We found this to be a promising and inspiring statistic given the stereotype of the culture of the industry.
However, just because the problem does not exist in the majority does not necessarily mean that it does not exist at all. Unfortunately, 1 in 10 food service industry workers reported that they are under the influence of drugs for the majority of their work shifts, and around 1 in 20 reported the same for alcohol use.
We also found it important to note the difference between those two figures. While more food service workers said they have consumed alcohol at work than have taken drugs, far fewer claim to drink alcohol regularly at work than those who regularly use drugs at work (6% to 10%).
Another insight to note is that of those that drink at work, 54% say they have gotten alcohol from the bar at their place of employment.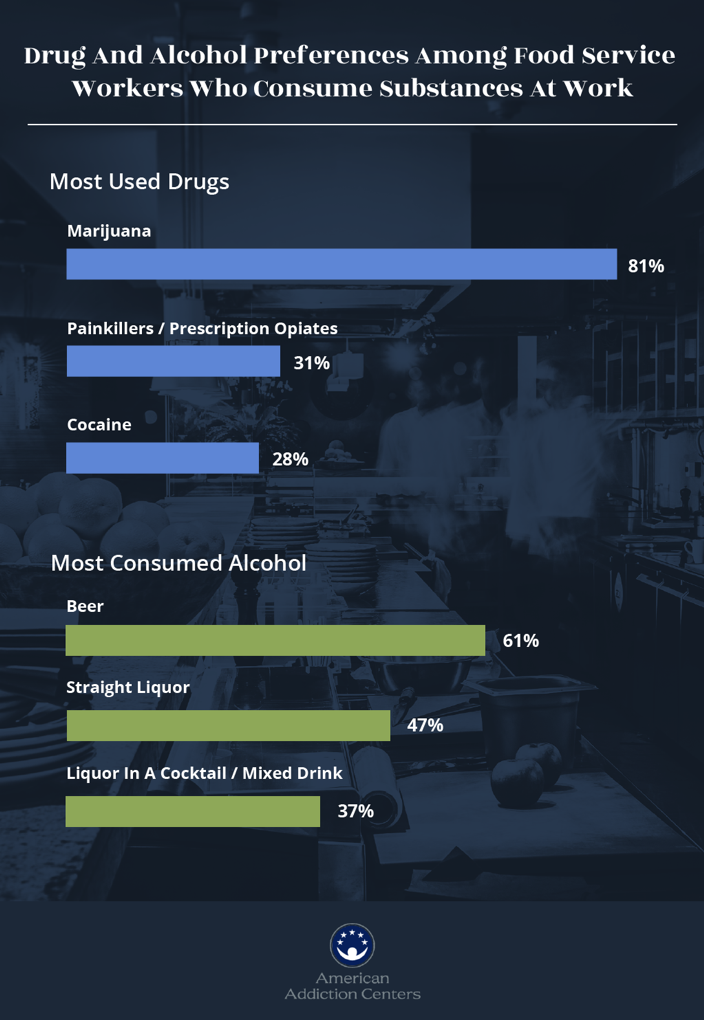 But what kind of drugs and alcohol are being used by restaurant workers across the United States?
Our survey respondents who reported that they used drugs at work indicated that the drug most used is overwhelmingly marijuana (81%). Marijuana also accounts for over 45% of total drug usage according to our survey. The other two most used drugs in restaurants are painkillers or prescription opiates (31%) and cocaine (28%).
Those who consume alcohol at their restaurant jobs most commonly drank beer (61%), followed by straight liquor (47%), and liquor in a cocktail or mixed drink (37%).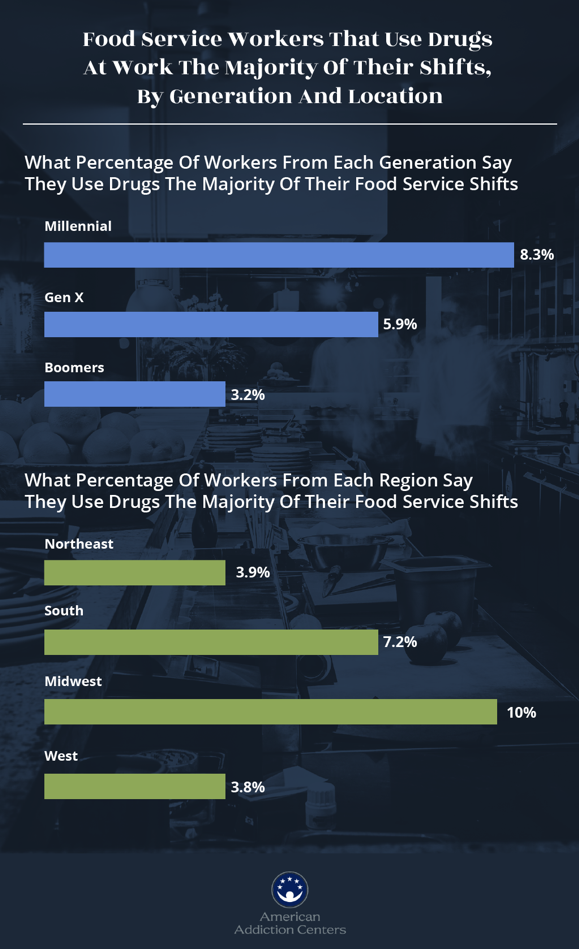 On top of the types of substances being used, it is also important to consider the demographics of the food service workers who are using them. Some interesting insights from this aspect of our study indicated that millennials are the generation most likely to frequently use drugs at work, while baby boomers are the most likely to have never done so.
Additionally, food service workers from the Midwest are more than twice as likely to use drugs regularly at work compared to the West and Northeast. We wonder whether this has to do with the opioid crisis being especially prevalent in the Midwest.
Not shown on the above graphic is another demographic to consider about substance abuse in the food service industry: men are nearly twice as likely to use drugs during the majority of their shifts compared to their female counterparts.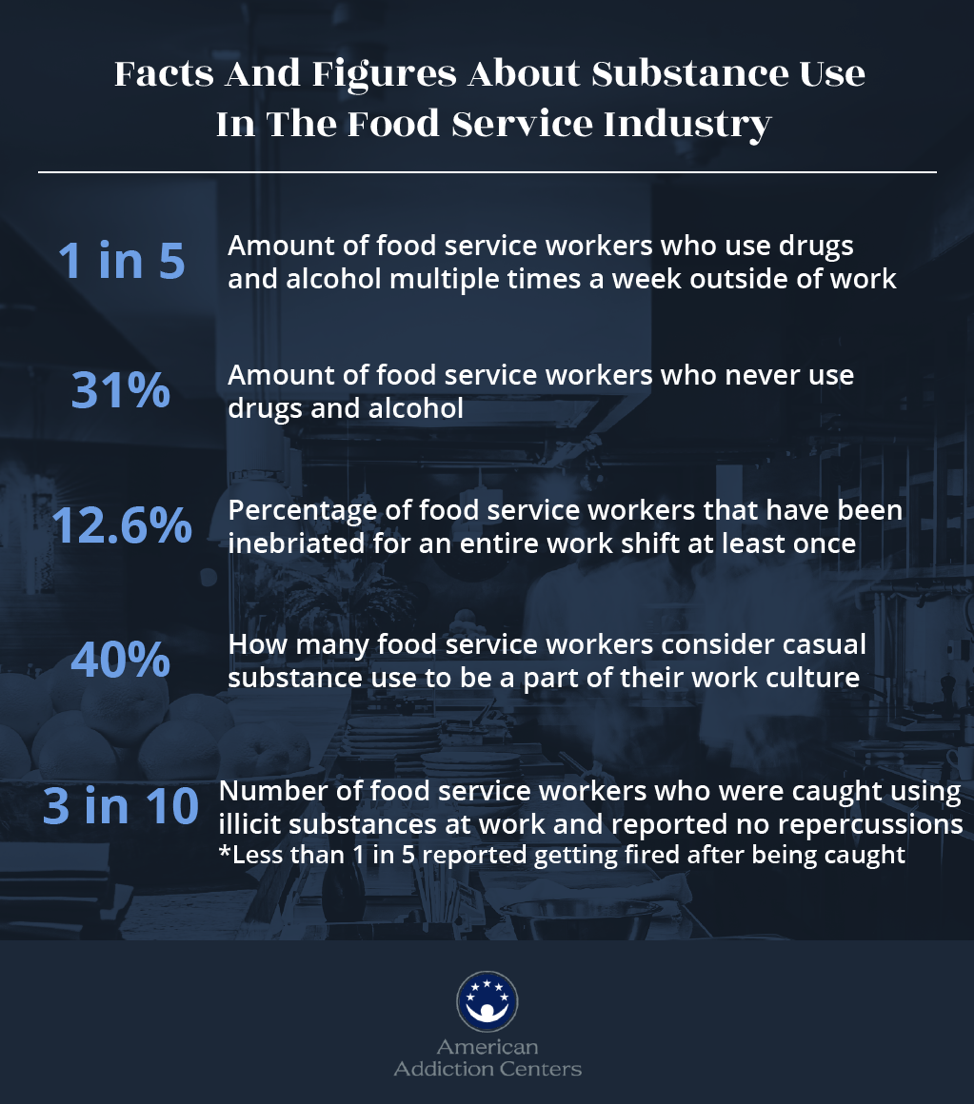 The above graphic contains some miscellaneous facts and figures concluded from our survey results. Of course, you can read them for yourself, but the most important statistic we wanted to highlight is one that confirms a common stereotype in the restaurant industry: over 40% of respondents consider casual substance use to be a part of their work culture.
That is a disturbing and unhealthy statistic to see. Perhaps this lenient culture plays into the statistic that 3 out of 10 workers who were caught using an illicit substance at work faced no repercussions, and less than 1 in 5 reported that they were fired after being caught.
Of course, the industry's culture is not universal and therefore is not entirely to blame. Still, consider that 31% of food service workers reported that they never use drugs or alcohol in the first place.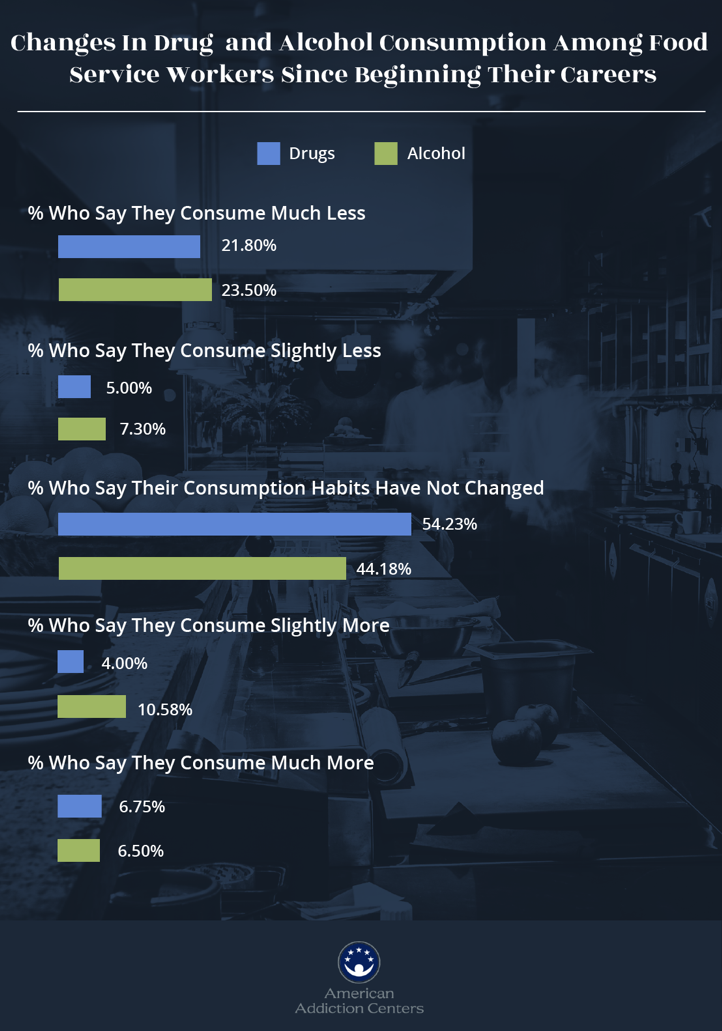 Finally, our survey pooled insights on the effect of food service employment on a worker's substance use over time. Fortunately, the majority of workers say that their consumption habits of alcohol (44.18%) and drugs (54.23%) have not changed since becoming employed in the industry, and in fact, over 20% of food service workers claim their drug and alcohol consumption has become much less since starting their careers.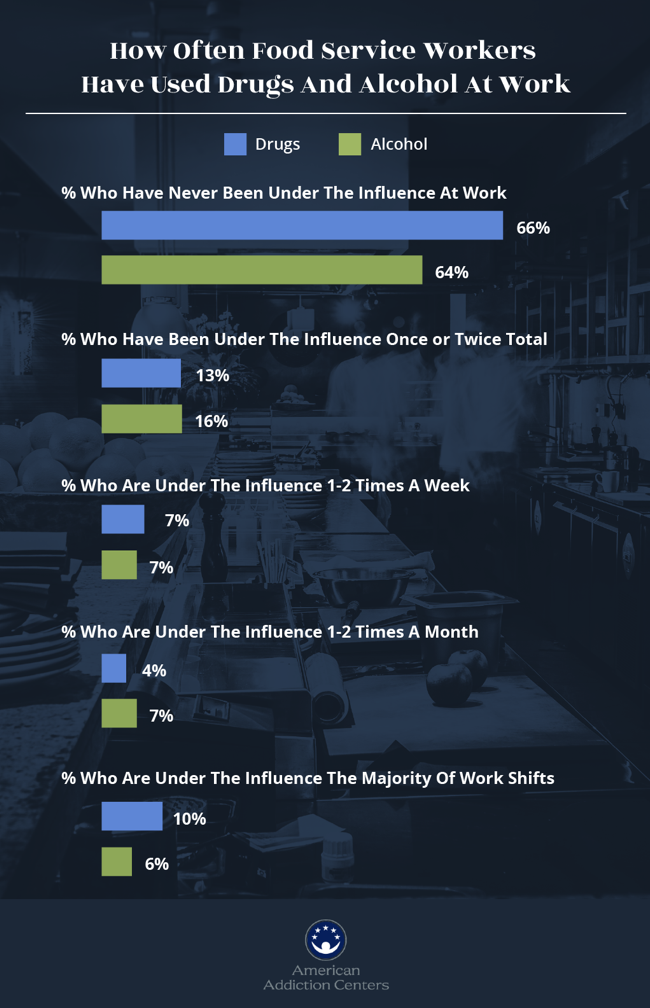 When considering outside of work habits, over 1 in 5 food service workers (21%) say they use drugs and alcohol multiple times a week outside of work, while only 31% say they never use those substances. Additionally, 9.5% of food service workers say they frequently start work inebriated, and 12.6% say they have worked at least one shift where they were inebriated the entire time.
It is important to monitor these cultures and understand the risks involved in becoming employed in this area if you or someone you know is suffering from alcohol or drug addiction. While our results indicate a complicated industry with various degrees of drug and alcohol use, it is clear that the food service industry could do much better to dissuade these behaviors and prove itself a resource to those in recovery.
If you know anyone in your life who is suffering from alcohol addiction, find out more about how you can help.
Can I use this information?
The information and graphics in this blog post can be used and displayed by all commercial and non-commercial websites without charge. However, use is only permitted with proper attribution to americanaddictioncenters.org When using this information or any of these graphics, please include a backlink to this page.