Insta-Intoxicated: Top 100 Billboard Artists
From rockers' drug-fueled debauches to rappers' commitment to cannabis, popular music and substance use have long been linked. But whereas fans once discerned drug use from lyrics and live appearances, social media has brought new visibility to pop stars' partying. Whether sipping champagne in the club or smoking weed in their studios, performers are now willing and able to flaunt their lifestyles for likes.
In a world where more than 7 in 10 teenagers use Instagram, concerns about musicians as bad influences seem particularly relevant. But which artists are using Instagram to glamorize getting wasted? We set out to find out.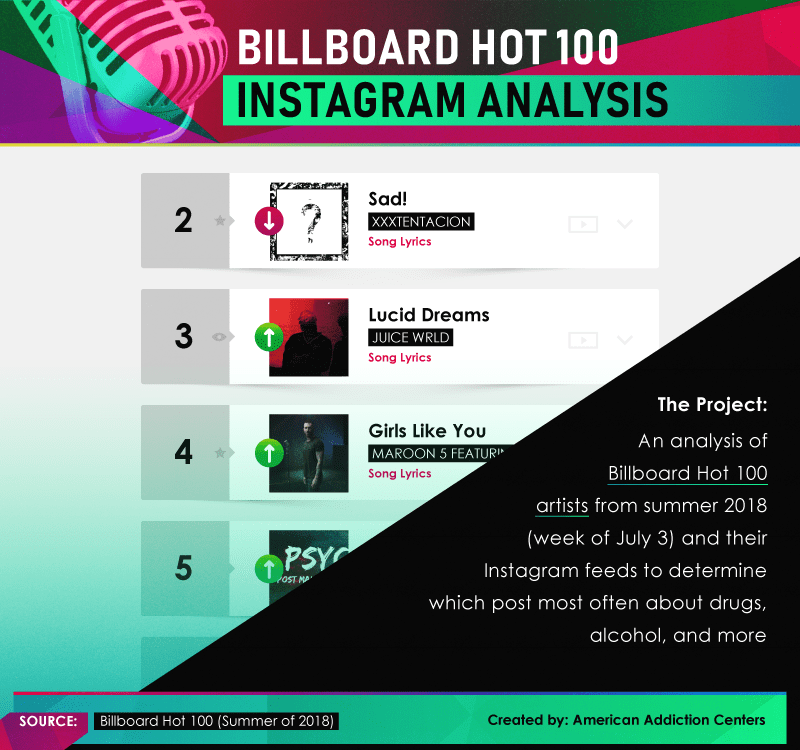 In this project, we've analyzed the Instagram activity of Billboard Hot 100 artists, studying which stars post most about drinking and drugs. Our findings reveal not only which stars are flaunting their partying but also which substances appear in their pictures specifically. To learn which musical idols are celebrating substance use on social media, keep reading.
Lit for the Likes?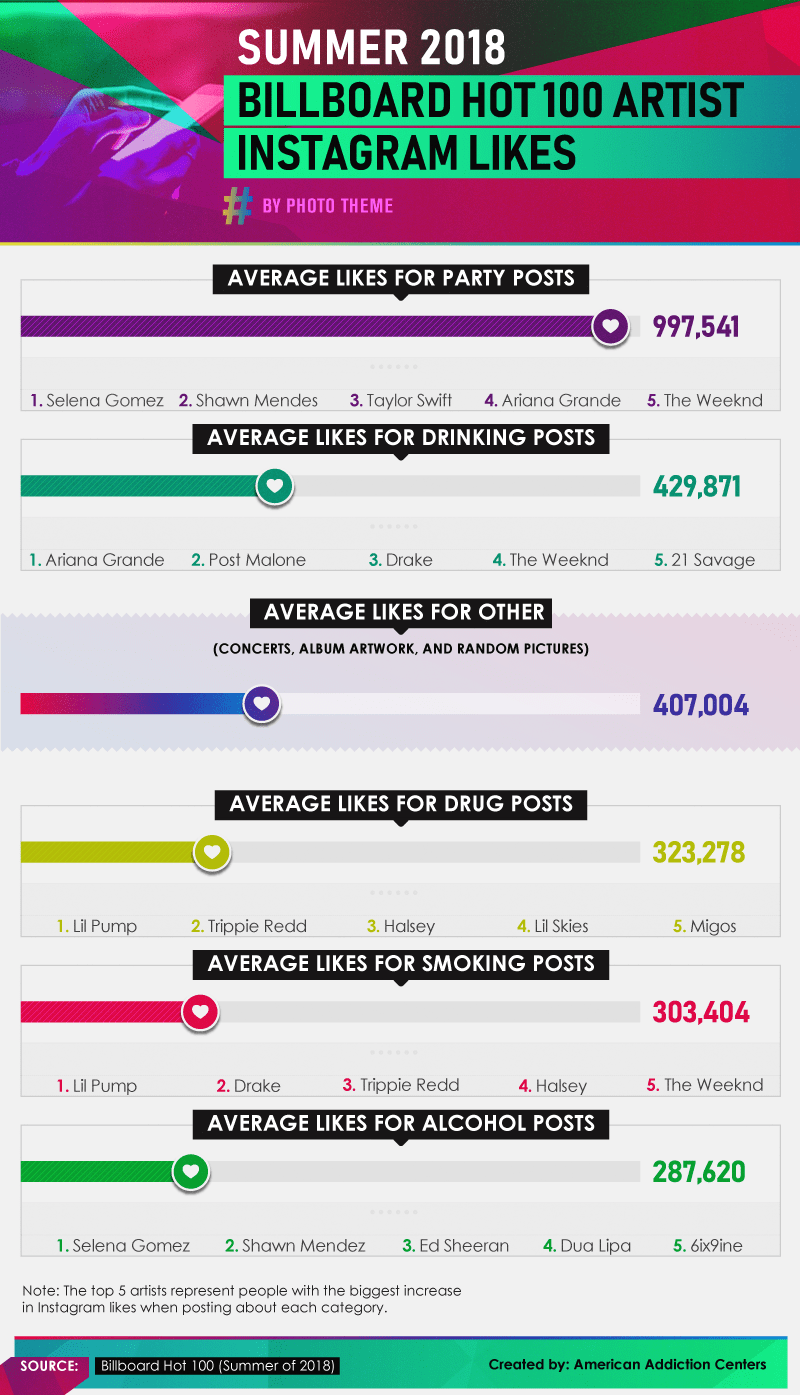 We categorized posts from Billboard Hot 100 artists according to their content and tracked how many likes these musical stars typically received on images of each kind. In cases in which the beverage an artist was drinking was probably alcoholic but could not be confirmed, we categorized the post as a "drinking" image, as opposed to "alcohol" posts in which liquor was plainly featured.
Interestingly, our artists' posts about partying and drinking typically received more likes than images unrelated to substance use. Two pop idols proved themselves the queens of categories pertaining to booze: Selena Gomez averaged the most likes on partying and alcohol posts, while Ariana Grande took top honors for posts about drinking. Interestingly, both women began their careers as child actors, a path that has produced many adult stars who struggle with substance abuse issues. Gomez' ex, The Weeknd, also ranked within the top five for likes on his partying and drinking posts.
Turning to other illicit substances, however, Lil Pump generated the most likes, on average, for posts about smoking and drugs. The rapper's Instagram activity is consistent with the focus of his artistic output: His "Drug Addict" music video featured Charlie Sheen, an actor who's spoken openly about his own substance abuse struggles. Halsey, who ranked in the top five for likes on smoking and drugs posts, has encountered public scrutiny pertaining to her substance use in the past, including an incident in which paparazzi snapped her snorting a powdery substance on a yacht in Miami.
Intoxicated Influencers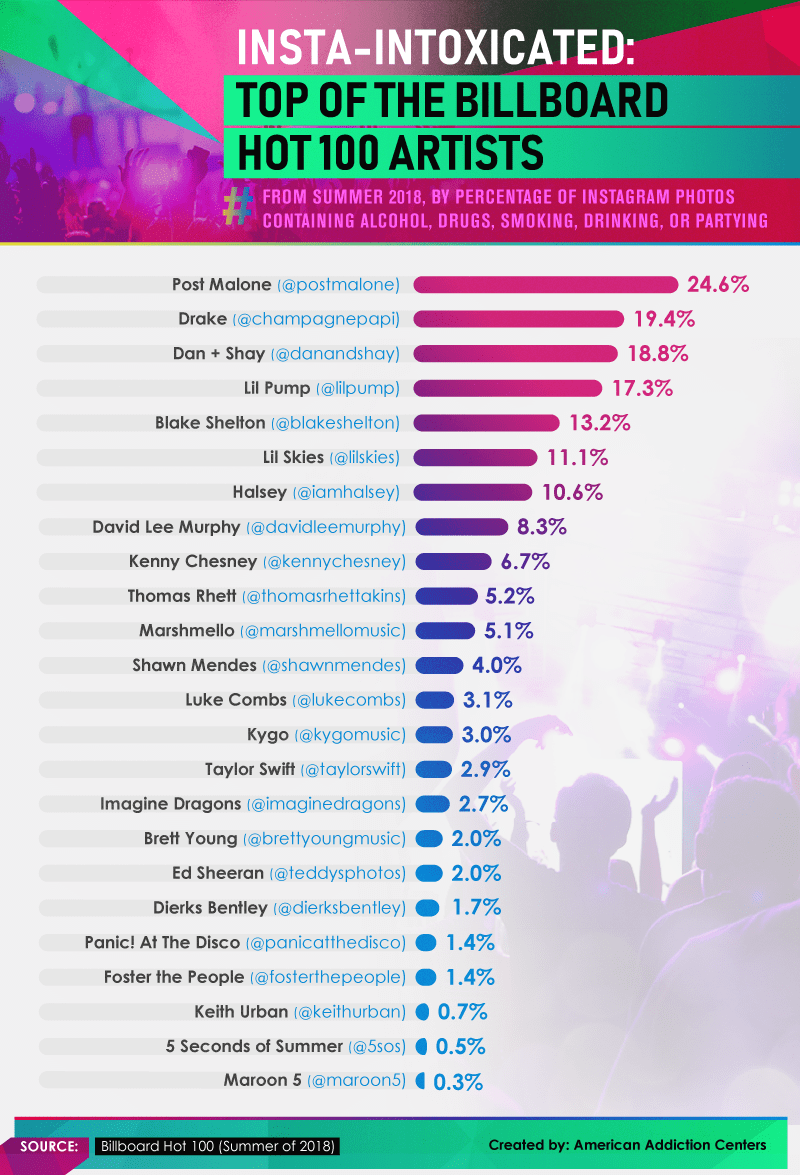 Which artists devote the most considerable portion of their Instagram activity to drug- and alcohol-related content? Our data indicate no Billboard Hot 100 performer celebrates substances with the intensity of Post Malone. Nearly a quarter of his posts concerned getting drunk or high, perhaps a fitting pattern for a rapper whose breakthrough album bore the title "Beerbongs & Bentleys." Second-ranked Drake and third-ranked Dan + Shay were similarly unafraid to reference substances: Drake's Instagram handle includes the word champagne, and the country duo's recent smash hit is titled "Tequila."
Some artists steered almost entirely clear of posts referring to partying. Despite a recent album entitled "Red Pill Blues," the men of Maroon 5 barely referenced drugs or alcohol on their official account. Keith Urban, who has spoken publicly about his past struggles with alcoholism, was likewise averse to posting about substances. 5 Seconds of Summer, who featured drugs or drinking in less than 1 percent of their posts, similarly claim to have put their days of wild partying behind them.
Top Partiers, by Genre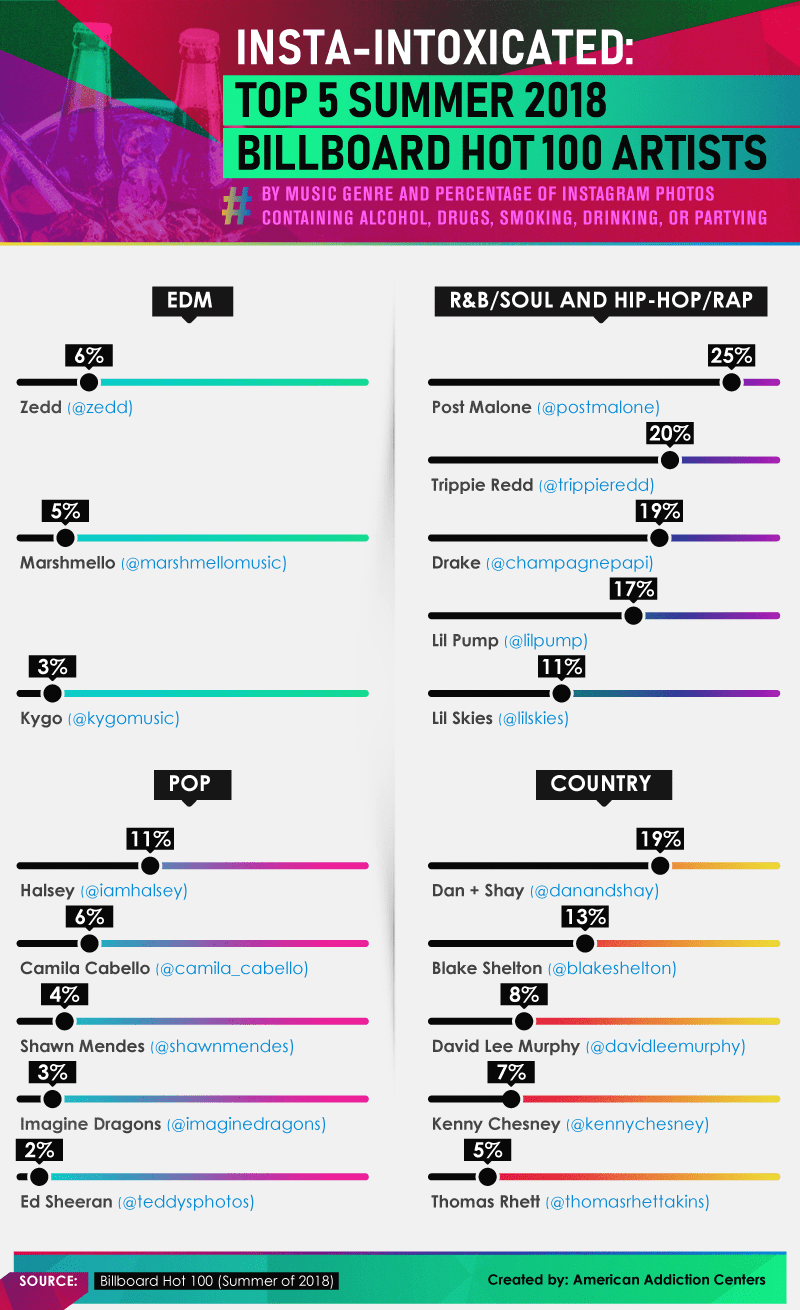 Which stars of each musical genre are most associated with partying and intoxicating substances on Instagram? In a country music industry famously enamored of booze, Dan + Shay were, by far, the most active artists posting about the use of substances. Comparatively, the hit-makers of electronic dance music (a genre with an intense substance use culture of its own) posted about partying somewhat less often. Still, Zedd and Marshmello, two of the genre's biggest stars, devoted at least 5 percent of their posts to drinking or drugs.
In the rap and R&B genre, familiar names dominated the top spots: Post Malone, Trippie Redd, Drake, and Lil Pump each mentioned drugs or drinking in more than 16 percent of their posts. Among pop stars, Halsey and Camila Cabello featured partying in a substantial portion of their Instagram activity. They were followed by Canadian sensation Shawn Mendes, who is still too young to drink legally in the U.S. and claims to follow the law when he tours the country.
Showing Off, by Substance
Trippie Redd devoted the highest percentage of Instagram posts to smoking. He narrowly surpassed Post Malone, who recently claimed to have retired his relentless pot habit after unknowingly smoking a joint laced with PCP. Malone ranked second in percentage of alcohol posts as well, falling just behind Drake. While 1 in 10 Drizzy posts referred to alcohol, this could be a function of promotion as much as consumption: In 2016, he launched a high-end whiskey brand of his own.
Blake Shelton, whose fondness for liquor produced an embarrassing fall from the stage during a 2018 performance, led all other artists as far as percentage of drinking posts. Partying posts, however, were dominated by female stars, including Nicki Minaj, Becky G, and Selena Gomez. Finally, Lil Pump completely conquered the drug posts category: The percentage of his posts featuring illicit substances was twice as high as any other artist.
Notoriety vs. Sobriety?
Our findings indicate that many of the world's most influential artists showcase their consumption of alcohol and drugs on social media. But if their posts present intoxication as an essential component of fame, the risks of substance use are never far from the public eye either. Indeed, many celebrities have struggled mightily with addiction issues, later finding solace in sobriety. While their journeys in recovery may be too complicated to convey in a single image on Instagram, they deserve at least as much public consideration. For famous and average Americans alike, the line between addiction and occasional excess can be perilously thin – but change is always possible.
If you or someone you love needs help embracing recovery, identifying the most effective and affordable resources can be challenging. With many methods and levels of care available, expert advice can be key to selecting the right treatment options. Let our team of experienced professionals assist you in your search so that you can make care decisions with confidence. Explore our treatment resources and information today to learn more.
METHODOLOGY
For this project, we decided to tap into the Billboard Hot 100 during the week of July 3, 2018. Collecting the names of all the artists who appeared on the chart, we compiled a list and found each of their Instagram accounts. We then analyzed the most recent 200 photos from each artist to determine if any of the following themes occurred visually in their photos: alcohol, drugs, smoking, drinking, or partying.
LIMITATIONS
If an individual artist had less than 75 photos on their Instagram account, their rankings were removed from the project. Images were tagged for these occurrences and multiple themes could have been present in one photo. As a result, some images could have been tagged with more than one theme. Photos were tagged as "drinking" when researchers could not determine if a photographed beverage was indeed alcohol. If multiple themes were present in photos, some themes may have been missed due to picture quality and researcher discretion.
FAIR USE STATEMENT
If you'd like to share this content on your website or social media, you're welcome to do so for noncommercial purposes. We simply ask that you link back to this page to attribute our team for their work on this project. We're not quite as popular Selena Gomez, so every bit of credit counts!