Mental Health and Black Men
When dancer and TV personality Stephen "tWitch" Boss died by suicide in December last year, the world was in shock. That's because, outwardly, Stephen was happy, joyful, and positive. Those are the sentiments used on social media and news networks to describe the man who lit up the lives of those who knew him best. As fans struggle to reconcile the outward persona they saw dancing on social media platforms with the man who took his own life, Stephen's suicide ignites conversations surrounding mental health issues, specifically among Black men.
Racism, Mental Health, and Mental Illness
February is Black History Month, and what better way to honor the observance than to discuss pressing issues that directly impact the Black community? Stephen's untimely death is a reminder that there is a problem hiding in plain sight.
Black men have been taught that it's a sign of weakness to talk about mental health struggles. They are supposed to stay strong when managing their feelings and responses to negative stimuli, people, and events. However, maintaining a façade of strength to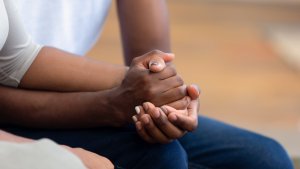 mask feelings of chronic stress—stemming from racism, poverty, family dysfunction, or childhood trauma, for instance—is not sustainable long term. Eventually, it takes a toll on an individual's mental health.
Mental health includes the social, emotional, and psychological well-being of an individual. It impacts how they act, feel, think, how they relate to others, and how they deal with stress.
Mental illnesses affect an individual's behavior, thinking, feeling, or mood on a daily basis and may also impact their ability to relate with other people.
Daniel H. Gillison Jr., CEO of the National Alliance on Mental Illness (NAMI), says, "Racism is a public health crisis." What does that mean exactly? Positioning racism as a public health crisis compels organizations and government entities to address the crisis similarly to how other public health crises, such as the opioid crisis or the COVID-19 pandemic, are handled—in broad and systemic ways; thus, paving the way for change.
Research indicates that individuals who experience racism may be at an increased risk of certain mental and physical health conditions, including:
Insomnia.
Anxiety.
Mood swings.
Ulcers.
Social and emotional withdrawal.
Kristy Sinkfield, the director of strategy and innovation at Vanderbilt University Medical Center says, "The pressures of dealing with racism and fighting for equality take their toll." Additionally, Forbes magazine contributor, Maia Niguel Hoskin writes, "It is well known that exposure to racism and discrimination are linked to various adverse mental health outcomes."
In fact, mental health issues among Black Americans are quite common. Statistics include the following:
Some speculate that Stephen Boss suffered from high-functioning depression. What's clear is that even though his life seemed full of so much joy, Stephen struggled internally. If you or someone you love grapple with anxiety, depression, or another mental health condition, don't struggle in silence. Reach out to NAMI by calling 1-800-950-6264, texting 62640, or chatting nami.org/help. Call or text 988 if you are in crisis, or chat 988lifeline.org if you prefer.
If, in addition to a mental health disorder, you also struggle with substance misuse, American Addiction Centers (AAC) has nationwide facilities staffed with licensed and compassionate medical professionals who can treat co-occurring substance and mental health disorders simultaneously. Reach out today to get the help you need.