Professionals, Prescription Pills and Addiction
Addiction doesn't always look like homelessness, getting arrested, being unemployed, or using illicit drugs. Although, sometimes it does. Other times, the picture of substance misuse is working professionals facing prescription pills and addiction. Addiction materializes in many different forms. And sometimes it's not so obvious in certain social settings because the parties have become good at hiding their battle from families, friends, and the community at large. Doctors, lawyers, and other high-paid working professionals are often looked upon as the pillars of society. Perhaps this pedestal that we all put them on contributes to the additional pressure they have of meeting unrealistic expectations of perfection.
Joy Sutton, host of American Addiction Center's (AAC) new talk show, Addiction Talk, had the opportunity to interview Attorney and Reality TV Star Symone Redwine.
In this candid interview, Symone opens up publicly for the first time about her addiction to Adderall and what it's like to have the pressures associated with being a working professional in the field of law.
Be sure to tune into future episodes of Addiction Talk, but first watch this episode about how one hard-working, driven, and ambitious woman got sober.
If you're struggling with an addiction to Adderall or any type of prescription drug, there are resources available to help you. AAC is a nationwide leader in addiction treatment. We provide both inpatient and outpatient care for working professionals. If you're battling with an addiction, please reach out for help.
Shame, Stigma, and Prescription Pills
When asked what led her to open up about her addiction and to share this personal journey with the world at this particular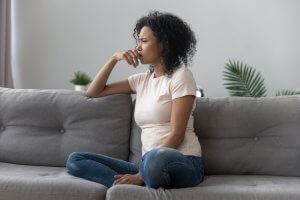 time in her life, Symone responded, "There's a little stigma attached to it. Initially I felt a lot of shame… but I worked through that… I just want other people to know that Adderall [my addiction] is a real thing."
But the reality TV star of Season 3 of Ready to Love didn't stop there. She went on to say, "…this is what addicts look like. Sometimes they're pretty. Sometimes they look completely healthy." She wants people to know her story because, "…there may be someone else like me who's struggling as well."
Symone learned that 40%-50% of attorneys struggle with addiction. "So, I'm actually really normal." Through her own experience and research, she mentioned that doctors, lawyers, and dentists are some of the top professionals that struggle with addiction because of their need to overachieve and due to stress-related issues.
Although people were surprised to hear about Symone's own struggles at first, she acknowledged just how very supportive everyone has been as well.
Symone recounts when her addiction first began. "I started taking it [Adderall] eight years ago when I was studying for the Texas bar. So, I didn't take it at all in law school or undergrad."
She was working and studying for the Texas bar, which was a different experience from when she had taken the New Jersey and New York bar three years earlier. There were more distractions this time around.
"When we were doing bar prep and studying, there was this girl who was very rich. She let everyone know she lived on Park Avenue in New York. She was on the Law Review." The Law Review is the equivalent of the Dean's List or making the honor roll. She shared how Adderall helped her. This entire scenario made Symone take a step back and think. This girl wasn't the smartest in the group yet taking this prescription drug helped her to make the Law Review.
"Surely, Adderall can help me to pass the Texas bar." And so, Symone's addiction began.
To learn more about Symone Redwine and the details of her story in its entirety, watch this recording of Addiction Talk. And if you find yourself battling with substance misuse, please reach out for the help that you need today.