Addiction is a force that has gripped the US and drags people of all backgrounds down with it. While drugs pose a threat in virtually every community throughout the country overall, there are places where illicit substances are less common and rates of abuse are lower.
In this study, our team analyzed data for 51 metropolitan areas throughout the United States. Using city-specific data, we were able to rank each city for substance abuse based on the percentage of the population who has used that drug. Based on our findings, we compiled the information and created a weighted ranking for overall drug use that allowed us to rank US cities based on their cumulative rate of substance abuse.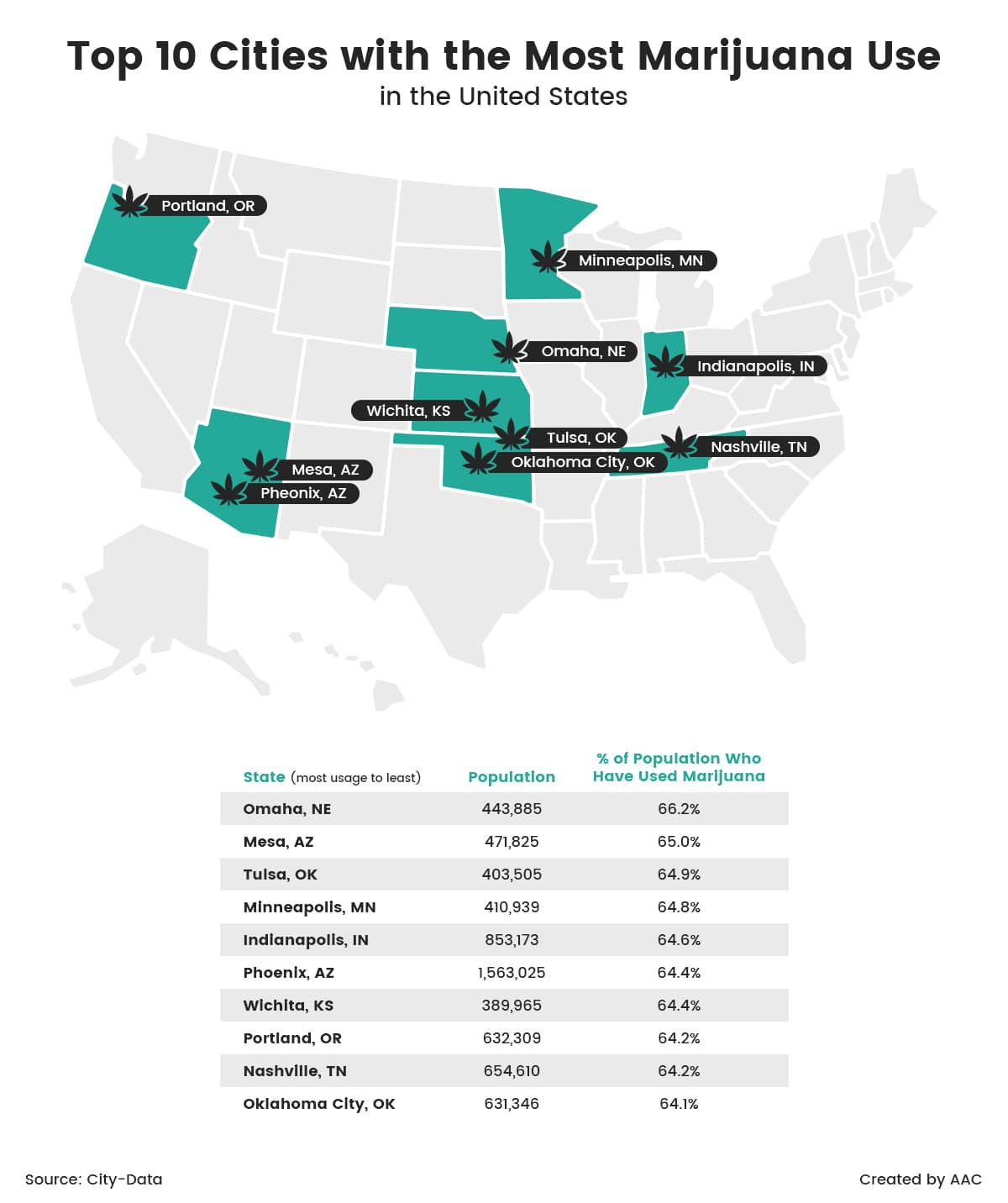 Marijuana is the most common drug used overall throughout the US. In fact, for these US cities, over 60% of their citizens have used marijuana at least once. Overall, Omaha had the highest percentage in the country, followed by Mesa, AZ and Tulsa, OK.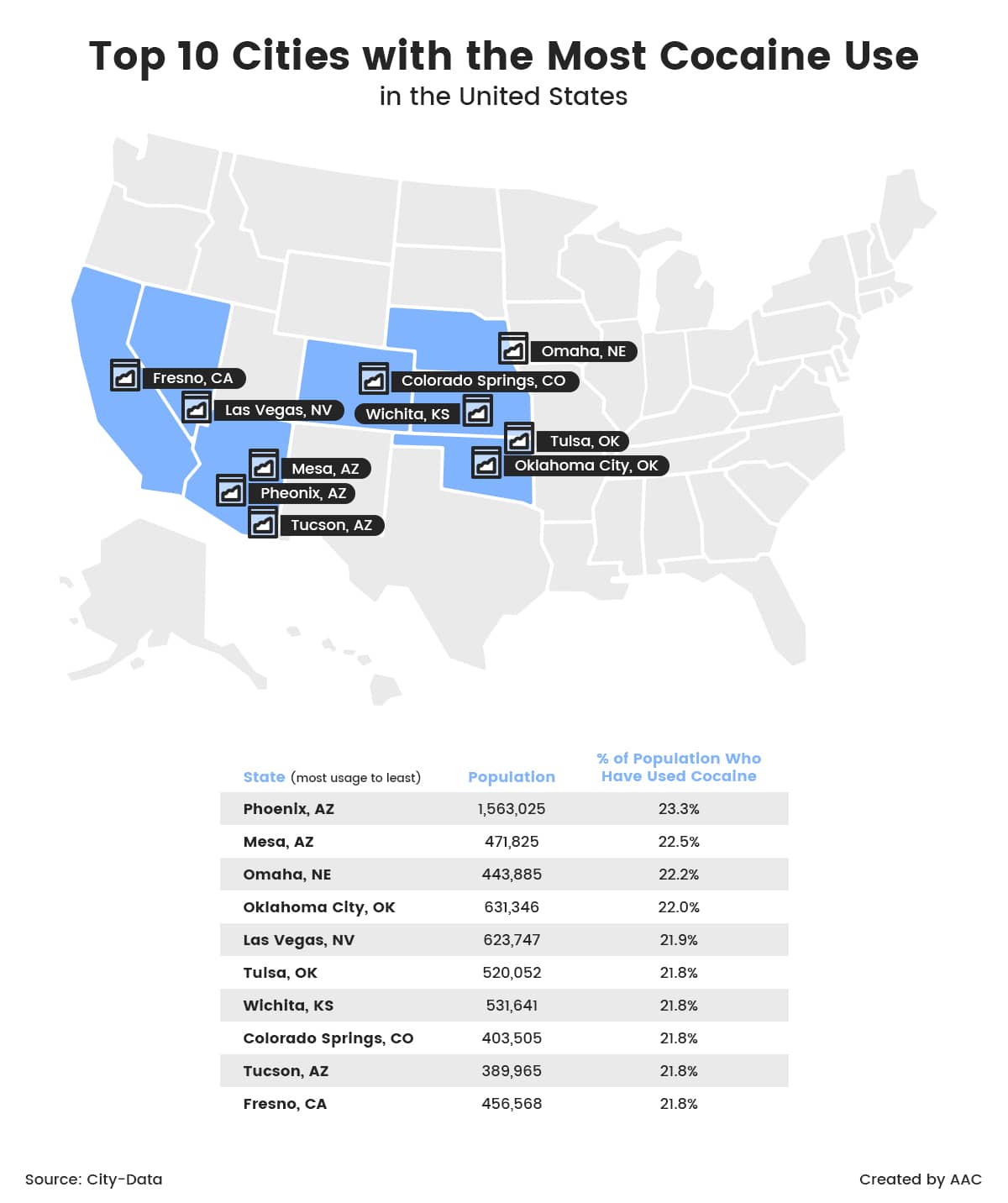 Cocaine is the second most common drug used in America according to usage statistics. Phoenix, AZ had the highest cocaine usage percentage in the country, with over 20% of citizens having tried the drug before. Mesa, AZ, and Omaha, NE are the runners up, both with results indicating that over 1 in 5 citizens from each of these cities have tried cocaine before.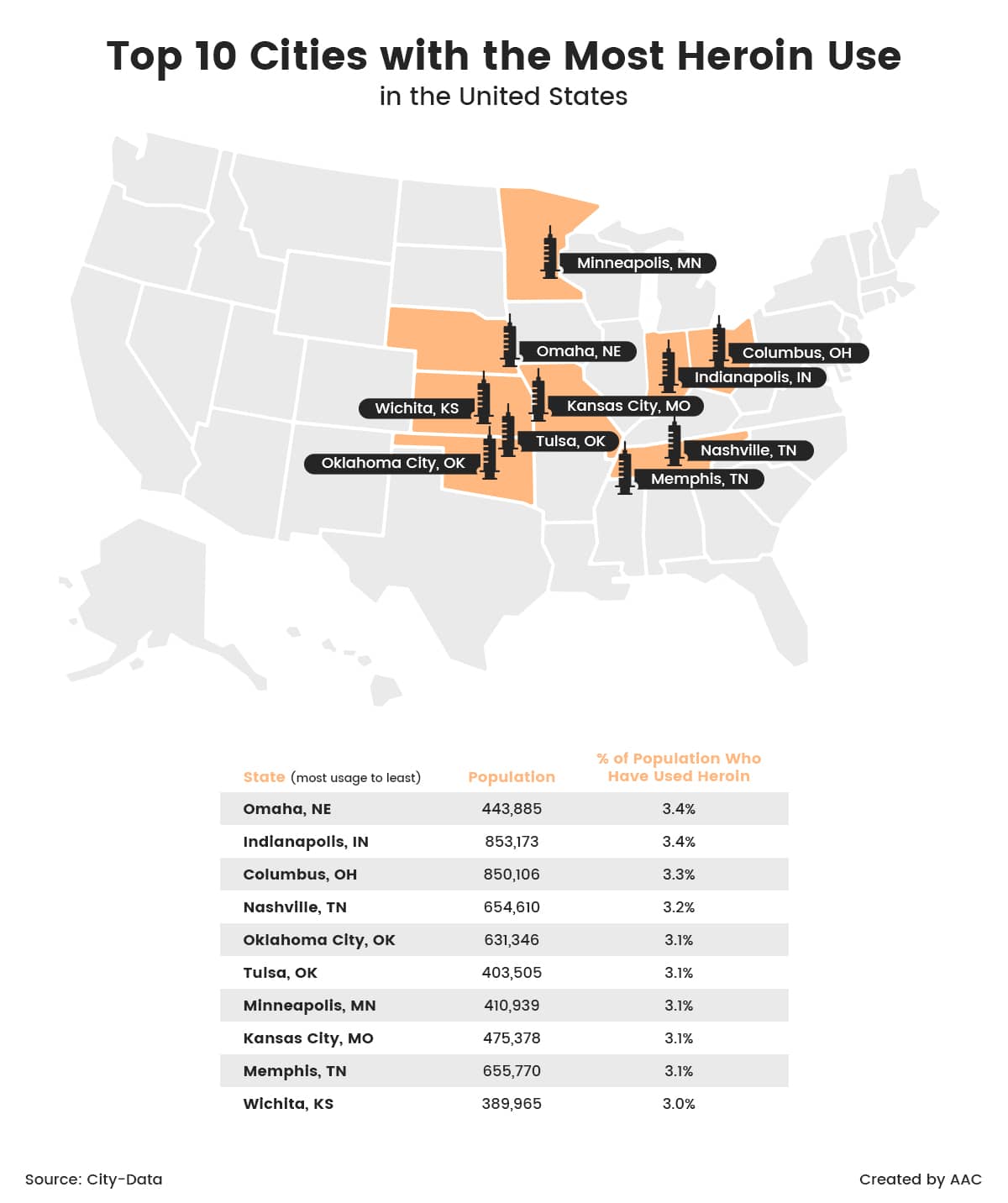 Heroin is one of the most dangerous drugs available for purchase on the street. Of the drugs we examined, heroin has the lowest rate of usage according to city data. Omaha and Indianapolis tied for the highest rate of heroin use in the US, followed by Columbus, OH. The highest rate of usage hovered around 3.4% of citizens.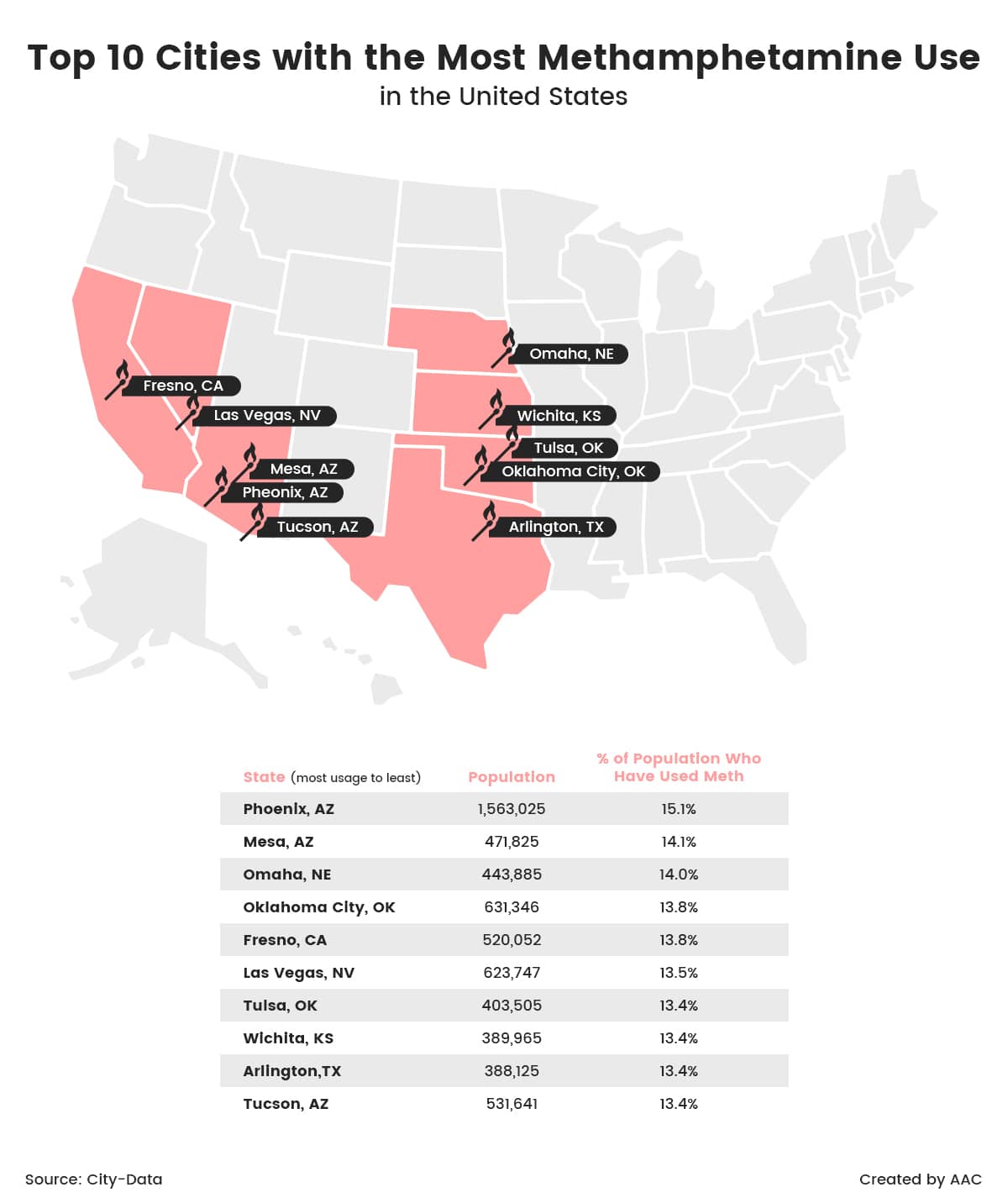 Methamphetamine was ranked the most dangerous drug available by our experts. In spite of this, methamphetamine use is over 4 times higher than heroin use in many of the cities on our list. Phoenix and Mesa were the two cities with the highest rate of methamphetamine use overall in the US. Omaha, Nebraska came in third overall for methamphetamine use.
Based on the rate of usage and the seriousness of the drug, our team ranked the US cities by their overall drug usage. Omaha was ranked as the worst city for drug use throughout the US based on this weighted system. Wichita, Tulsa, Oklahoma City, and Mesa tied for runner up as worst cities for drug use.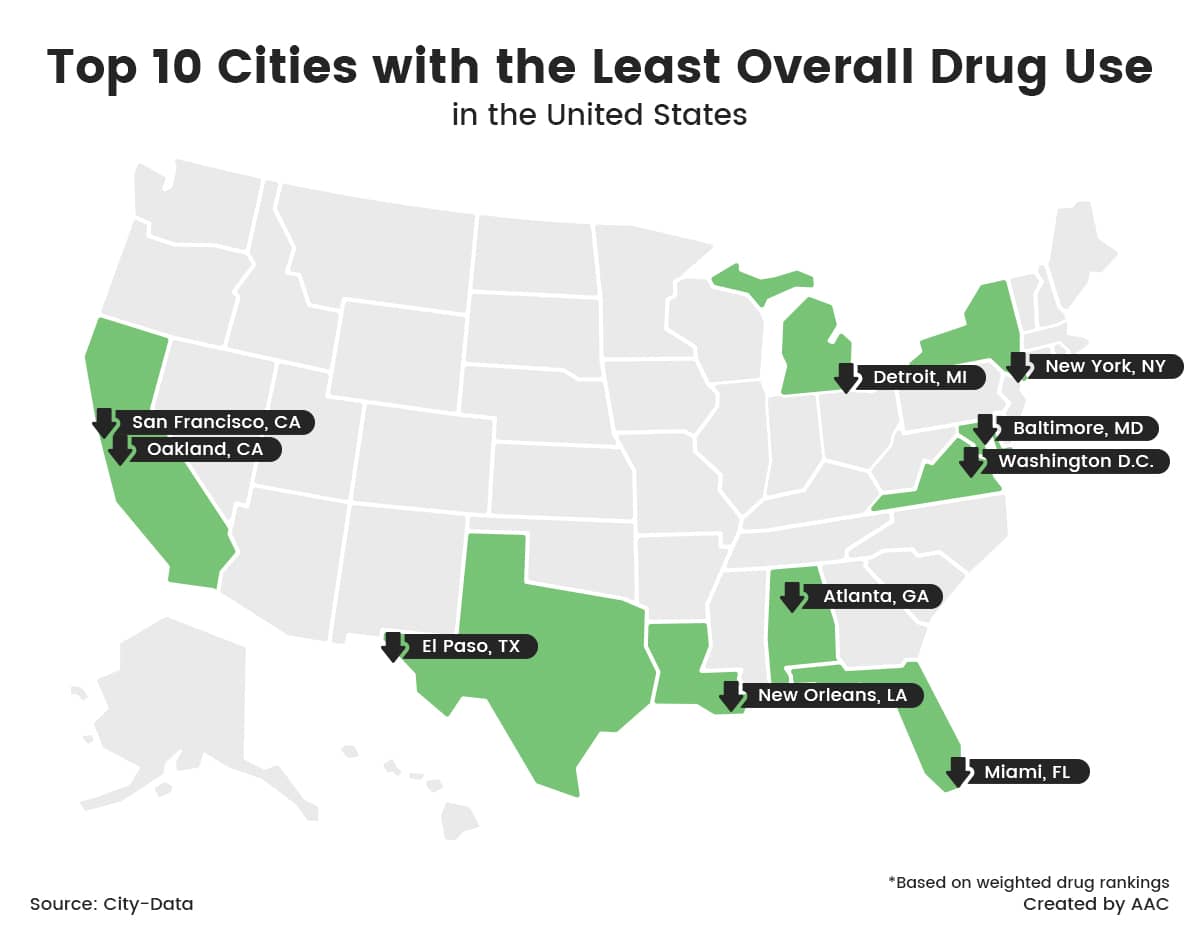 On the opposite end of the spectrum, Miami, FL had the lowest rate of drug use of any city in the US. Washington D.C. was the first runner up and Atlanta, Georgia came in third. These cities had the lowest overall rates of illegal drug usage based on our weighted system.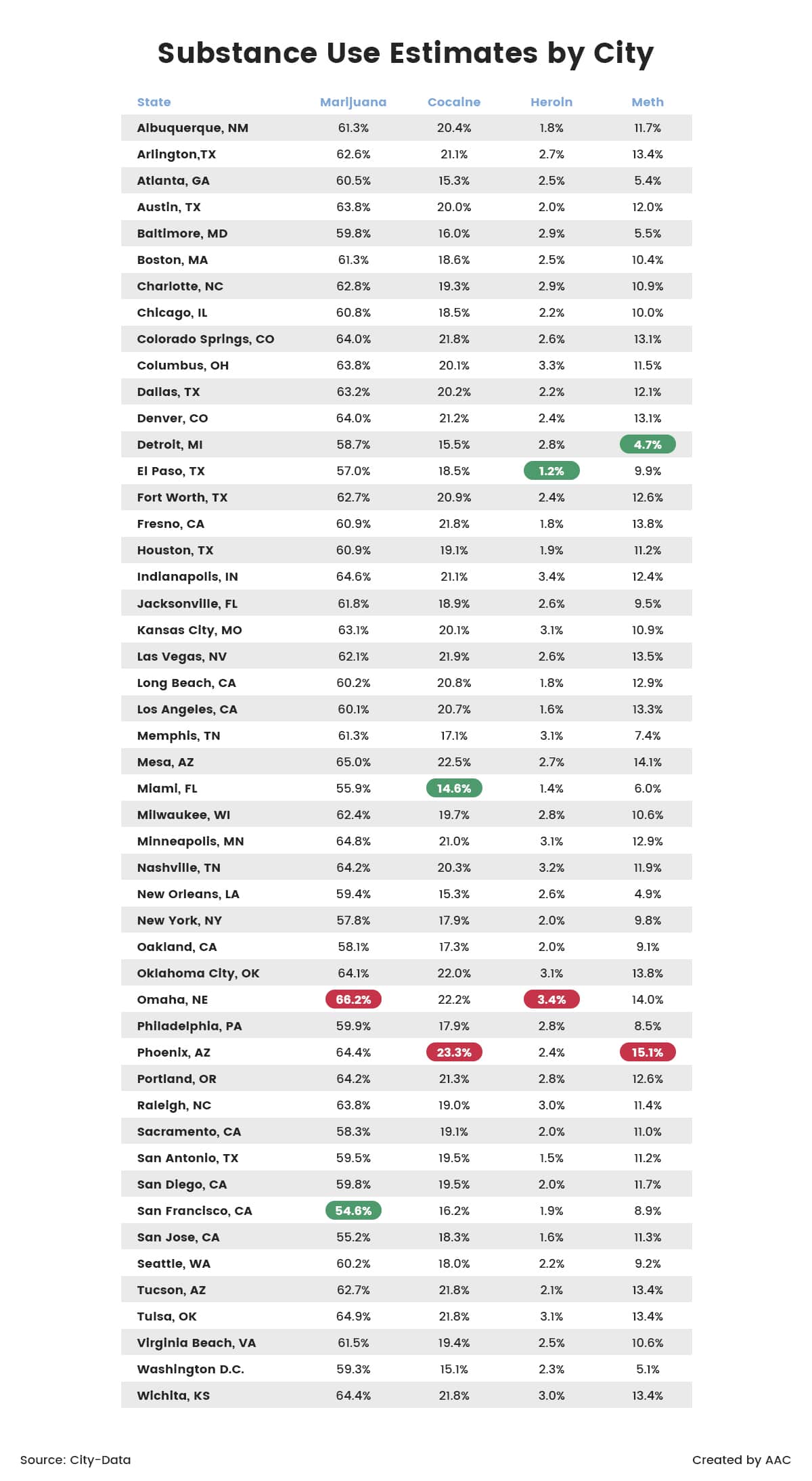 Wondering what drug use looks like in your city? This is the percentage of your area using different types of drugs based on CDC data.
It's easy to view addiction as a one-size-fits-all affliction. There is a substance that a person is abusing and they need to stop for the sake of their health, their families, and their lives. However, addiction is a unique experience for every person affected by it, and the combination of a support system, life experience, and substance of choice makes every addict unique.
Can I use this information?
The information and graphics in this blog post can be used and displayed by all commercial and non-commercial websites without charge. However, use is only permitted with proper attribution to americanaddictioncenters.org When using this information or any of these graphics, please include a backlink to this page.